In life, I'm generally an optimist. I'm not naive, I know bad things happen, but when it comes to things I enjoy, I like to think that they'll turn out to be OK, or at least not epically proportioned disasters. Then I sat through the Portland Timbers/Real Salt Lake match on Wednesday night.
That mess didn't ruin my optimism overall, in any way - I still think the best of things as much as possible, and still hope that things will work out OK. But then I see a tweet like this and my optimism decides that it's better to take a day off and come back next time more ready to go.
Crisis is an overused word, but it fits
The Timbers, in case you didn't click on that link, have a total of 14 players available to play on Sunday. Injuries, international call-ups, and Wednesday night's two red cards have - this is another cliche word, but it's true - decimated the Timbers' roster and left them with a legitimate mess for Sunday.
Generally, a soccer game is 11 players and there are three substitutes, for a total of...oh crap. That's right, the Timbers have just enough players to actually play the game. Problem is, three of those players are goalkeepers; they do have eleven starting players available, so that's a thing, but still.
Fortunately, MLS has a mechanism to help teams in this situation. If a team has less than 14 outfield players available for selection, or less than two goalkeepers, the team is allowed to sign players in its USL system to four-day contracts in order to fill out their roster. Any one player can only be signed to four of these contracts a season, but there does not appear to be a limit to how many different players can sign four-day contracts simultaneously.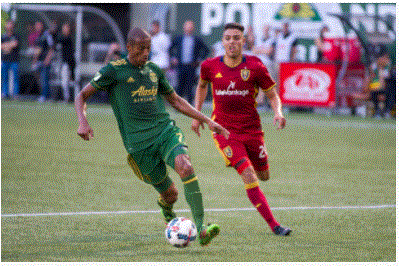 So, expect the Timbers' bench on Sunday to be full of names you've never heard of unless you obsessively follow T2, which I do not. But, a warm body's a warm body, and that's what the Timbers desperately need right now.
A deep, insightful tactical preview
Just hold on. Don't panic. Stay close to home, don't take a lot of risks. And for the love of whatever deity or idol you choose to worship, do not get hurt.
Team news/Lineups
Vancouver is pretty healthy coming into this game, which I hear is nice.
Portland:
Jake Gleeson; Larrys Mabiala, Roy Miller, a bunch of random people; Sebastián Blanco, Diego Valeri
Vancouver:
David Ousted; Jordan Harvey, Tim Parker, Andrew Jacobson, Jake Nerwinski; Tony Tchani, Matías Laba; Christian Bolaños, Nicolás Mezquida, Cristian Techera; Fredy Montero
Referee:
Chris Penso
WHAT/WHERE/WHEN/HOW
Portland Timbers at Vancouver Whitecaps
BC Place, Vancouver
Sunday, July 23, 2017
3.30PM PT
VAN: TSN
PDX: FS1
STREAMING: MLS Live (subscription, blackout rules apply)