 The United States Men's National Team failed to qualify for the 2018 FIFA World Cup held in Russia next summer after their 2-1 loss to Trinidad and Tobago. Fans around the country labeled their performance as "the worst ever" and many news anchors such as Taylor Twellman and Alexi Lalas said that the loss was an "utter embarrassment."
Two days since the match, Head Coach Bruce Arena announced his resignation as the head coach.
Bruce Arena resigns as USMNT Head Coach
Arena admitted that the "job wasn't done" in regards to the US missing the World Cup next summer. Thus forcing his resignation early Friday morning.
The US finished fifth place in CONCACAF's Hexagonal table. Honduras defeated Mexico and Panama won against Costa Rica, forcing those two teams above the USMNT.
This is the first time the USA will not be represented in the World Cup in 32 years. Last time this happened? 1986.
"It is the greatest privilege for any coach to manage their country's National Team, and as I leave that role today I am honored and grateful to have had that opportunity twice in my career."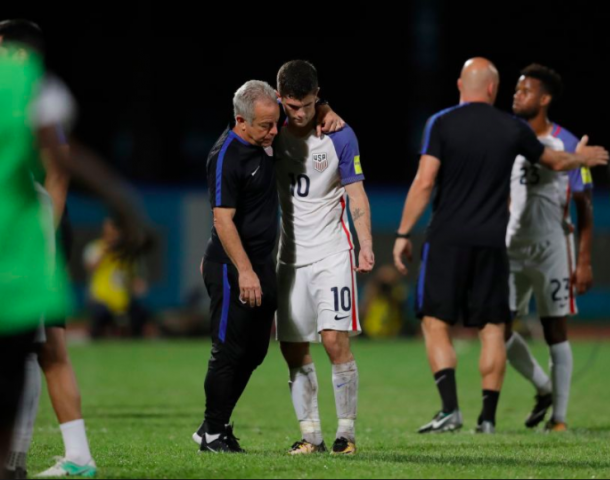 Bruce takes over
The former Los Angeles Galaxy coach took over the reins for his second time in his career on November 22, 2016, after US Soccer parted ways with former coach Jurgen Klinsmann.
Arena oversaw the team during the 2002 and 2006 World Cups, leading the USA to their best ever finish, before crashing out to Germany in the Quarter-finals.
Under Klinsmann, the US lost their first two qualifiers -- at home to Mexico in Columbus, Ohio and away to Costa Rica -- just before Arena was brought in.
"When I took the job last November, I knew there was a great challenge ahead, probably more than most people could appreciate. Everyone involved in the program gave everything they had for the last 11 months and, in the end, we came up short. No excuses. We didn't get the job done, and I accept responsibility."
Needing just one single point to go through, things didn't go their way.
However, the National Soccer Hall of Fame inductee still remains as the winningest coach in U.S. Soccer history. He departs with a good record, sitting at 81-32-35. Since being appointed, his record with this particular team ends at 10-2-6 in 2017.
Since being crowned 2017 CONCACAF Gold Cup winners, Arena is also the only coach to claim the title on three occasions when he previously lead the team to the title in 2002 and 2005.
Bruce released a statement on ussoccer.com regarding his position as coach. You can read the full statement here.