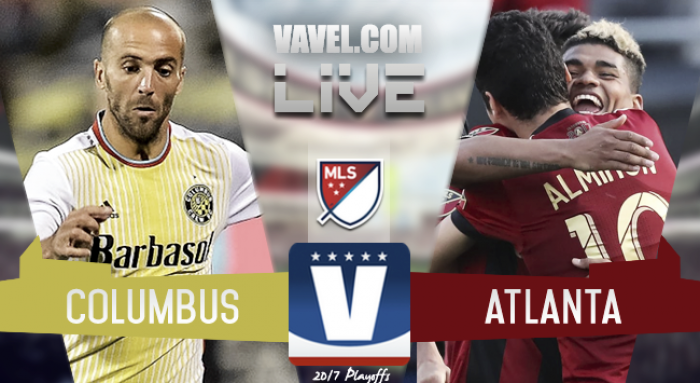 What. A. Game. Columbus defeat Atlanta United 3-1 on penalty kicks, IN ATLANTA! Which is even crazier! Go crazy Crew SC fans! you deserve it! Columbus will now face New York City FC in the Eastern Conference Semi-Finals.
Jahn for Columbus. GOAL!! COLUMBUS WIN 3-1 ON PENALTY KICKS!!!!!!
Larentowicz for Atlanta. OFF THE POST! 2-1!
Hansen to kick for Columbus. Goal! 2-1
Villalba for Atlanta United next. Goal! 1-1
Manneh steps up for Crew SC. SAVE BY GUZAN! Still 1-0
Gonzalez Pirez steps up for Atlanta United. SAVE! AGAIN!
Higuain takes first kick for Crew SC. Goal! 1-0
Gressel to take first kick: SAVE!
Penalty kicks are coming. Atlanta United to kick first.
END OF EXTRA TIME. We are headed to penalty kicks.
The fourth official on the side has indicated a minimum of one minute stoppage time. Free kick to Atlanta United.
Adam Jahn replaces Harrison Afful for the final sub for Crew SC.
119' PARKHURST OFF THE LINE! The former Crew SC player saved Atlanta by clearing the ball right off the goal line! Score still 0-0
111' Manneh receives a ball over the top. Brad Guzan reads the play and is able to leave his line and the box to clear the ball out of danger. Meanwhile, Jacob Peterson replaces Martinez for Atlanta United.
START OF SECOND HALF EXTRA TIME
HALFTIME OF EXTRA TIME
106' Afful hits a shot with his left foot one time... IT HITS THE CROSSBAR! FOURTH TIME TONIGHT!
102' Higuain with a header to Guzan! So close for the Argentine!
Missed another call. Artur was cautioned in the 96th for Crew SC.
START OF FIRST HALF EXTRA TIME
END OF REGULATION: Atlanta United 0-0 Columbus Crew SC.
REMINDER: There will be ONE extra substitution allowed for both teams.
The fourth official on the side has indicated a minimum of four minutes. If the game is still tied at the end of regulation, both teams will play two 15 minute halves of Extra Time.
Wasted kick by Santos.
88' Free kick Columbus in a dangerous spot. Higuain or Santos will take the kick. Looks to be Santos.
83' Gressel tees up a hard shot but Steffen saves. Ball falls to Walkes who has a go with his right foot but goes wide of the net.
82' Dangerous free kick for Atlanta. Almiron whips the ball in but Steffen comes off of his line to get a touch on it.
80' WHAT A SAVE BY GUZAN! Kamara is on the end of a Manneh cross but the American comes up big! Had the ball went in, the goal would not have counted as Manneh was flagged for offside.
Not good for Atlanta United, as Julian Gressel comes up holding his hamstring. He jogs off under his own power though. There's a good sign.
Also.... HOW DID THAT NOT GO IN FOR ATLANTA?! A round post and the ball bounces out. How does this happen?
Crew SC SUB: Jukka Raitala replaces Jimenez.
I missed a sub for Atlanta. Michael Parkhurst replaces Yamil Asad in the 68th.
Great buildup for Crew SC. Looking a lot better on the ball than they did in the middle of the first half.
Santos takes the ball at midfield, finds Manneh. Manneh takes a shot that hits the crossbar, and back out to Santos who hits it with his left foot but goes wide right.
What is going on? I'm like.... wow.
STAND UP ZACK STEFFEN! WHAT A SAVE!
65' Yellow card caution to Hector Jimenez of Crew SC.
61' Atlanta on the break. Almiron with a shot but it's blocked by Mensah.
CREW SC SUB: Kekuta Manneh replaces Meram in the 59th minute.
58' Almiron rips a shot from distance, but his shot just misses the left shot.
Again. Nothing interesting to start the second half.
START OF SECOND HALF
HALFTIME: Both teams head into their respective locker rooms tied at 0-0. Quiet first half when the match started but seemed to open up in the final 10-15 minutes.
40' A glancing header from Kamara finds Meram. Meram sends his shot just wide of the far post. In another transition, Jimenez finds Santos on the far wing but is flagged for offside. However, upon replay, Santos was on. No Video Review used as ATL played a quick restart.
36' Corner kick from Asad finds Larentowicz, but Martinez barely gets his head to it and puts it just high of the upper 90.
32' Higuain feeds Santos on a through ball, but his shot is saved by Guzan. Trapp runs on but is fouled. Free kick Columbus.
A questionable free kick to Atlanta.
20' McCann with a rocket of a shot that gets deflected, but Steffen carries it over the bar.
Fun Fact: Brad Guzan back in the MLS Cup Playoffs after nearly a decade.
I like how almost all of the players have gotten haircuts before the match. Almiron and Santos are two noticeable players.
11' Free kick Columbus. Don't worry guys. I'm still here. Just nothing exciting happening so far. Both teams have made decent chances. Columbus better on the ball, however. OH MY! Almiron rings the ball off of the crossbar from distance! Steffen was beaten all the way!
5' Corner kick Columbus. Meram dribbled into the penalty area, but Walkes cleared the ball over the end line.
KICKOFF!!!
Two changes for Columbus Crew SC. Hector Jimenez replaces Jukka Raitala at left back. Artur replaces Mohammed Abu at defensive mid.
7:00 PM EST: Hello! Welcome to VAVEL USA's LIVE coverage of the 2017 Audi MLS Cup Playoffs. Tonight's matchup sets Atlanta United hosting Columbus Crew SC! My name is Tyler Fisher, thank's for joining me tonight!
Atlanta United 3-2 Columbus Crew SC AET
This matchup will probably be an explosive one. Given the credit that Atlanta established this season as an expansion team, and given the history Columbus has and the great form they are in currently, this game will more than likely have to go more than 90 minutes. Maybe more than 120. Only one team can make it out alive, and it's going to be hard picking just one winner. However, the support Atlanta has is incredible. Columbus has their support, but it doesn't top the Three Stripes. This game will see Atlanta United win 3-2 after extra time. Striker Martinez will record a hat-trick while Kamara and Meram will be the goal scorers for Columbus. Atlanta will then go on to face NYCFC in the Semi-Finals.
The game will be played at Mercedes-Benz Stadium in Atlanta Georgia. Kickoff is set for 7:00 pm ET. The match official for this game will be Allen Chapman. His assistants will be Jeremy Hanson and Andrew Bigelow. The fourth official is Chris Penso and the VAR will be Fotis Bozakos. You can catch the match on ESPN2, UniMas, TSN4, TVAS, and MLS Live.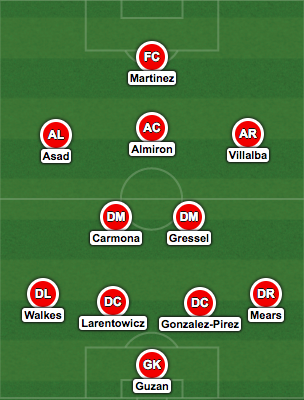 Above is the projected lineup for the home team Atlanta United. They are under the direction of Head Coach Tata Martino.
Both teams will throw everything they have at each other. That means fire lineups with starpower and skill. Here are the projected lineups for both teams, starting with the road team Columbus Crew SC. They are managed by Head Coach and Sporting Director Gregg Berhalter.
Atlanta is also hosting their first ever playoff game in their new shiny Mercedes-Benz Stadium.
Meanwhile, behind the scenes, Crew SC owner and investor Anthony Precourt released a statement that he is exploring strategic options to relocate the first team in MLS to Austin, Texas. That came to a shock not only to the fans but to the players and staff that found out as the week went on. This game will have a lot of meaning behind it for Columbus.
If Atlanta wants to keep up with the Black and Gold, they will have to man-mark Justin Meram who is lethal on the wing, try to stop the playmaking of Higuain, and stay on top of Ola Kamara and his ability to sneak in behind the defense and get a good look on goal.
On the other hand, Columbus is not only fighting for a spot in the Eastern Conference Semi-Finals, but they are also fighting for themselves. Unbeaten in their last 10 matches, Columbus has to rely on one another in order to have a good performance against a well-oiled expansion team. While they have lost both meetings against Atlanta, Columbus has that special something that United doesn't have. And that's experience.
Key players for Atlanta United this season have been the main three designated players in Miguel Almiron, Josef Martinez, and Hector Villalba. The three are unstoppable when on the attack. One key for Atlanta to win this match is that they will have to find the Columbus defense slacking and get in behind them in order to get a good look on goal.
Once all was said and done, Atlanta secured the fourth seed in the Eastern Conference while Columbus settles for the fifth seed. That set up for the knockout round matchup we're set to see here tonight.
Atlanta finished the 2017 season with only one loss in their last 14 home games, ending with a 10-1-3 record. They also averaged three goals per game across those 14 matches. On the other hand, Columbus has outscored their opponents 19-10 across their last 10 matches. Playmaker Federico Higuain finished the season with seven assists in his last four appearances.
Atlanta United completed the season sweep against Columbus, winning a combined goals total of 5-1. The Three Stripes also are coming into this matchup after playing to a 2-2 draw against Supporters Shield winners Toronto FC. Columbus comes into this matchup after playing to a 2-2 tie against New York City FC this past weekend.
This season marks the first playoff appearance for the Three Stripes under Head Coach Tata Martino. Meanwhile, Columbus has made the playoffs three out of four years under Head Coach and Sporting Director Gregg Berhalter. Their most recent visit to the playoffs saw them host MLS Cup 2015 against Cascadia powerhouse the Portland Timbers.
It's the 2017 Audi MLS Cup Playoffs right here in the Peach State. New expansion team Atlanta United FC hosts MLS original Columbus Crew SC in the knockout round of this year's playoffs. Atlanta clinched the fourth seed in the Eastern Conference, while Columbus landed the fifth seed. It's gonna be a shootout in the South. I'm Tyler Fisher, and thanks for joining me tonight.