 The FIFA World Cup Draw is just a little over 10 days away, where all 32 teams will know who they will face in the group stage in the tournament. Four large pots (pots 1-4) will have eight teams with one team from each pulled out of each pot to make the eight groups of four (groups A-H) come this summer. In past editions, the hosts would be placed in pot 1 along with the following seven best teams according to the October FIFA Rankings. The following three pots would be based on geographical and confederation regions. The European nations which weren't in Pot 1 would make up another pot, while in 2014, Asia/CONCACAF made up another pot, and South America/Africa made up the last pot in 2014 and in 2010.
What this meant was the chances of a team that was not from North America/Asia had as much of a chance of landing 13th ranked the USA, as it did 57th ranked Australia. It was announced earlier this year that FIFA would change that aspect up, and instead of leaving the remaining 24 teams in pots based by region, they will be sorted according to their October FIFA ranking. One of the teams that look to benefit and be rewarded for this change is Mexico.
Mexico avoids some big guns with new change
One reason that Mexico is a big winner in the new format is that Mexico is currently ranked 17th in the world and places them in Pot 2, making them the only team in the first two pots who didn't qualify from either South America or Europe. Joining them in Pot 2 are Spain, Peru, Switzerland, England, Colombia, Uruguay, and Croatia. This, of course, means that they avoid all those teams as possible group matchups. In the past, Mexico wouldn't have avoided any of these teams, let alone the teams placed in Pot 1, which in theory, consist of the top 7 teams in the world and the host (even though most people would place Spain over Poland in a blink of an eye).
In 2010 Mexico was matched up with host South Africa, Uruguay, and 2006 finalist France. In 2014 Mexico was again matched up with the host, this time Brazil, African powers Cameroon, and European dark horses Croatia. In neither of those two tournaments were Mexico favored to be one of the top two teams to make it out of the group stage, but alas they did. In both tournaments, the two teams that joined them also made it to the semifinals (In 2006 Mexico were one of the teams in Pot 1, so they didn't fall into the criteria of being potted with the rest of the teams from CONCACAF). This new format most likely takes the chances of Mexico to be grouped with such tough groups unlikely.
Osorio's work paying off long-term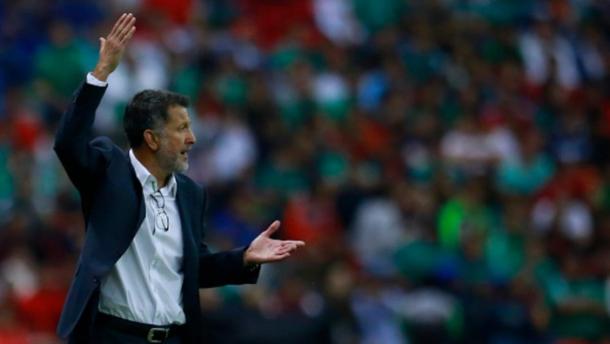 The main reason El Tri are in Pot 2 and not in a lower pot is in part of head coach Juan Carlos Osorio and his work since his arrival. When Osorio coached his first two games for El Tri in November of 2015, Mexico was ranked 24. The highest ranking the team achieved under Osorio was as high as 14th. This is largely due to Mexico's dominance in World Cup Qualifying, wherein the sixteen qualifying matches, Mexico finished with an overall record of 9 wins- 3 Draws- and- 1 defeat, with the only defeat coming in the last game of qualifying with Mexico already well qualified.
The success Osorio has had, even if it's meet with constant criticism by fans and Mexican media alike, is not only qualifying. Since Osorio took over in 2015, he has coached 42 games for Mexico and has accumulated an overall record of 28 wins- 8 draws- and 6 defeats with a winning percentage of 66.6%. In 2017 alone Mexico played a total of 25 games and Osorio finished the year with 15 wins- 5 draws- 5 defeats.
After strong qualifying campaign and a new World Cup pot format, Mexico has found themselves in a nice position for a good draw come December 1st.