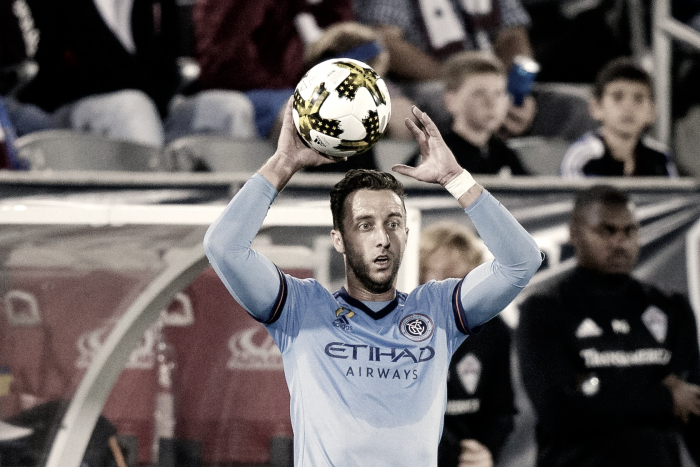 New York City FC entered Monday with 28 players on their roster, and by the end of the day, they shrunk the list to just 17 players. A lot of defenders didn't make the cut, some midfielders will be looking for a new home, one goalkeeper left as well as one forward.
So who is leaving?
Eirik Johansen- To start things off, NYCFC exercised the contract of former Manchester City goalkeeper, Eirik Johansen. The Norwegian is one of few players who remain from NYCFC's inaugural season. The goalkeeper made just five appearances for the club in his three seasons.
RJ Allen- Next up and the first of many defenders is RJ Allen. Another player who has been with the club since the inaugural season, RJ has substantially more playing time then Eirik over the years. RJ has appeared in over 50 regular season matches as well as starting in both of NYCFC's playoff games in 2016. NYCFC supporters will be confused by this one as RJ has always been useful over the years.
Frederic Brillant- Another defender that makes the list is Frederic Brillant. Despite playing one less season than RJ Allen, the Frenchman made one more regular season appearance for the club and has featured in every NYCFC playoff game in club history. Due to a Maxime Chanot injury, Brillant played a huge role in NYCFC's backline in 2017 despite looking like he'd be a bench player at the beginning of the season.
Miguel Camargo- One which won't surprise many, the Panamanian midfielder was on loan with an option to buy. Camargo picked up an injury at the 2017 CONCACAF Gold Cup and missed a majority of the season. Starting just two games and taking up an international slot, NYCFC understandably did not exercise the midfielder's contract.
Shannon Gomez- Another one which won't surprise many, is Shannon Gomez. The young fullback never made an MLS appearance for the club during his two-year spell and was loaned out to the Pittsburgh Riverhounds during the 2017 MLS season.
Mikey Lopez- A midfielder capable of filling in at fullback due to his versatility, this one may surprise some. A person who Patrick Vieira seemed to trust a lot on the field, Lopez made 27 appearances over his two-year spell in NYC and appeared in a 2016 playoff game. A passionate player who seemed to love the bright lights of New York City.
Jefferson Mena- Another defender sent out on loan during the 2017 MLS season. Joining the club in the summer of 2015, Mena made seven appearances for the club including six starts during his debut season. The Colombian defender followed that up with 16 starts in 2016 before being loaned out to Barcelona S.C. in Ecuador for the 2017 season.
Sean Okoli- The 2016 USL MVP teamed up with the 2016 MLS MVP (David Villa) for the 2017 MLS season but could not find his USL form. Okoli signed a homegrown deal to the Seattle Sounders in 2014 where he played just three times before moving to the New England Revolution for the 2015 season where he added some more MLS experience. Following that, Okoli went to the USL where he won the MVP award before joining NYCFC. The forward grabbed his first MLS goal in 2017 as well as adding a career high in MLS appearances and starts but ultimately didn't prove enough to earn a place on the 2018 roster.
John Stertzer- Probably one that won't surprise many, the midfielder made just five appearances for the club in 2017. Stertzer, who was with Real Salt Lake prior to joining NYCFC, will have to find a new home as his 53 minutes were not enough to prove he should remain with the club.
Andraz Struna- A strange one, the defender was brought in towards the end of the season and started 4 times in 5 appearances during the regular season. The Slovenian international also played in both of NYCFC's playoff games and scored a deflected goal in the second leg at Yankee Stadium.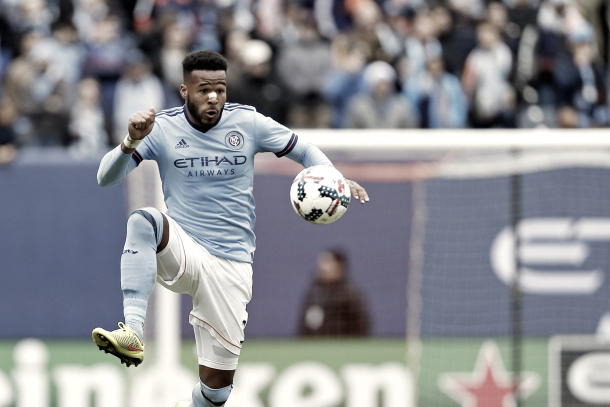 Ethan White- Last, but certainly not least is Ethan White. The fullback becAme a key part of NYCFC's backline in 2017. Joining the club in 2016, he made 13 appearances in his debut season. He followed that up with 21 appearances which included 19 starts in 2017. Ethan also bagged his first two career MLS assists' in the 2017 season.
So who is left?
Goalkeepers: Sean Johnson, Andre Rawls.
Defenders: Alexander Callens, Maxime Chanot, Ronald Matarrita, James Sands, Ben Sweat.
Midfielders: Kwame Awuah, Yangel Herrera, Tommy McNamara, Maxi Moralez, Alex Ring.
Forwards: Jack Harrison, Jonathan Lewis, Khiry Shelton, David Villa, Rodney Wallace.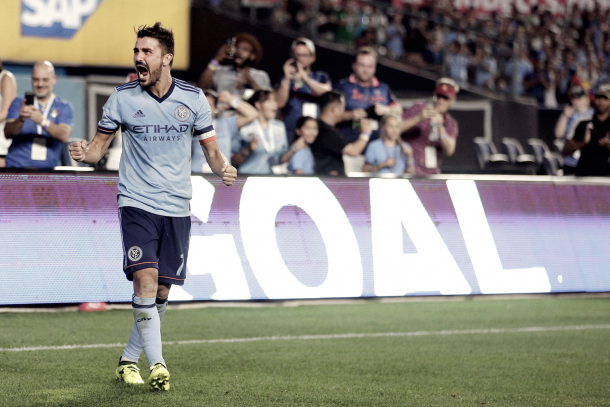 Just 17 players remain on the NYCFC roster but fans recently found out that Yangel Herrera (on loan from Manchester City) will stay with the club for the 2018 season. NYCFC certainly have an exciting transfer window ahead of them as they'll be adding a lot of players for the 2018 season.