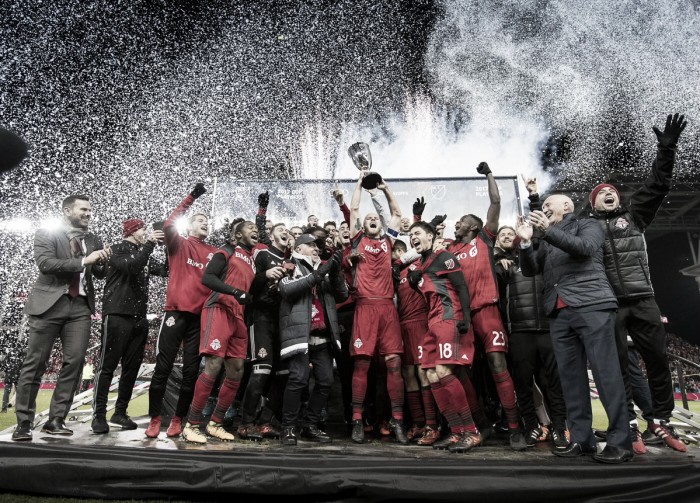 It took 60 minutes before Toronto FC found the break through goal against Columbus Crew SC and advance on to their second consecutive MLS Cup final. Neither side could find the back of the net until a visibly hobbling Jozy Altidore found enough energy to finish neatly into the far corner and send BMO Field into a frenzy.
Zack Steffen is the hero of the first half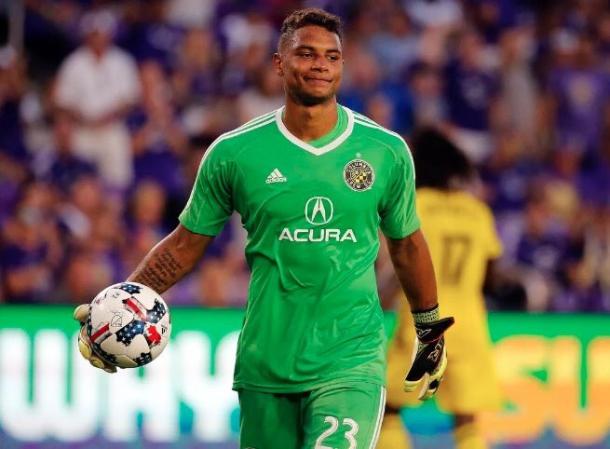 The change in formation by Columbus had Toronto off-balance for most of the first half in this Audi 2017 MLS Cup Playoff second leg. In fact, the visitors did not really start to pressure the Crew backline until the first half was almost over. Columbus matched up Toronto's 3-5-2 with one of their own and it allowed them to close down Toronto's usual passing lines and try to use Ola Kamara's pace on the break to get a goal in transition.
What that meant was that Crew goalkeeper Zack Steffen had a fairly easy first half but when he was called upon to perform, he did so with some style. Josh Williams gave away a penalty in the 25th minute after fouling Drew Moor who was certain to score from a corner kick. Víctor Vázquez, instead of Sebastian Giovinco, stepped up to take the penalty and tried to fool Steffen by hesitating before taking his shot. The young goalkeeper wasn't phased and guessed the right way, palming the ball out wide and away from danger. With how quiet Columbus had kept Giovinco and Altidore, and with Steffen coming up big for them, it seemed as though the tide was in their favour and the first half ended goal less despite a late Toronto flourish.
Vanney's gamble on Altidore pays off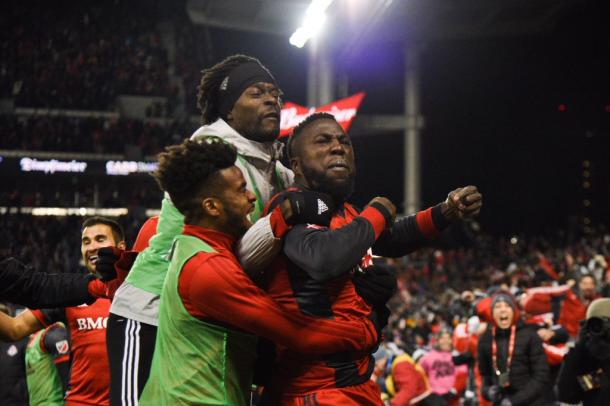 At the start of the second half, Greg Vanney introduced Marco Delgado and changed Toronto's formation as the home side looked to claim dominance in this game and find the winning goal. The change worked as Toronto began to find the spaces they didn't pick out in the first half and Michael Bradley was able to start spraying passes out to the wings during the run of play.
Vanney was called upon to make another big decision when in the 50th minute, Altidore went down with an ankle injury after Henry Afful had slipped and fallen onto his leg during a Toronto attack. Altidore tried to soldier on and received treatment twice but was clearly not 100%. Vanney decided to not bring on Armando Cooper for Altidore and decided to see if his key man could hang in there long enough to help the team get a goal. The risk paid off in the 60th minute. Altidore let an Alex Bono kick go over his head and into the path of Giovinco. The Italian help up the ball well before finding Vázquez in the box. Vázquez then laid the ball on for Altidore who made a late run into the area and finished low past Steffen into the far corner.
Columbus pushed for an equalizer that would put them through instead of Toronto but no matter how much Justin Meram, Federico Higuaín and Pedro Santos tried, they could not beat Bono. The best chance of the game for Columbus came in the 87th minute when Meram found substitute Adam Jahn at the near post. Jahn's diving header glanced the ball across goal and Kamara was unable to react quickly enough to tap the ball in. Columbus' season is now down and the Crew as we know it is now over as their ownership group has decided to move on from the team and start in another city. Toronto will now look towards either a rematch of last year's MLS Cup final against Seattle Sounders FC or a final against the Houston Dynamo.