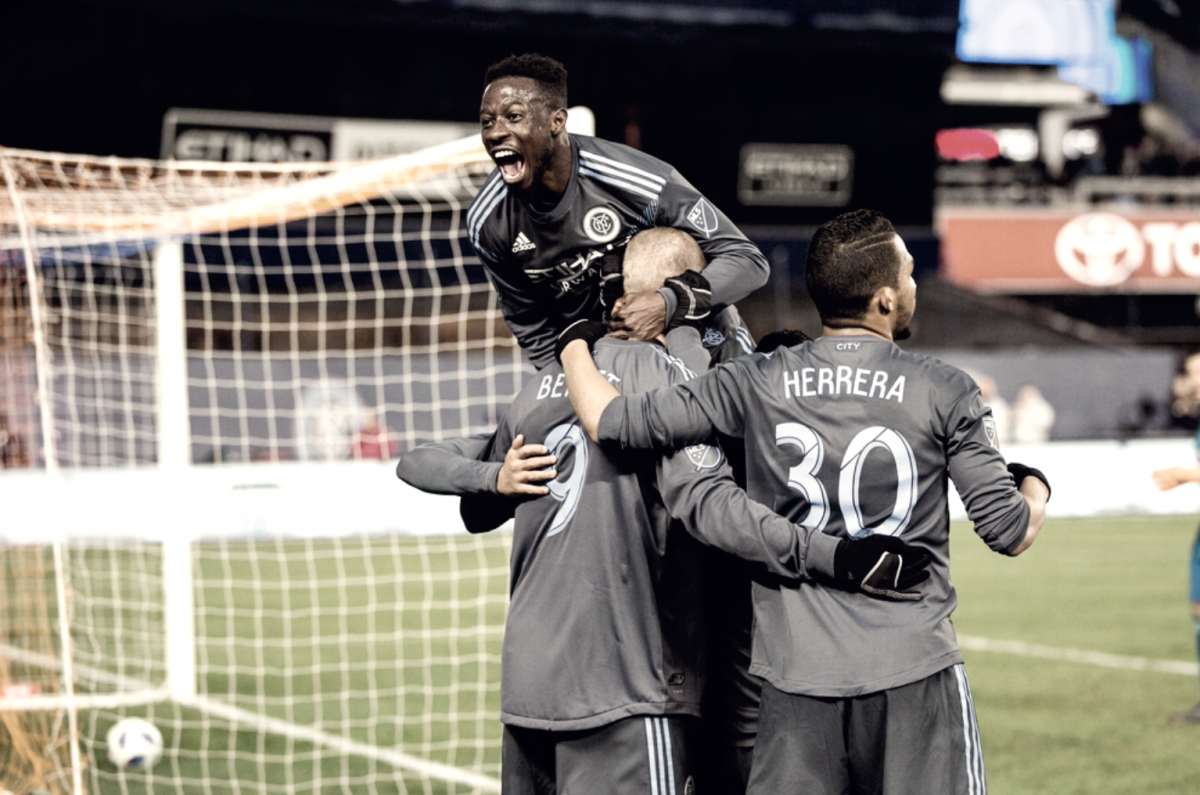 New York City FC had a chance to extend their unbeaten run to six games to open the 2018 MLS season when they hosted Real Salt Lake on Wednesday night. The hosts came away with their biggest win of this young season as Ismael Tajouri-Shradi and Maxi Moralez added to their goal tallies while Jo Inge Berget and Ebenezer Ofori opened theirs.
Despite that, Sean Johnson was called into question at the start of each half giving his side two big saves. The shot-stopper praised his teammates following the game by saying "We have a group of players that are very driven, very focused, very hungry - I think hungry is the best word to describe this group."
Next up, NYCFC will have to put their unbeaten run to the test when they head down south to take on a strong Atlanta United team in front of a sure to be loud Mercedes-Benz Stadium crowd. Sean Johnson, a native of Atlanta, doesn't feel any added pressure as he said: "No, I have nothing to prove while I'm down there. I've been with this group for two years now. Our performances have spoken for themselves and I'm in a good environment here."
Anton Tinnerholm wasn't the only NYCFC player pleased with Wednesday's performance as he played a large role in the club's attack. The Swede said "We attacked them , especially on my side, on the right. I had about 15-20 crosses in the first half so I was a bit tired after the first half but it was fun to play today because we showed a lot of character and a lot of quality, and we played the football we wanted to play."
Tinnerholm made sure to reiterate that both himself and the club should never be satisfied with "You cant be sad after a 4-0 victory, but of course, there are things you can improve after a game. I think after a game like this, I'm happy and we're going to take a look at the game tomorrow and Friday, but you can't be satisfied. I think that's the main thing, you can be happy about the win but you can't be satisfied because we have to continue playing on this level."
Ebenezer Ofori, one of two NYCFC players to open their goal accounts said "It's a family. Every week you have to show up at the training grounds to make into the Eleven." Like Tinnerholm, Ofori wanted to reiterate his main points saying "We keep growing better - like a family. Everybody is giving 100% and I think we can keep going."
Finally, Jo Inge Berget got the chance to speak on his goal saying "It's always good to score and get that first goal and get that pressure off you and it's a nice feeling and a good goal." Despite being the #9, Berget acknowledged his teammate's contributions, "I think we've shown now that we have many players on this team that can score goals. It's a really good start for Ismael and we have Maxi scoring goals. I think we've shown we have many players that can score and that's important."
New York City FC has five wins in their opening six games and drew the other game. If you're a team watching this NYCFC side enjoying the way they're playing, you might feel a little worried. Next up they'll have their toughest test of the season though as they travel to Atlanta, a tough place to grab any points, nonetheless three.