On Sunday, New York City FC took on Toronto FC at Yankee Stadium with new manager Domènec Torrent on the sideline for the first time. His men looked good early but found themselves down a goal at the break. After telling his team "We are the New York City club, don't give up." at halftime, NYCFC went on to grab a pair of goals and three total points.
When asked about his first game, Torrent said "It was not easy for me because it was a crazy week. We've been traveling, but in the end, everything was good." The new boss went on to say "Yesterday was the first training session for me and I think the players are ready. I watched the whole training session and when I saw the intensity and the aptitude, I said, ok, they are ready to try to win the game, but it's not easy."
The former assistant of Pep Guardiola has an impressive past, similar to NYCFC captain, David Villa. Their pasts overlapped at Barcelona, making El Guaje the only player Torrent has worked within the current NYCFC squad. Unfortunately for both them and the rest of the club, David Villa was forced to leave the match in the first half through injury. When asked about it, Domè said: "It's bad news for us because he's a key man for our team. He has a lot of experience especially in these kinds of games. It's not good news, but we have fantastic players."
Torrent was asked about MLS to which he gave an extensive response which started with "For me, the MLS is a little bit different than the European league. The difference may be in the European league, there's a little bit more organized maybe." He followed that up with "I think the MLS is getting better 100 percent. It's a surprise for me because people say MLS is good and no, the fans are amazing." Continuing to compliment fans, Torrent said: "I think our fans support the team all the time and sometimes that is the reason why we can win the game. For me, it's getting better 100 percent."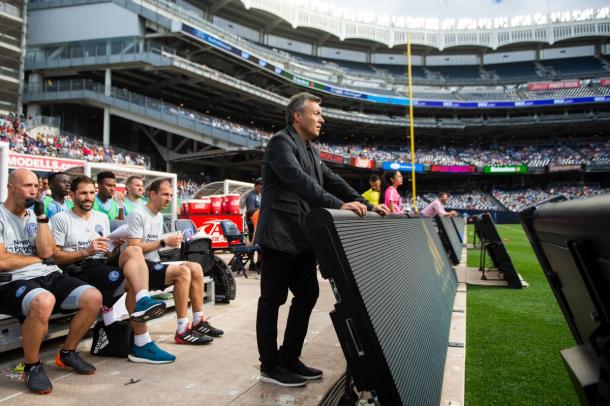 Jo Inge Berget was the Man of the Match on Sunday as it was his two goals that won NYCFC the three points. When asked about his two goals, Berget said: "Yeah, it felt good. It's one of those things where the ball bounced my way, it's not every day where the ball ends up in the back of the net. It was one of those days where it bounced my way." Then, the Norwegian forward was asked which goal he preferred, to which he responded "Nah, the second one felt better... That's kind of what I'm about, I run and I make the run. Maxi has been giving me those balls all year long and this one I managed to get to the back of the net."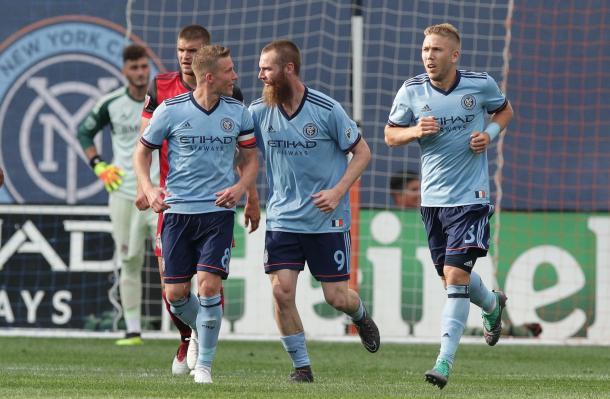 With both goals coming following the exit of David Villa, Berget was aked was changed once Villa left the field. "I started playing a bit more behind him but when he had to go off I had to go to the No. 9 with Maxi behind me. I felt like I was doing the same stuff I've been doing, it just went my way today and I scored twice. It feels better when I score a couple of goals instead of missing chances."
Anton Tinnerholm put in another solid performance in the backline and was asked about his new boss following the final whistle. "He's been here for one day, so honestly I haven't got that much expression from him. But we showed today that we have good character on the team and we've had like almost two weeks now without a coach." The Swede went on to say "There was some specific details he wanted to change, but we're probably going to talk about it this coming week - what he wants to change more - but now, he's only been here for one day."
Showing the mentality that Patrick Vieira has left the players, they want to win. Tinnerholm made that clear when asked if fans will be lenient with the new manager early on. "No, we want to win. It doesn't matter which coach is here. If he's been here for one day. We still want to win. So, we don't have that time. For us, it's the same. It's to win games. And that's the best feeling in the world, to win football games." The fullback followed that up with "So, it doesn't matter that he's been here for just one day. But it's probably going to take him some time for him to adjust how he wants us to play. But we are in a good position now and we have the support to continue to win games right now."
Next up, Berget, Tinnerholm and their new boss, Domènec Torrent get on the road as they face the Chicago Fire. If NYCFC can pick up another three points, they'll feel confident heading into Torrent's first Hudson River Derby as they host the New York Red Bulls at Yankee Stadium.