The US Women's National Team roster was named for the 2018 Tournament of Nations. The roster features 25 players, 24 of which come from the NWSL. All but one player on the roster are capped. The roster also features the return of Kealia Ohai from injury and Jaelene Hinkle from controversy.
Goalkeeping may see a new cap
Alyssa Naeher and Ashlyn Harris were named to the squad along with Adrianna Franch, the only uncapped player, of the Portland Thorns. Franch has been called up to several camps but has yet to see playing time. Franch was named the 2017 NWSL Goalkeeper of the Year and, since returning from injury, has been in top form for the Thorns.
Naeher has seen most of the minutes in the past two years since coach Jill Ellis started expanding the pool. Harris started a couple games but has only started one game this past year. Jane Campbell, who wasn't called into camp, has the other three caps the past two years.
Controversy returns to the defensive line-up
The defense features mostly consistent call-ups featuring Abby Dahlkemper, Tierna Davidson, the only collegiate player on the roster, Becky Sauerbrunn, Casey Short and Emily Sonnett. Merritt Mathias of the North Carolina Courage has also been called into the past few camps and earned a cap during the last batch of games. Sofia Huerta, who was recently traded to the Houston Dash, had been called into camp since September but did not receive a call up this time.
Hinkle, also of the Courage, has returned to the lineup as well. Hinkle was last called in June 2017, but famously left the roster citing "personal reasons" which was speculated to be her stance against LGBTQ rights. The US was bearing rainbow colors on their jerseys to support the LGBTQ community and Hinkle confirmed in an interview with the 700 club back in June that that was the reason. Fans had assumed that meant she would not receive a call-up again.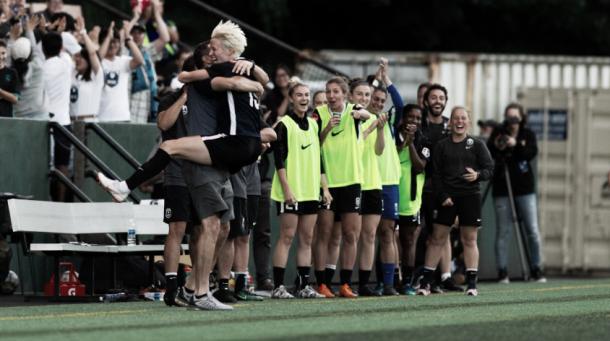 Midfield and Forwards stay consistent
The midfield may finally be solidifying as midfielders Julie Ertz, Morgan Brian, Lindsey Horan, Rose Lavelle and Sam Mewis all appear to be healthy. Lavelle and Mewis may not be 90-minute fit, but the pair have been struggling with injury and look to see playing time in their recovery.
Carli Lloyd was, of course, named to the roster along with Allie Long and North Carolina's McCall Zerboni who currently has two caps.
Ohai returns to the roster for the first time since tearing her ACL in June 2017. Houston has welcomed her return into their line-up as she has four goals and two assists in 13 games so far this season. Amy Rodriguez also continues her return to the roster and will hope to see more playing time to prove she is back into form as she is also coming off of an ACL tear. Tobin Heath, who has been injured for most of the past year, comes back along with Megan Rapinoe, Crystal Dunn, Alex Morgan and Christen Press.
The only players not named to the roster were Kelley O'Hara and Mallory Pugh, who both have been recovering from injury. Lynn Williams and Andi Sullivan, who are healthy, seem to have fallen out of favor with Ellis currently. Williams was recently named the Week 16 player of the week after a hat trick in her last game. Sullivan, the 2018 number one draft pick, has struggled to establish herself with the lackluster Washington Spirit.
The first match is July 26 against Japan in Kansas City, KS with kickoff at 6:00 p.m. CT. The second match is Sunday July 29 against Australia in East Hartford, CT with kickoff scheduled for 7:00 p.m. ET. The final match will be Thursday August 2 in Bridgeview, IL with kickoff at 7:30 p.m. CT. All three matches will be aired on FS1.
Tournament of Nations Roster by Position; Caps/Goals
GOALKEEPERS (3): Adrianna Franch (Portland Thorns FC; 0/0), Ashlyn Harris (Orlando Pride; 16/0), Alyssa Naeher (Chicago Red Stars; 29/0)
DEFENDERS (7): Abby Dahlkemper (North Carolina Courage; 19/0), Tierna Davidson (Stanford; 8/0), Jaelene Hinkle (North Carolina Courage; 8/0), Merritt Mathias (North Carolina Courage; 1/0), Becky Sauerbrunn (Utah Royals FC; 139/0), Casey Short (Chicago Red Stars; 21/0), Emily Sonnett (Portland Thorns FC; 17/0)
MIDFIELDERS (8): Morgan Brian (Chicago Red Stars; 75/6), Julie Ertz (Chicago Red Stars; 61/15), Lindsey Horan (Portland Thorns FC; 51/5), Rose Lavelle (Washington Spirit; 8/2), Carli Lloyd (Sky Blue FC; 254/100), Samantha Mewis (North Carolina Courage; 36/7), Allie Long (Seattle Reign FC; 39/6), McCall Zerboni (North Carolina Courage Courage; 2/0)
FORWARDS (7): Crystal Dunn (North Carolina Courage; 64/23), Tobin Heath (Portland Thorns FC; 133/19), Alex Morgan (Orlando Pride; 142/86), Kealia Ohai (Houston Dash; 3/1), Christen Press (Utah Royals FC; 100/44), Megan Rapinoe (Seattle Reign FC; 137/37), Amy Rodriguez (Utah Royals FC; 131/30)