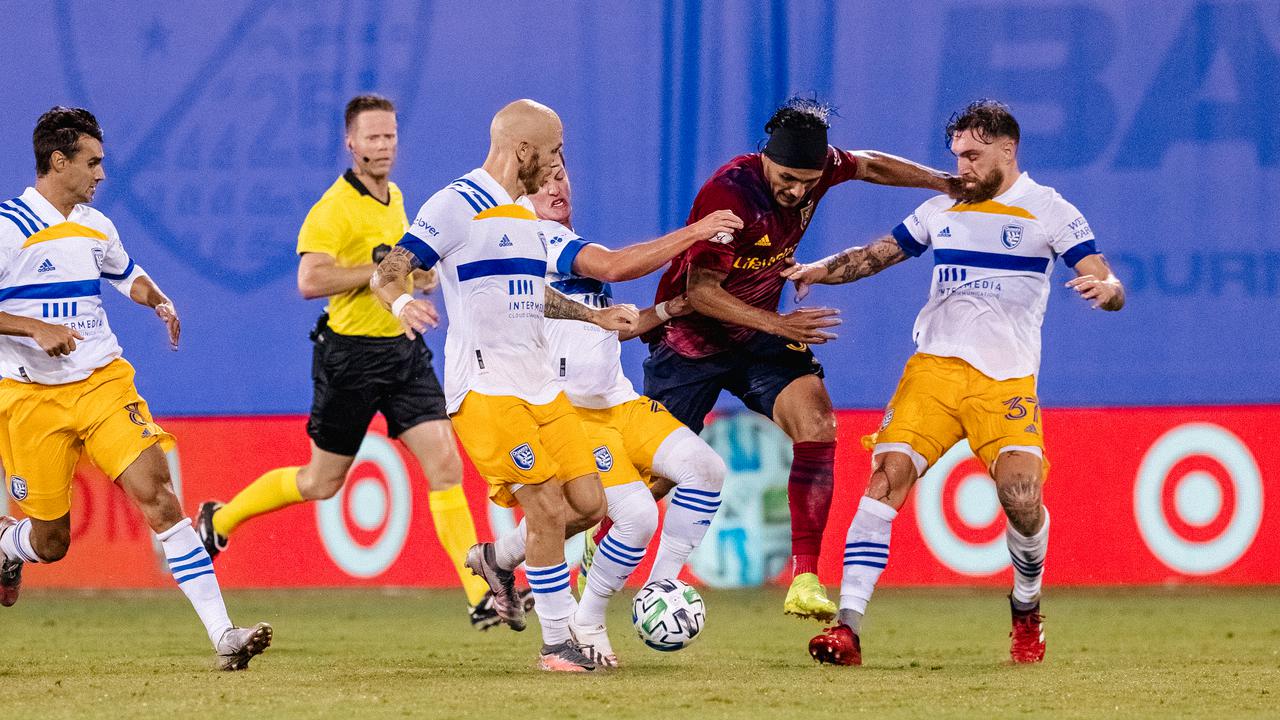 This Round-of-16 game between San Jose Earthquakes and Real Salt Lake was probably one of the best matches of the tournament to watch. The pace of the game was fast and unlike most games previously that were a bit slow this one had lots of action.
It only took 2 minutes for Real Salt Lake to get the first shot of the match and this one was on target, making keeper Daniel Vega work early. San Jose responded with its own first opportunity of the game at the 5th minute of the match and the pace was back and forth. Real Salt Lake had another great opportunity to get the game's first goal but was denied by Vega.
Moments later San Jose was the first on the board as Cristian Espinoza finished a beautiful passing play that ended with him putting the ball in the back of the net. It didn't take long for RSL to respond as literally off the kickoff and a mistake on the San Jose backend caused a counter-attack and Douglas Martinez had the match level at one. The play only lasting a mere 21 seconds after the initial goal by San Jose.
Even if it seemed like these teams were almost evenly matched RSL dominated possession 60-40 and had outshot San Jose 10-3. We went into half time deadlocked at one.
At the beginning of the second half, RSL made a change subbing Donny Toia for Alvin Jones. His first action of the game wasn't pretty as he ended up taking down a player in the box and conceded a penalty. Marcus Ericsson stepped up to the spot and put the ball past RSL keeper Zac MacMath to give San Jose the lead again 2-1.
RSL came back roaring trying to get the equalizer and in the 59th minute came pretty close as Damir Kreilach had a great shot at goal but Vega was once again up to the task. 3 minutes later we saw another defensive blunder by RSL and Vako Qazaishvilli made them pay by making it 3-1.
Kreilach once again had a golden opportunity to reduce the score but couldn't solve Vega. The Earthquakes had a scare in the 66th minute when Cristian Espinoza had a knee on knee collision and was down for several minutes. He ended up being ok and continued to play before eventually being subbed off in the 76th minute for Carlos Fierro.
Kreilach finally got his goal minutes later with a great shot that beat Vega to make it 3-2. You could tell RSL was not giving up and they continued to press for the equalizer. We jump to the 83rd minute and things would just end up getting worse for RSL as Marcelo Silva was shown a straight red card for a play in which he put his studs in the knee of Jackson Yueill in a vicious tackle.
That play really changed the game and literally three minutes later Chris Wondolowski off the bench scored to make it 4-2 for San Jose. This was his 3rd straight game scoring a goal off the bench. Into extra time and with the clock winding down RSL was called for a potential handball. The ref Drew Fischer had to go to VAR but it was confirmed and once again San Jose was awarded another penalty.
Magnus Ericsson once again scored to make it 5-2 and that was pretty much it. San Jose will face the winner of the Columbus-Minnesota match being played tomorrow night.