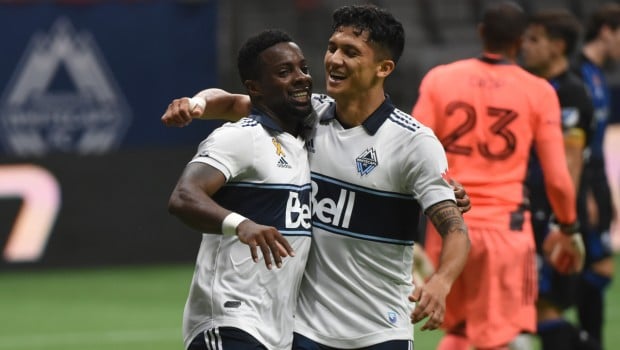 The Montreal Impact were looking to book their spot in the 2020 Canadian Championship and all they needed was a win. The Impact got their first chance of the game at 9th minute but couldn't score due to a lack of finish on the play. The game was being played a lot more tighter defensively compared to Sundays game where we saw openings all over the field.
Montreal had another great chance where Romell Quioto had a chance at goal but unfortunately headed it too hight. It took 31 minutes before the Impact had their first shot on goal but Hasal did a great job saving a shot from Orji Okonkwo. Things got ugly for Montreal as Rudy Camacho was sent off in the 36th minute when he was taken down in the box and was mad at the fact there was no call and decide to retaliate.
He ended up hitting Freddy Montero in the knee and since it was in the box Montero was awarded a penalty kick. He made no mistake shooting it left into the back of the net as Clement Diop went right. Thierry Henry was forced to make a change swapping Shamit Shome for Rod Fanni to bring in an extra defender.
Vancouver added to their lead when David Milinković gave a great pass to Cristian Dajome who fired a laser that beat Diop to make it 2-0 for the Whitecaps. The first half would end on that scoreline and the Impact now needed to score three goals or TFC would book a spot in the Canadian Championship.
The second half began and we saw something similar to the beginning of the first half with a tight defensive battle on both sides of the field. Montreal was pushing hard for a goal to get back in the game otherwise they would lose their title as Canadian Champions.
They got within one when Romell Quioto got a great pass from Saphir Taider and shot the ball top corner on Hasal to make it 2-1. That goal seemed to give the Impact life as they continued to push for the equalizer.
Freddy Montero had a chance to make it 3-0 Vancouver but Diop would make a great save to keep it a one-goal game. Ali Adnan was next to test Diop but he was up to the challenge of making another brilliant save.
78th minute we go and things got worse for the Impact as Freddy Montero would get a great pass from Leonard Owusu and take a great shot that went far post on Diop making it 3-1 for the Whitecaps. In the 89th minute, Bojan who had come on for Montreal would get another great chance but Hasal would continue his amazing play keeping the Impact at bay.
The game would finish 3-1 with the Whitecaps taking the win and thus confirming TFC would play for the 2020 Canadian Championship. For the Impact, they would finish with a record of 3-3 and a missed opportunity to defend the Voyageur cup final.