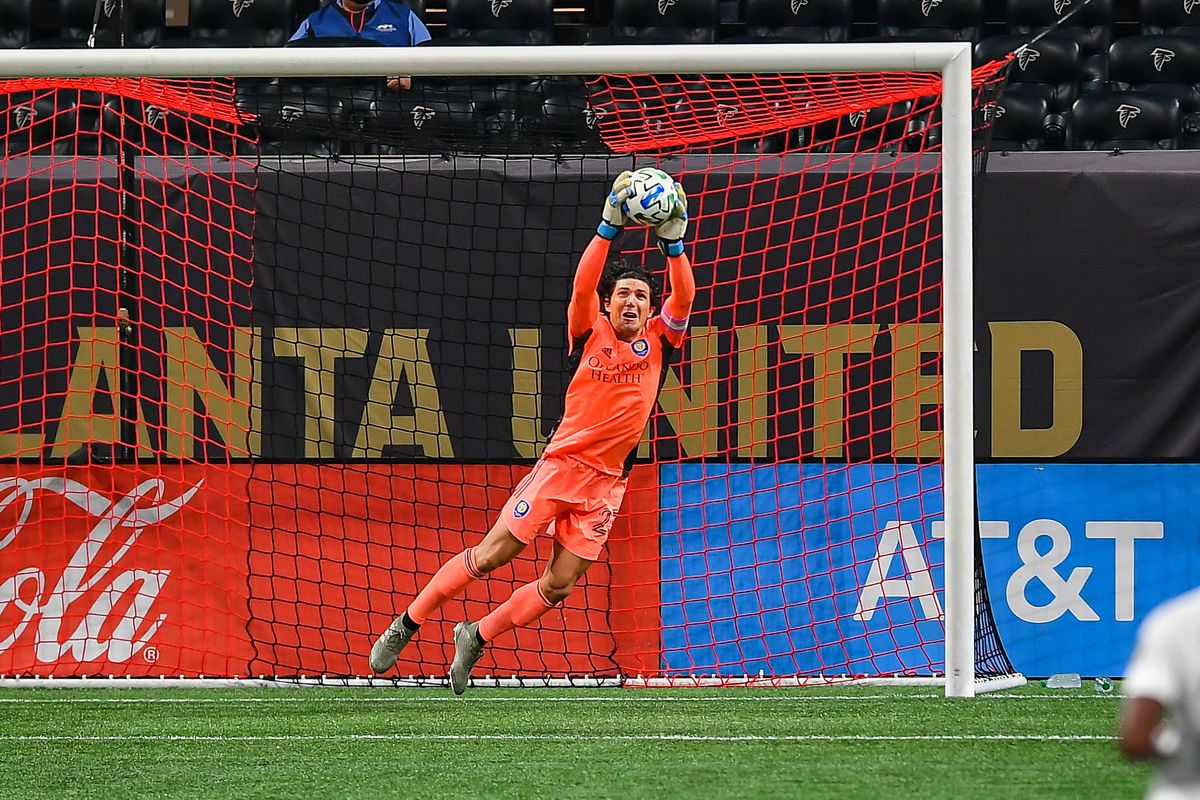 Wednesday's match between Orlando City and Atlanta United was expected to be another excellent match between one of MLS' newer rivalries. While the match ended in a 0-0 draw, a result that doesn't really scream excitement, this game surely didn't lack that aspect. This match had everything.
Let's start where you usually do... at the beginning. The first half was a back and forth affair with both teams forcing good saves out of the opposition's goalkeeper. Orlando City's Brian Rowe saved a powerful header from Miles Robinson while Atlanta United's Brad Guzan was forced into an early double save after Dike's close-range header and Robinho's follow-up shot.
Double save. Double GUZZZ 🗣 pic.twitter.com/953sfWvPgJ

— Atlanta United FC (@ATLUTD) October 7, 2020
The first half was also where question marks were directed towards Rubiel Vazquez after Atlanta United right-back Franco Escobar seemingly escaped a second yellow after a very late challenge on Junior Urso just a few moments after receiving his first yellow card. The referee gave him a talking to but nothing more.
39 MINUTES | 0-0

WHY NO RED!? 😡 | Another disgusting late challenge from Franco Escobar on the 🐻.

Orlando victims of Escobar getting a first yellow just moments ago. That HAS to be a second yellow, no matter when he got his first. Disgusting. 😡#ATLvORL #OrlandoCity #MLSUK pic.twitter.com/i3rE8mBs2o

— Orlando City UK (@Orlando_CityUK) October 7, 2020
A few minutes later, the referee faced another tough decision when Atlanta United striker Adam Jahn was seemingly taken down by Brian Rowe in the box, but the referee was having none of it. After some replays were shown, it would've been an incredibly harsh penalty but there was a bit of contact there.
Right as the halftime whistle had sounded, both coaches seemed to get into a heated debate where Stephen Glass is heard calling Oscar Pareja a "f****ing idiot." Nothing more came of it though and the second half started without incident.
While the first half saw Orlando City have the better of the chances, the second half seemed to be more even. Atlanta forced a point-blank save out of Rowe yet again and they sustained a 10-15 minute period of dominance in the match. Nothing came of this period though and Orlando City managed to turn things around and start to create dangerous opportunities again.
73 MINUTES | 0-0

HUGE SAVE! 🚫 | @ROWE_BRIAN_ coming up big for a second time tonight. Huge save from this Anton Walkes strike. 👏🏽👏🏽#ATLvORL #OrlandoCity #MLSUK pic.twitter.com/mo6GspGCUA

— Orlando City UK (@Orlando_CityUK) October 8, 2020
Before the two big opportunities that Orlando City had though, the referee was faced with a similar dilemma. Franco Escobar went in late on Robin Jansson and questions were asked again of the center referee over whether Escobar deserved a second yellow card. Vazquez just called the foul and dismissed Orlando's calls for the red card to be shown.
83 MINUTES | 0-0

NO RED! | Franco Escobar with another slide on Robin Jansson.

But the referee agrees that Escobar was pulling out of the challenge.

Júnior Urso was incensed. Nani trying to calm his team-mate down.#ATLvORL #OrlandoCity #MLSUK pic.twitter.com/46znto1RKb

— Orlando City UK (@Orlando_CityUK) October 8, 2020
Despite the lack of red card for Atlanta, Orlando created two very good chances before the end of the match. The first was from Portuguese star Luis Nani, who had his deflected shot hit off the crossbar and bounce out. The second came from Nani beating his man on the dribble before crossing into Junor Urso who forced a fantastic save out of Brad Guzan.
86 MINUTES | 0-0

HUGE CHANCE MISSED! 😩 | Superb centre from Nani but Junior Urso can't make Atlanta pay. 😩

That was the chance for all 3...#ATLvORL #OrlandoCity #MLSUK pic.twitter.com/c6XW02eKCY

— Orlando City UK (@Orlando_CityUK) October 8, 2020
Nothing else really happened after the Urso chance and the game ended at 0-0. My man of the match has to be Brad Guzan for coming up with some big saves in key moments for Atlanta United.