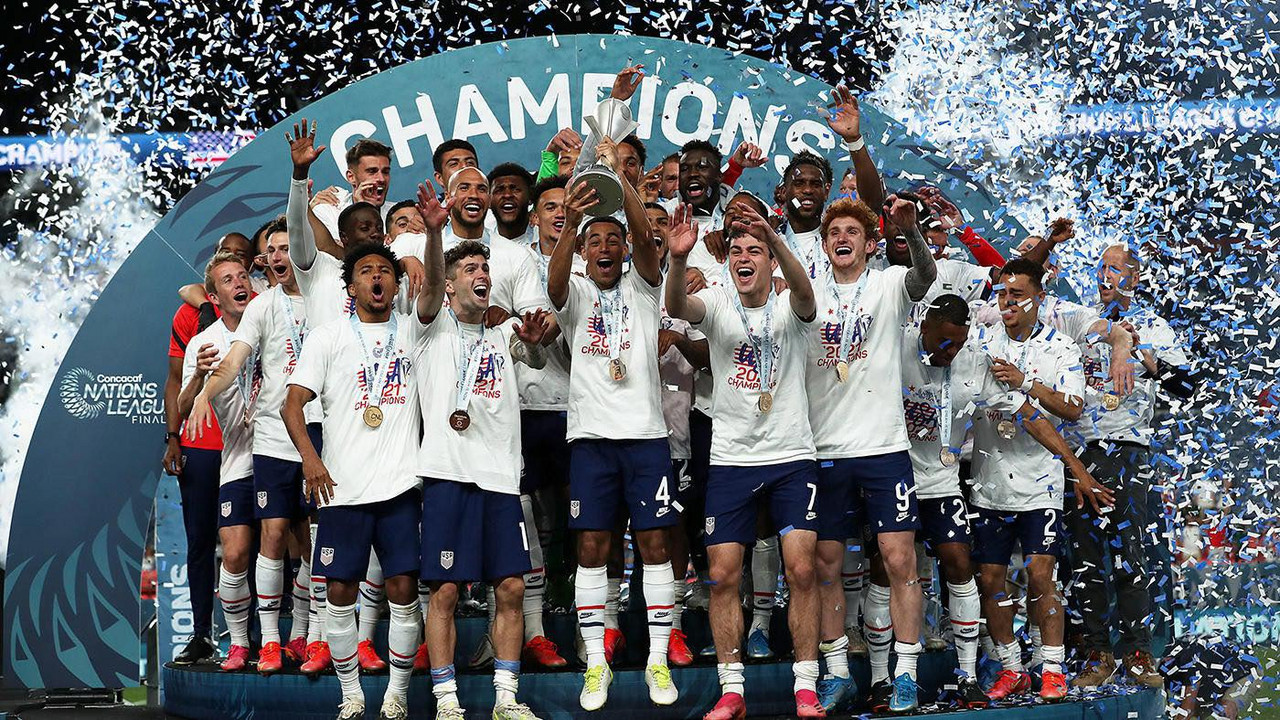 The United States Men's National Team renewed their long-standing rivalry with Mexico last night in the CONCACAF Nations Final held in Denver, Colorado. The USMNT battled from being down 1-0 and 2-1 to win the game 3-2 after extra time.
As good as that sounds, you know there is so much that comes with a match between these two North American rivals. And with that in mind, you know social media did not fail to impress. Here's some of the best tweets of the night during the game.
Gio Reyna equalizes for USA
After Mexico took an early 1-0 lead, the USMNT had to find an equalizer. In the 27th minute, Dortmund's young prodigy Gio Reyna slotted home a Weston McKennie header the ricocheted off of the post.
18-year-old Gio Reyna's third international goal pulls the #USMNT level with 🇲🇽!

(@TUDNUSA) pic.twitter.com/TdqgdQ0mCi

— U.S. Soccer MNT (@USMNT) June 7, 2021
Weston McKennie with the free header and 18 year old Gio Reyna with the tap in ..

Game on. #FutbolAmericas

— herculez gomez (@herculezg) June 7, 2021
At halftime, the score stood at 1-1. The second half is where the saying "CONCACAF is gonna CONCACAF" comes into play. And boy did it ever.
Diego Lainez gives Mexico the lead
Moments after coming on the pitch, Diego Lainez was able to get around defender Tim Ream and give Mexico a 2-1 lead in the 79th minute.
🇲🇽 back on top with a superb Lainez strike in the @CNationsLeague Final 🔥pic.twitter.com/oRkS22buA9

— SOCCER.COM (@soccerdotcom) June 7, 2021
I think Lainez had a little extra motivation ... #USAvMEX #NationsLeagueFinal pic.twitter.com/68qD4ls92O

— Miguel Gallardo (@migallardo01) June 7, 2021
Lainez just destroyed Ream. Yikes.

— Jacob Schneider (@_jacobschneider) June 7, 2021
Lainez v Ream is a crime against humanity

— scuffed (@scuffedpod) June 7, 2021
Weston McKennie ties the game
Minutes later, Weston McKennie was able to head home a corner kick to tie the game 2-2 as regulation time was winding down.
WESTON MCKENNIE. 82ND MINUTE. CLUTCH.

(🎥 @TUDNUSA) pic.twitter.com/Bu882vQ6qV

— B/R Football (@brfootball) June 7, 2021
LEVEL AGAIN!!! WESTON MCKENNIE!!! 🇺🇸 pic.twitter.com/kAJA9fFupH

— Major League Soccer (@MLS) June 7, 2021
Weston McKennie is the greatest aerial threat in the world and I'll hear no arguments to the contrary. #USMNT

— Charles Campisano (@C_Campisano) June 7, 2021
The power of Weston McKennie 🪄✨ pic.twitter.com/5rBn5yvUer

— Goal (@goal) June 7, 2021
Now things start to get weird and again, USA/Mexico is nothing short of wild and crazy. Like, a fan storming on the set of the panel during the break before extra time.
Yo a security guy chasing someone on the set just happened 😂😂 This is wild.

— Tyler Fisher (@MRTylerF) June 7, 2021
Concacaf. pic.twitter.com/xa2F2yCwDW

— Ben Wright (@benwright) June 7, 2021
Man for sure went to the shadow realm. He gone. pic.twitter.com/UsGwxpjPyE

— Mickey Kennedy (@AMickeyKennedy) June 7, 2021
In the second half of stoppage time, Christian Pulisic was taken down inside the penalty area. The call on the field was originally a clean tackle, but upon further review, VAR came into play. And boy did things get spicy there.
As the center official was walking over to the monitor, members of the Mexico bench and team surrounded the official pleading their case. Head coach Tata Martino was then issued a red card for illegally entering the VAR area between the benches and placing his hands on the official.
After review, all eyes. were on the center official and he did not disappoint in his decision. The call was reversed and the USMNT were awarded a penalty. The call from the official was what mattered the most, as he took his time to shine when needed.
That point from the ref though 😂😂😂 #USMNT

— Tyler Fisher (@MRTylerF) June 7, 2021
That penalty call motion LMAOOOOO my dude was ready for his moment

— Ryan Catanese (@rcatanese) June 7, 2021
My was READY for this moment! 🤣🤣🤣https://t.co/EScHu3MKSf

— Tyler Fisher (@MRTylerF) June 7, 2021
Pulisic was able to convert the penalty, and in iconic fashion, gave us the photo for eternity.
Great photo @cdmarchena pic.twitter.com/nhRYw65EOx

— Grant Wahl (@GrantWahl) June 7, 2021
You thought we were done? No way. It just gets even better.
Mexico was awarded a penalty after a handball inside the box in the brink of stoppage time of extra time. This was a big test for Ethan Horvath, who came into the match for an injured Zack Steffen in the second half of regulation. These next tweets are every USMNT fans thoughts.
lmaoo concacaf is a drug

— Joey Leizerowitz (@JoeyLeiz) June 7, 2021
I want a pen. I enjoy madness.

— Sean Quinn (@SeanHQuinn) June 7, 2021
I want a pen. I enjoy madness.

— Sean Quinn (@SeanHQuinn) June 7, 2021
Sure… let's add more fuel to the fire #USMNT

— Tyler Fisher (@MRTylerF) June 7, 2021
This #USAvMEX game is a stray dog away from everyone in America getting a free sub at Jimmy Johns.

— Jarrett Bellini (@JarrettBellini) June 7, 2021
Ladies and gentlemen, may I present to you Ethan Horvath who stood on his head and stopped the ensuing penalty kick to preserve the lead for the USA.
Ethan Horvath is a treasure we need to protect at all costs. #USMNT

— Tyler Fisher (@MRTylerF) June 7, 2021
GO ON ETHAN HORVATH! HAVE YOURSELF A NIGHT

— Brad Stuver (@brad_stuver) June 7, 2021
ETHAN FUCKING HORVATH JUST BECAME A US SOCCER ICON

— Stars and Stripes FC (@StarsStripesFC) June 7, 2021
what a call on Univision pic.twitter.com/l5HHsFmKek

— Timothy Burke (@bubbaprog) June 7, 2021
In hindsight, this was the best match ever if you were a neutral.
The USMNT would hold on to win 3-2 and would ultimately win the inaugural CONCACAF Nations League. But truly, this is the best way to put this game, yet this region of soccer.
I promise you #ConcacafNationsLeague is the greatest continental competition to ever exist…you have to give it a shot. Two regional powerhouses throwing down the gauntlet in Denver. pic.twitter.com/epiUUE1Dni

— William Patterson Whitelaw IV (@whitelaw827) June 7, 2021