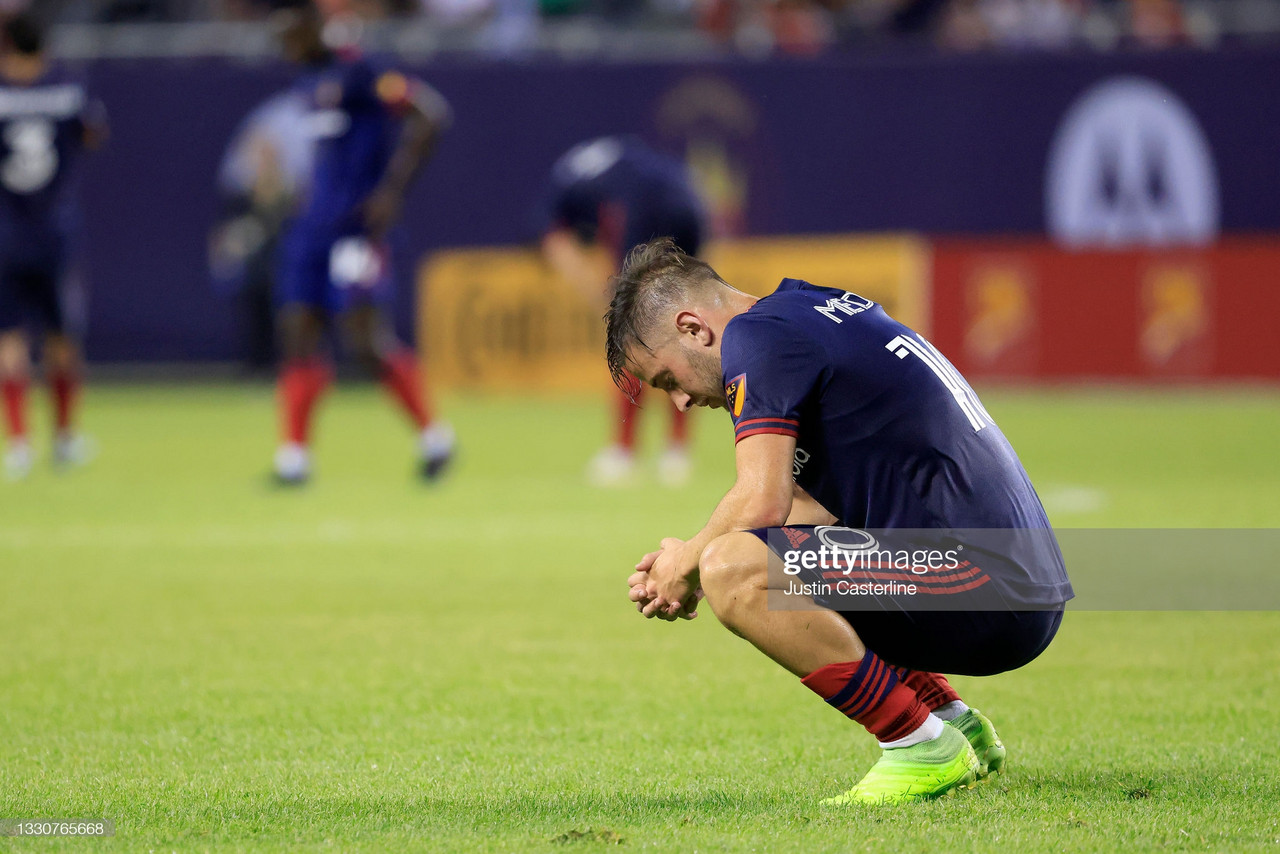 The Chicago Fire thought that they had turned things around.
After a horrific start to the 2021 MLS season, they started to play better. A change in formation seemed to be the catalyst for it, as the team picked up seven points from three games with a new back three/five system in place. They also scored a total of nine goals in those matches, which gave fans hope for the future.
However, that run of results might have just been a fluke, as things have since gone bad again. Chicago have only taken one point from their last three, including a 5-1 loss away to Nashville SC, a 2-2 draw against D.C. United after being 2-0 up, and a 2-1 loss at home to Toronto FC. They are now the 2nd-worst team in the entire league, and the only reason why they aren't the worst is because Inter Miami is a club in crisis.
It's clear that the Fire are in trouble. What's less obvious are the reasons why they are struggling this campaign. They have a talented roster on paper, and it's a squad that has been playing together for a while now, so team chemistry shouldn't be an issue. It just doesn't come together when they're out on the field, though, and they've suffered as a result.
So, what's been going on?
First things first, it is important to mention that they have been without head coach Raphaël Wicky for that aforementioned stretch. In Switzerland due to a family emergency, assistant Frank Klopas has been at the helm instead. The poor run of form isn't his fault, of course, but not being with Wicky has probably been tough on the players and the rest of the coaching staff. Whether or not things would be any different with him there is unknown, but it is a potential factor nonetheless.
There are some more clear reasons that can explain why Chicago has been so poor.
Disappointing DP's
As iconic Chicago Bulls commentator Stacey King loves to say, "Big time players make big time plays." Well, for the Fire, their big time players have not been making many big time plays.
Robert Berić has only scored twice this season, and one of those goals came in the opening five minutes of the campaign. It's not like he's even playing that well, either. He seems too focused on floating around the pitch to help create chances for his teammates, but that then prevents him from capitalizing on the opportunities made by others. Then there's the fact that he can't stay onside, which kills off a number of attacking moves before they even get going.
Gastón Giménez hasn't played as much, but when he has played, he hasn't done a lot. He doesn't make much of an impact when out on the field, as he mostly just sits in the midfield and passes the ball around to those nearby him. That wouldn't be too much of a problem if he was a cheaper player, but he makes way too much money to not be more of a presence for Chicago. There was hope that things were going to change when he scored versus D.C. United, but he went back to being practically invisible in the following contest against Toronto. The most damning indictment of him is that the team arguably plays better when he's not in the lineup.
Ignacio Aliseda is currently the best of the underwhelming bunch, which should be applauded considering he's far and away the youngest as well. However, that doesn't mean too much when the other two have been as poor as they have been. Aliseda certainly looks like he's trying to make things happen, as he either gets on the ball or makes dangerous runs when off of it. It all usually goes wrong, though, and most of his plans don't come off as a result.
Then there's Álvaro Medrán, who isn't technically a DP, but he is a top-earner at the club. His arrival ahead of the 2020 campaign was a marquee one, as he was a former Real Madrid and Spain youth international coming to MLS. It's all been a bit disappointing ever since, as he's had his highlights, but he's not been consistent. He's yet to drop a true midfield masterclass when it matters in the year and a half that he's been with the Fire, which is not good enough for a player of his talent and ability.
The role players have mostly stepped up, so they're not the ones who are mainly at fault. They're being let down by the bigger names, though, and the results won't change until those players start living up to their hefty salaries.
Finishing disasterclasses
Chicago isn't converting chances on a regular basis, which has really hurt them in certain games.
That was especially on show this past weekend versus Toronto. The Fire were borderline dominant for most of the contest, creating opportunity after opportunity after opportunity. They just could not score, though, as their shots were either hit off target, or they were saved by the opposing goalkeeper.
Expected goals (known as xG) is a statistic that is sometimes used to explain how many goals a team should have scored in a game. It takes into account the amount of chances a team has, and how good those chances were. In the match against Toronto, Chicago had an xG of 3.7. They only scored once, and that goal was thanks to some dreadful defending from the Canadian outfit.
That has been the story of the Fire's season. They are a decent team going forward, as they know how to keep the ball and how to work it into dangerous areas to create chances. They just can't finish, though.
Chicago has only scored 17 goals in 15 games, and plenty of those goals have come from set-pieces and late counter attacks. That's not great, and it's even less ideal considering how leaky the defense has been.
The main culprit for this is the aforementioned Berić, but he's not the only one who is responsible. Chinonso Offor isn't good enough at the moment, and even though he's showing potential for the future, the club needs a more reliable option off the bench that can get the job done now. There aren't enough late runs into the box coming from the midfielders, either, which leaves whoever is up top isolated to a certain degree.
The Fire have been better going forward than they were at the start of the season, but that isn't too impressive since they only scored four goals in their first nine games. They still have a long way to go before they can be seen as a threat in the final third.
Bottlejobs
Things aren't as bad defensively, but they're still quite bad to be fair.
It just seems like Chicago are guaranteed to make at least one mistake at the back in a game, and that mistake usually costs them. That's been especially true in their last three contests, which might explain why they've only picked up one point from those matches.
In Nashville, Johan Kappelhof pretty much single-handedly sold the contest for his side. First, he gave the ball right to the opposition in his own third, which eventually led to the opening goal in the 10th minute. Then, only four minutes (and another goal) later, the Dutchman was sent off after taking out a player as the last man back, and the resulting free-kick was then scored by Nashville. Just like that, the Fire were down three goals and a defender at the quarter-hour mark, and they never recovered, ultimately losing 5-1.
Then came the match against D.C. United, where the Fire blew a 2-0 lead. The late equalizer was effectively gifted to the opposition, as Jonathan Bornstein brought down Andy Najar in the area for no real reason with about ten minutes to go. The ensuing penalty was converted, which meant that Chicago had dropped two points.
Wyatt Omsberg decided to get in on the fun when Chicago hosted Toronto, as he was the one at fault for the early goal they conceded in that game. He wasn't put in a great spot, to be fair, since he was passed the ball in his own corner, but his clearance wasn't good enough, and he then failed to get back in time to hold the defensive line. That kept everyone onside, and Yeferson Soteldo ended up scoring the opener. That goal proved to be a big one, as Toronto only won 2-1 at the end of the night.
It's not all been due to individual errors, though, as those were just four of the nine goals given up by the team. Despite switching to a new formation that utilizes three centerbacks, they still aren't solid at the back. They lack the focus to defend for 90 minutes, which leads to sloppy marking and the aforementioned mistakes.
Some of these problems might be fixed when club captain Francisco Calvo returns to the team, but plenty of fans don't really rate him anyways, so they can't expect him to be the hero that saves the day.
If the Fire can't suddenly learn how to finish, then they'll need to start defending better if they want to have any chance of saving this season.
Too little, too late?
However, there's a chance that Chicago's season might already be over.
They are currently 10 points off of the final playoff spot in the Eastern Conference after 15 games. About a week away from the midway point of the campaign, there is still plenty of time left in the year in theory.
However, the Fire face an uphill battle when it comes to the rest of the season. Out of the 15 matches they've already played, 10 of those have been at home. That means that they'll only have seven more for the rest of the campaign, and following an upcoming three match homestand, they'll only have four of their final 15 contests at Soldier Field.
That would be a problem for most teams, as playing on the road is obviously harder than playing at home. For Chicago, though, that is an absolute nightmare. They've been beyond woeful in away games as of late, only winning two such games in the last two and a half years. They haven't looked much better this time around, so there's little reason to believe that they'll be able to start picking up points on the road.
Add that to the Fire's inconsistencies at home and you've got a recipe for a failed season.
You never quite know in MLS, to be fair, as teams like to go on random hot-streaks. However, it just doesn't seem like Chicago has the ability to do that, which means that they might have dug themselves too deep of a hole to get out of already.
The fact that I can say that before August has even begun goes to show how bad they've truly been this season.