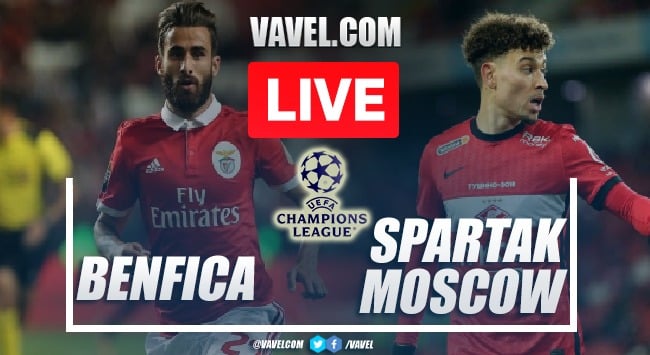 The Summary
Thank you for following the VAVEL.COM webcast.
Benfica dreams of Champions League!
THE GAME IS OVER!
GOOOOAL
90´
85´
80´
74´
This is how the goal fell!
Changes in the local staff!
64´
GOOOAAAAL
56´
52´
45´
TIE AT HALFTIME
45+1´
45´
40´
36´
29´
23´
20´
17´
16´
15´
11´
9´
5´
3´
THE MATCH STARTS!
Seeking to remain in the European top flight
Everyone missed the Da Luz!
Fine tuning details!
The match will kick off in a few moments!
The new kit!
The joy of never seeing empty seats again
The opponent has arrived!
Just in case, there are changes!
The postcard to frame
Funny way to handle the nerve
They are already at the stadium!
The eleven eagles in Lisbon are ready!
Spartak's starting line-up is ready!
Benfica's call-up list
In search of a comeback!
The day has arrived!
Tune in here Benfica vs Spartak Moscow Live Score
What time is Benfica vs Spartak Moscow match for Third Qualifying Round UEFA Champions League?
Key Player Spartak Moscow
Key Player Spartak Moscow
Key Player Benfica
Spartak Moscow last lineup:
Benfica last lineup:
Lastes Games:
Referees
The last chance
Their destiny is in their hands, impossible to fail
The penultimate stop on the road to the Champions League
Kick-off time
Welcome to VAVEL.com's LIVE coverage of the 2021 Third Qualifying Round UEFA Champions League: Benfica vs Spartak Moscow!