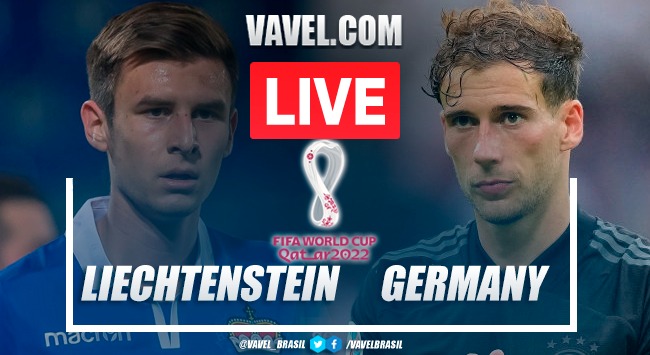 Next matches
END OF MATCH
43'
41'
38'
36'
31' GOAL FOR GERMANY
29'
27'
26'
25'
23'
15'
14'
12'
7'
SECOND HALF STARTS
Teams on the field
END OF FIRST HALF
40' GOAL FOR GERMANY
37'
31'
18'
14'
6'
3'
IT STARTS
National anthems
Teeams on the field
Round 4 - part 5
Round 4 - part 4
Round 4 - part 3
Round 4 - part 2
Round 4 - part 1
Warm-up
Retrospect - part 2
Retrospect - part 1
Line up of Liechtenstein
Liechtenstein lined-up!
Line-up of Germany
Germany lined-up!
Welcome!
Tune in here Liechtenstein vs GermanyLive Score
How to watch Liechtenstein vs GermanyLive in TV and Stream
Possible Germany
Possible Liechtenstein
Hansi Flick
Injuries
Group J
Sentence: Germany
Sentence: Liechtenstein
Welcome to VAVEL.com's coverage of the 2022 World Cup Qualifying match: Liechtenstein vs Germany Live Score!