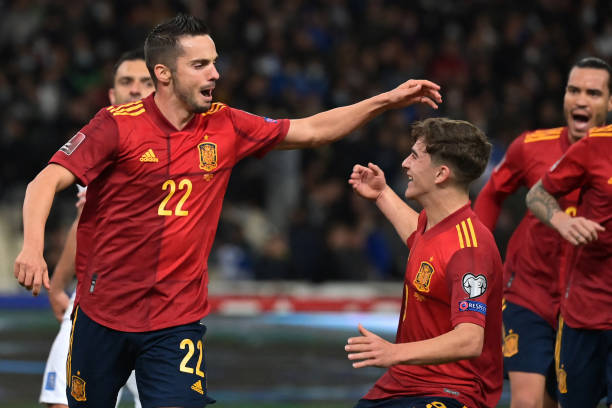 Summary
Thank you all!
End of the match
93' Rodrigo's shot
5 minutes more
88' Iñigo Martínez leaves with discomfort
85' Dangerous foul for Spain
78' Yellow card for Carvajal
76' Iñigo salvador
74' Rodri shoots high
67' Rodrigo shoots wide
65' Another double change for Spain
59' Another yellow card
57' Double change by Luis Enrique
54' Tsimikas now gets a yellow card
48' Yellow card for Pablo Sarabia
The second part started
Rest
44' Morata's cross
36' Clear chance for Morata
33' Sipas gets a yellow card
Pablo Sarabia's goal
25' GOAALLLL
24' Penalty for Spain
22' Raúl de Tomás
GOAL DISALLOWED FOR MASOURAS
19' Raúl de Tomas gets hurt
11' Attempted attack by Spain
6' Good pass from Morata
3' Androutsos head kick
The match begins
The hymns are playing
If Spain wins, it is the leader
Luis Enrique's eleven
Georgia Trump
1 hour
How to watch Spain vs Greece live?
What time is the Greece vs Spain 2022 World Cup Qualifying match?
Statements by Luis Enrique
Spain call-up list: Raúl de Tomas, Brias and Diego Llorente have replaced Ansu Fati, Yeremi and Eric García.
How does Greece arrive?
How does Spain arrive?
Background
Headquarters
Preview of the match
Welcome to VAVEL.COM's LIVE coverage of Greece vs Spain in the Qatar 2022 qualifiers.