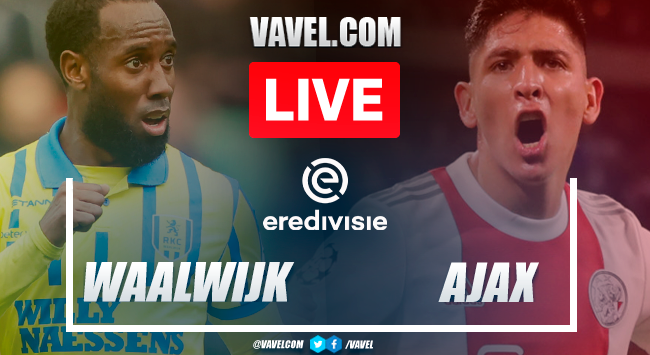 Match ends!
90'
85'
AJAX GOAL!
79'
76'
AJAX GOAL!
71'
70'
61'
60'
AJAX GOAL!
Restart of the second half!
The first half ends!
AJAX GOAL!
25'
AJAX GOAL!
9'
5'
The match is underway!
In case of a win...
Waalwijk: substitutes
Waalwijk announces its lineup
Referees for the Waalwijk vs Ajax match
Ajax: substitutes
Ajax announces its lineup
History between Waalwijk and Ajax
No spectators
Let's get started!
Tune in here Waalwijk vs Ajax Live Score
How to watch Waalwijk vs Ajax Live Stream on TV and Online?
Ajax: last lineup
Waalwijk: last lineup
How are Ajax coming along?
What's next for Waalwijk?
Ajax goes for the lead
Waalwijk, to climb up the ladder
Waalwijk hosts champion and runner-up Ajax
Welcome to VAVEL.com's coverage of the Matchday 13 of the Dutch Eredivisie season 2021-2022: Waalwijk vs Ajax Live Updates!