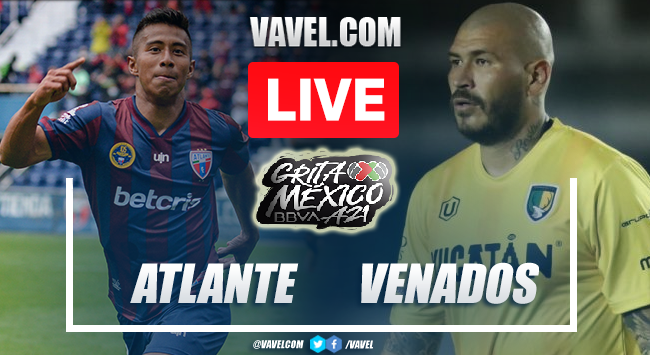 Summary
Thank you for following the telecast on VAVEL.COM.
THE MATCH IS OVER!
LAST 10 MINUTES OF THE GAME!
72´
66´
56´
53´
50´
START OF THE SECOND HALF!
THE FIRST HALF IS OVER!
33´
28´
16´
14´
7´
2´
THE MATCH STARTS!
IN MOMENTS WE BEGIN!
What Atlante and Venados need to advance to the semifinals
LOOKING FOR ANOTHER SEMIFINAL!
Taking it gracefully!
THE MEN TO FOLLOW!
THIS IS HOW THE DEER ARRIVE!
THIS IS HOW THE COLTS ARRIVE!
THE WAIT IS OVER!
Tune in here Atlante vs Venados Live Score
What time is Atlante vs Venados match for Liga Expansión MX?
Watch out for this Venados player:
Watch out for this Atlante player:
Last Venados lineup:
Atlante's last lineup:
Background:
ABOUT THE STADIUM
In search of the feat
With half a foot in the semifinals
In search of the title
Kick-off time
Welcome to VAVEL.com's LIVE coverage of the 2021 Liga MX: Atlante vs Venados!