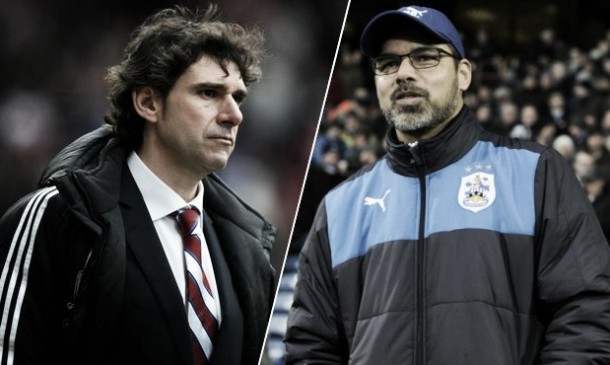 In years gone by, the second tier of English football was a dark and uninspiring place.
Frequently populated by 24 sides operating with the sole intention of 'getting it in the mixer', the football was unadventurous and physical, with little in terms of tactical innovation or complexity.
In more recent times, though, the standard of football and the running of clubs behind the scenes has, for the most part, improved dramatically.
Clubs like Southampton, Leicester City and Crystal Palace have gone up and flourished with expansive, exciting football, with relegated teams rarely finding the Championship a walk in the park when they find themselves falling through the top-flight trapdoor.
There is more money in the second tier now, and that has made a clear difference. Clubs like Derby County have spent Premier League-level sums on players and with the riches of the new TV deal coming in next season, that is only going to increase as clubs have to compete with relegated sides with pockets lined with growing parachute payments.
Some clubs have been simply unable to keep up with the times; perennial play-off troublers Cardiff City and Nottingham Forest look some distance off making the top six again, while formerly huge clubs like Leeds United are firmly entrenched in mid-table.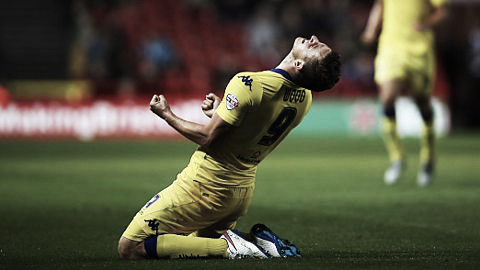 Leeds' struggles in recent seasons have been well-documented - via BBC
Others have taken a bold approach, and one which deserves close attention; the foreign footballing philosophy.
This is not simply a matter of hiring a foreign coach, though in the two cases which will be looked at here, their decisions to do so were the first times a foreigner had taken charge at either club.
Middlesbrough and Huddersfield lead the way
Middlesbrough appointed untested Basque Aitor Karanka in November 2013 with the Teessiders in a crisis of identity following the sacking of club legend Tony Mowbray, and are on course for his target of promotion by the end of this season as a result.
Then, just last month, Huddersfield Town turned to David Wagner, a man with no first-team managerial experience to speak of, to steer the club away from relegation and hopefully towards the top end of the table.
There are clear similarities between the two cases. Both men have worked under, and maintain close friendships with, some of the biggest managerial names in the world - Karanka acting as assistant to José Mourinho at Real Madrid and Wagner being Borussia Dortmund's second-team coach during Jürgen Klopp's reign at the club.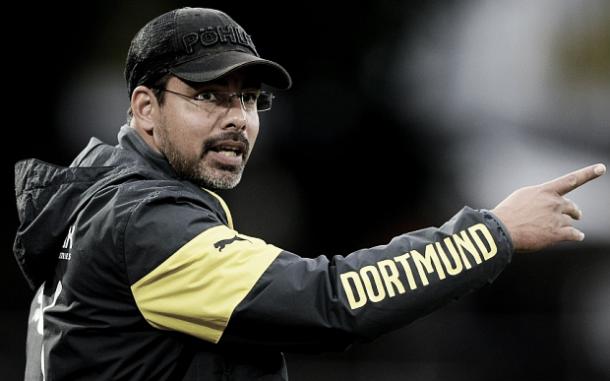 Wagner during his time at Borussia Dortmund - via the Telegraph
Both managers found themselves taking over distinctly average Championship sides, with avoiding relegation the main aim. Middlesbrough had just three wins from fifteen games in their fifth season after Premier League relegation, while Huddersfield started this season almost equally poorly, with three victories in 17 matches.
Boro's success was far from instant, and Karanka's arrival at the club coincided with a record-breaking barren spell in front of goal as the former Spain defender built from the back to shore up a horrifically porous defence.
Yet their longer-term growth has been obvious, making the play-off final last season and currently sitting inside the top two this time around. But Boro fans will attest that is not only on the pitch that Huddersfield must look to follow their example, but in every aspect of the club off the field, if they are to succeed in turning their fortunes around.
Spanish influence returns Middlesbrough's pride
As previously stated, Middlesbrough was a club without much of an identity when former captain and manager Mowbray was sacked in October 2013.
The source of pride at having a local hero in charge of the club was gone, and the club's tradition of fielding home-grown talent had yet to fully recover from Gordon Strachan's nightmare spell in the dug-out.
Ever-popular local boy come good chairman Steve Gibson decided, therefore, to build the club's identity from the ground up in much the same way as Karanka aimed to do with the playing squad, and it was a decision which so far looks to have paid off in a huge way.
The Spaniard's first appearance from the Riverside Stadium tunnel was greeted from the expectant stands with a flurry of fluttering panuelos, red Spanish handkerchiefs affectionately nicknamed 'Karankachiefs' - such was their popularity, a smattering can still be seen following Boro around the country among the small army which now travels to see every away game.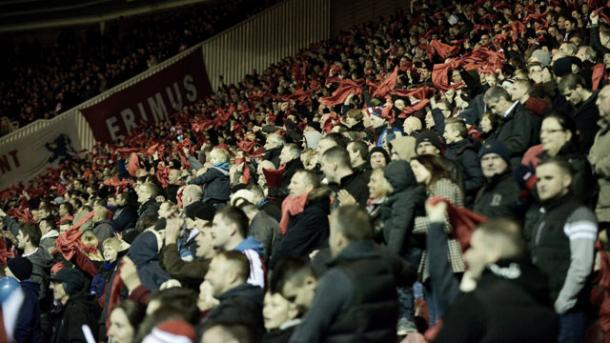 Fans welcome Karanka with a symbol of his homeland - via mfc.co.uk
The fans had shown their backing for Karanka's ways and the chairman has done the same, giving his manager everything in his power in the transfer market to help the Spaniard build his team in his own image.
But regardless of the squad the 42-year-old has been working with, he and his imported backroom staff have instilled a very clear style into his team.
Karanka has unwavering confidence in his ways
Karanka has drawn criticism from some corners for his perceived stubbornness in so rarely straying from his preferred 4-2-3-1 system, but he is never afraid to pose the response that it is a system which works.
Even on the occasions where Boro are blunted - last season's play-off final defeat to Norwich City and similar no-shows against promotion rivals Bournemouth and Watford - Karanka refuses to budge from his ways, and his perfectionist ideology has become engrained every aspect of the club's operation.
His side do not quite match his former employers Madrid in terms of excitement or attacking quality, but their Iberian-influenced possession-based counter-attacking playing style has Boro fans quite happy to accept Karanka's footballing identity as their own.
After all, cup victories over Manchester City and Manchester United in consecutive seasons would have been unthinkable just two years ago.
One only has to look at the vein of Hispanic players which runs through the squad, to hear the Karanka-themed chant to the tune of La Bamba which appears during every game or see the genuine delerium which greets the manager's every response to 'Aitor, give us a wave' to see the adulation with which Karanka is lavished on Teesside, just two years after his arrival at the club.
Wagner looks to match Karanka popularity
It is this level of success and popularity which Wagner will be hoping to emulate at Huddersfield, and the German-born former USA international will need to follow a similar path.
Clearly, his managerial education under the self-styled king of rock 'n' roll football Klopp has been a different one to that which Karanka received from Mourinho, but that is not the point.
Wagner needs to stick to his guns and believe in his own methods if he is to succeed in the Championship. Karanka's success has arguably not stemmed from his systems themselves, but from his own undying belief in them - as a result of this, every member of his playing squad has faith in him, in the system and in each other to win every game.
The Dortmund way of playing will not be easy to replicate, and in truth its onus on high-tempo attacking and pressing means the short-term risk is likely higher than the safety-first approach Karanka took at the Riverside.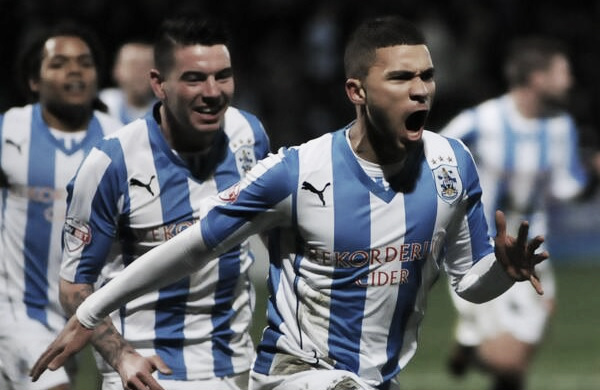 Forward Nahki Wells could be crucial for Wagner - via bernews.com
Yet, if the former Schalke man succeeds, the reward could be huge. The three sides who went up last season, Bournemouth, Watford and Norwich, all did so playing attacking football and, most importantly, outscoring their promotion rivals.
First weeks offer hope for Terriers
The early signs have been promising, on the field and off it. Granted, his first two games at the helm ended in defeat - Sheffield Wednesday had too much for the Terriers on his managerial debut, while Boro themselves came away from the John Smith's Stadium with three points as two moments of quality provided by Karanka signings saw them claim a smash-and-grab win after Huddersfield had dominated the game.
Wagner had to wait until his third, at time of writing most recent, game for his first victory, an impressive, deserved 2-0 win over playoff-chasing Birmingham City away from home.
It is perhaps the manager's off-field talk which should have Huddersfield fans more excited than anything else, though, as the German seems to be offering little compromise on his playing style.
Upon his arrival at the club, he promised "passion", "speed" and "full-throttle football" from his side, and pledged to improve his squad's fitness levels to be able to cope with the new style.
Meanwhile coach Mike Marsh, formerly of Liverpool, has admitted that the club could look to bring in youngsters from the Merseyside club on loan, but will also look further afield to bring in new faces.
Karanka has shown that having friends in high places can be a useful tool in the transfer window with a number of talented young players joining from Mourinho's Chelsea in the past two years, most notably last season's top scorer Patrick Bamford.
However, the net has been cast further afield with an extensive scouting network set up, aiding the overseas purchases of players such as Uruguay international Cristhian Stuani, former Spain U21 international Emilio Nsue and winger Carlos de Pena.
Wagner must embrace the club he is joining
Wagner should use his knowledge of players in Germany to his advantage, but he must also be careful not to stray too far from Huddersfield's roots lest he risk alienating the fans.
Karanka has done this effectively at Boro through the use of players such as former captain Jonathan Woodgate, Teesside England youth international Ben Gibson and the club's academy's greatest export, returning hero Stewart Downing.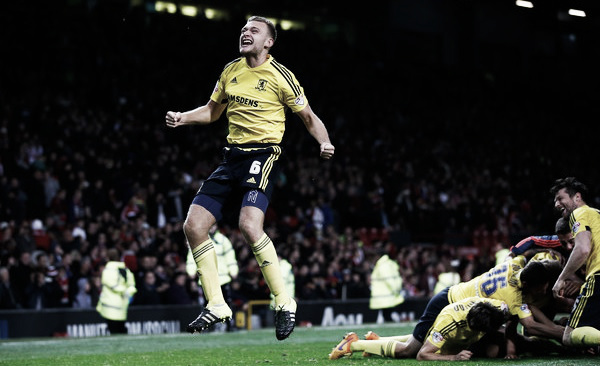 Gibson celebrates a cup victory at Old Trafford - image via Zimbio
The Terriers perhaps cannot boast home-grown talent of the same calibre but four academy graduates have made their first-team debuts since the turn of the year and there is some excitement around the future of Albanian teenager Flo Bojaj, who has played four times since his debut in October.
Wagner must find a happy medium, as throwing untested youngsters into the midst of a Championship relegation scrap could spell trouble but failure to give local youth its fair chance risks losing touch with the fans.
Should other clubs take the same approach?
So should other second-tier strugglers consider adopting a foreign philosophy? Time will tell for Wagner, but the success of Karanka in reshaping a club enveloped by mediocrity into his own image suggests that it is a viable option.
An Iberian transformation has taken place on Teesside, while Huddersfield could find themselves filling the role of the Championship Dortmund - it would be fascinating to see the impact of an Italian influx at Ipswich, or a French revolution at Nottingham Forest.
One example of a club going halfway is that of Derby and Paul Clement. The manager is English, as with the majority of his players, but the bulk of his footballing education came under Carlo Ancelotti and PSG and, like Karanka, Real Madrid.
His switch to the Rams was his own first steps into management, which raises the point that clubs willing to take a risk could do worse than to find themselves a talented assistant manager or coach and place him in the driving seat.
Potential candidates to replicate Karanka and Wagner's influence are easy to find, but then neither man was the obvious choice to take over at a mid-table Yorkshire side in the English second division.
The gap between the top and bottom of the Championship is only likely to grow in the coming seasons as money continues to talk. Those clubs at the bottom with any intention of moving towards the top need something to catalyse that evolution, and a foreign way of thinking and doing could well be the best option.