Middlesbrough currently sit 16th in the Premier League table, having accumulated six points from their opening seven matches.
Aitor Karanka's side have only won one of these games, that victory coming against Sunderland at the Stadium of Light on the second weekend of the season.
Has Boro's season, however, been hampered by factors out of the Teesside club's control?
Very different feelings going into both breaks
The first international break of the season came after three unbeaten matches for Middlesbrough. The win over Sunderland came in between draws against Stoke City and West Brom.
There was an air of confidence around Teesside following this strong start to the season, and Boro were hopeful of carrying on their momentum into the next group of fixtures.
The break seemed to halt Middlesbrough's impressive start to the campaign as just 16 minutes into the game against Crystal Palace, Christian Benteke netted his first goal for the Eagles.
This loss was Middlesbrough's first at home for six months. This match was followed by two difficult ties, away to Everton and home to Tottenham.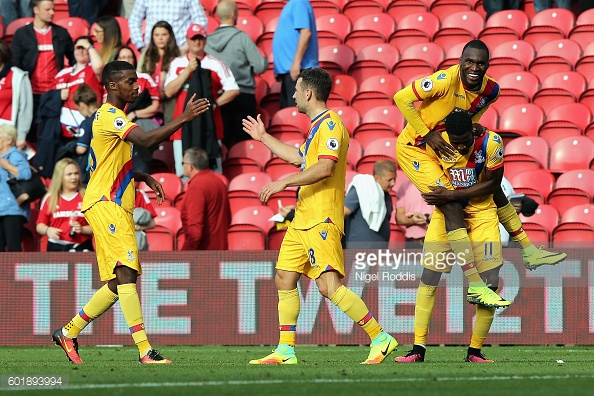 Aitor Karanka would have been hoping to have built up a head of steam going into those more difficult games, but the superior quality of both Everton and Spurs teams showed as Boro lost both those games too.
Middlesbrough's most recent game, a one-all draw with West Ham, showed significant signs of improvement.
Despite some less than impressive defending from Boro's back line for West Ham's equaliser, the team looked solid and the strike force of Viktor Fischer and Jordan Rhodes looked to cause the Irons problems.
But, again, another international break has come along and may have stopped any momentum Middlesbrough were trying to build up.
Aitor Karanka will have noted what happened after the previous international break and will be trying his utmost to ensure another winless run does not ensue.
Not just poor timing for the team...
Jordan Rhodes started his first Premier League game against West Ham and looked sharp, despite not hitting the back of the net.
He would have loved a run in the squad where he could prove himself.
The Scottish forward may still get that chance, however, the break has come at a time when he was trying to establish his place as Boro's starting striker.
The fact that Alvaro Negredo did not pull up any trees when he came on as a substitute may mean that Rhodes gets to start against Watford in 10 days time, and he will still be as determined to prove himself on England's biggest stage.