To say that Aitor Karanka is a man who understands passion in football would be to undersell the man. He is a manager who excels when the crowd's roar is loudest, when the heart is pumping the fastest.
Since he took the helm of the sinking Middlesbrough ship in November 2013, Boro fans have witnessed their Spanish manager experience every emotion under the sun with his team. Joy and relief at promotion, heartache and humility at Wembley, fist-pumping bellows and leaps at last-minute winners and frustration and fury in the days before that Charlton game.
Recently, Karanka has spoken with FIFA TV about his adopted Teesside home, likening it to his Basque homeland and drawing comparison between Boro and his former club, Athletic Bilbao.
'Local support has shaped the club'
"I think for the people here, Middlesbrough is similar to what Athletic means to the people of Bilbao," the long-serving former Athletic defender noted.
"I think it is more than a club in the sense that the people don't just go to watch a game where the team either wins or loses.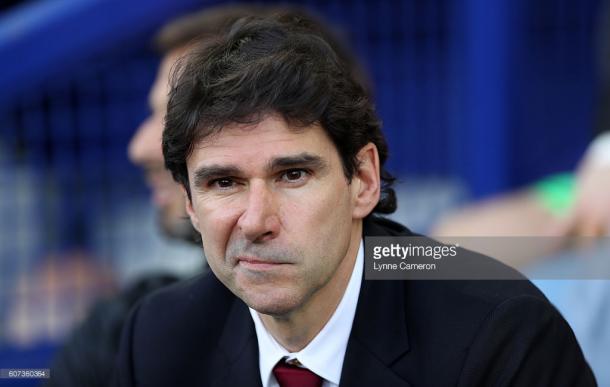 "The support of the whole area is what has shaped the club, especially in times when the area is perhaps going through a bit of a rough patch."
Athletic synonymous with Karanka's homeland
The phrase 'more than a club' is banded around by supporters of every football club in the land, but there is more meaning in it than usual when it comes from an Athletic fan.
A beacon of Basque nationalism and at times a key component in the fight for Basque independence from Spain, the club has a closer bond than most with its fans. When the first ever Basque Country team, known as Vasconia, was formed in 1930, seven of its 19 members were Athletic players.
Athletic rely almost totally on their cantera youth system, and only players native to the Spanish and French Basque regions may wear the red and white stripes.
Given the constraints of this strict policy – the two Basque regions have a combined population of fewer than four million people, around the population of Moldova or Kuwait – their success has been remarkable.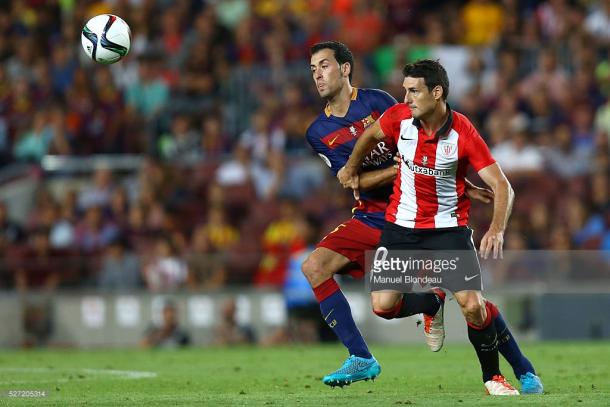 Eight La Liga titles and 23 Copa del Reys accompany two Supercopas de España in their trophy cabinet, the most recent coming after a 5-1 demolition of Barcelona over two legs in 2015. On British shores, a swashbuckling 5-3 aggregate victory over Manchester United in the Europa League four years ago may linger in the memory.
Boro's footballing culture is similar
Having the local football club knit so tightly into the local fabric is something which Middlesbrough fans will understand innately. The mood of the town has always fluctuated with the success of its team, a team so often built on the bedrock of homegrown players - from Brian Clough to Tony Mowbray to Stewart Downing.
When Steve McClaren took charge of his final league game at the club, he famously fielded a squad of Englishmen with an average age of just 20. Alongside seven teenagers, only Malcolm Christie had hit 21 and only he had not been a product of Boro's famous academy.
Now, the onus is on Downing as perhaps the Middlesbrough academy's favourite son to help steady the ship through the troubled waters of a Premier League return while helping to nurture the new generation.
Dreams of Adam Reach and Cameron Park blazing a trail for the rest of the club to follow may have been put to bed, but hopes of a Ben Gibson – Dael Fry centre-back pairing which will last into the next decade are well and truly alive. With both tipped for England caps, it is not ridiculous to suggest the pair could line up together for club and country at some stage.
Boro and Karanka have improved each other
Aitor Karanka understands this footballing culture, and it is this that makes him the perfect manager for Middlesbrough Football Club. Do-no-wrong chairman Steve Gibson has said before that Karanka is "quickly becoming a Teessider", and this is not difficult to believe.
When Gibson appointed Karanka as the club's first ever non-British manager, there were some who cried that Boro had sacrificed their identity and done the footballing health of the country a disservice in doing so.
In reality, the following three years have seen an almost seamless melding of Karanka's philosophy and Middlesbrough's culture.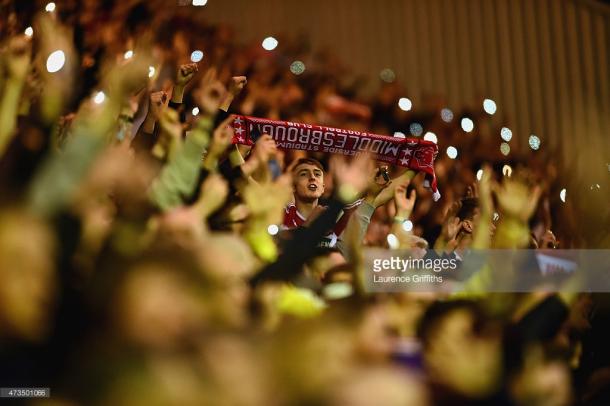 A Basque Boro, so to speak, with Spanish skyscraper Dani Ayala lining up alongside the homegrown Gibson to form what was the finest defence in the Football League. Fans fluttered 'Karankachiefs' in one hand and fought to stop the Béchamel sauce dripping from their pre-match parmo with the other. The quasi-traditional hymn of Pigbag is punctuated by regular attempts to resurrect the much-loved Boro La Bamba chant.
With few points on the board and daunting clashes with some of the globe's footballing superpowers looming on the horizon, fans will question Karanka more than ever before. There may even be calls for his head.
But the Vitoria-born defensive maestro is a more vital part of the club than any manager in recent memory – he is as embedded in the club's psyche as every Teessider hoped Tony Mowbray would manage to be.
Karanka will not be around forever. But the longer Boro can keep hold of their leader, the better shape the club will be in when he departs.