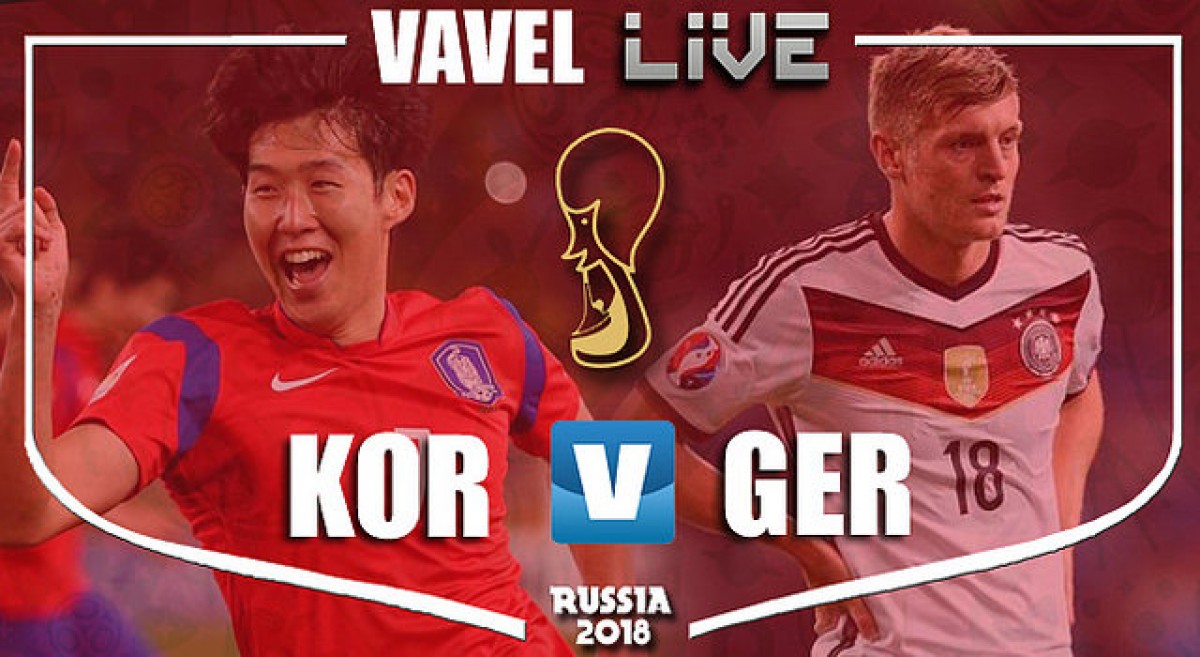 FT: Thank you very much for tuning into this live text commentary, I'm Ryan White and, like many, will take several days to recover from that dramatic ending. I remind you to keep up-to-date with the rest of VAVEL UK's coverage across this summer's World Cup.
FT: That is an ending to the game that never appeared on the script. South Korea may be on the plane home as well but a very poor Germany performance ends in humiliation.
FT: The 2014 World Cup winners bow out of the competition at the group stage for the very first time ever. Two late goals from South Korea ensure they fall to defeat but Sweden's win against Mexico meant Germany were going home anyway.
FT: South Korea 2-0 Germany.
90+7: Heung-min Son is through on goal into an empty net with Neuer out of his goal to make it 2-0 and ensure Germany are definitely going home!
90+6: GOAL FOR SOUTH KOREA!!!!!!! 2-0!!!!!!
90+6: Manuel Neuer is now playing as an outfield player as Germany desperately attempt to find a goal.
90+5: Mats Hummels has another chance, his looping header goes towards the far post but can only land on the roof of the net.
90+4: The referee has reviewed VAR and gives the goal! Absolute scenes in Kazan as South Korea are on the verge of knocking world champions Germany out of the competition!
90+3: GOAL FOR SOUTH KOREA! WHAT AN ENDING TO THE GAME!!!!!
90+2: South Korea thought they had scored to make a dramatic ending to this game! However, the linesman has his flag up and it seems VAR will be used.
90: Six minutes of additional time and for Germany to perhaps save their World Cup campaign?
90: Lee Jae-Sung attempts his luck from miles out but gets a deflection and South Korea have a corner.
88: Toni Kroos has another chance to open the scoring but struggles to get enough power as Woo Choo calmly dives to his right to collect the ball.
87: Mats Hummels somehow misses from close range after a superb ball in by Ozil! The defender seems to have a free effort at goal but miss times his opportunity and the ball hits his shoulder to go out of play for a goal-kick.
86: South Korea still trying to find a goal as they earn a corner on the near side.
83: Marco Reus tries his luck this time from range. The effort sails over the bar, much to Woo Choo's satisfaction.
82: Kimmich sends in a cross but Thomas Muller can only glance his header wide of the far post. Germany fans becoming restless at the minute, as it stands they're heading home.
78: South Korea begin an attack; ending in a shot which goes inches wide of Neuer's right-hand side post.
77: Corner to Germany and Julian Brandt comes on for Jonas Hector.
74: Sweden have made it 3-0 in the other fixture. It's becoming increasingly tense here at the Kazan Arena as Germany seek to find their goal.
70: Toni Kroos has been very wasteful today and sends another effort over the bar as his long-range shot ends in the crowd.
68: Woo Choo is unstoppable this afternoon. Joshua Kimmich sends in a cross to substitute Mario Gomez; the striker powers his head at goal but a fabulous save keeps the score line goalless.
65: South Korea shout claims for a penalty as Son seems to be pushed over by Marco Reus but the referee books the winger for a dive.
64: Corner to Germany on the nearside is whipped in by Ozil but Werner struggles to make reasonable contact at the far post and South Korea get a goal-kick.
62: More news from the other game involving Sweden and Mexico as the former have doubled their lead! Meaning Germany will finish third in the group as it stands and going home.
61: Toni Kroos is laid off by Mesut Ozil, however, a poor strike from the Real Madrid man means the ball goes out of play for a goal-kick.
60: South Korea are applying all the pressure they can on the Germany attacking players, limiting the European nation to just a handful of opportunities up to this point.
54: It really is wave after wave of German attacks as the news is slowly coming out that they may be bowing out of the World Cup if this result remains at full-time.
51: Excellent play by Germany as Mesut Ozil lifts an exceptional ball into the box. Timo Werner volleys with his left from the centre of the box but his effort goes narrowly wide of the South Korea goal.
51: Sweden have scored an opener against Mexico in the other Group game, meaning Germany are out of the competition as it stands.
49: Kroos has a long-range effort but doesn't hit it sweetly and goes comfortably wide of the left-hand post - a summary of Germany's first-half performance in perfection.
46: Jung Woo-Young has an early effort on goal but it's right down the middle and causes no trouble for Manuel Neuer.
46: South Korea get us going for the second-half.
HT: As it stands, Germany are holding onto second place as Mexico versus Sweden is also goalless. South Korea would be heading out of the competition at the first hurdle.
HT: An uninspiring opening 45 minutes from the current World Cup holders means the two sides go into the break goalless. Whilst Germany have had more chances to tally, South Korea arguably had the better opportunities to grab the first goal.
45: There will be a minimum of three minutes additional time.
43: Jonas Hector gets the ball at his feet inside the box but his first touches is poor and on the stretch fouls a defender, free-kick to South Korea.
39: Timo Werner shifts the ball onto his right foot just outside the area, tries his luck but it's deflected for a corner, and that ends in Woo Choo getting both hands to collect.
38: Germany becoming frustrated with their lack of chances and are beginning to give away niggling fouls.
33: The referee halts a Germany attack after Marco Reus' initial effort is blocked well but rebounds onto his arm - the man in the middle judges it to be worthy of awarding South Korea a free-kick.
28: Germany earn another corner after Timo Wener's dribble on the left ends in a cross but a South Korea defender sends it out of play.
25: Heung-min Son is on the end of South Korea's best chance of the game so far. The attacker, however, slices his effort from the centre of the area and goes miles wide of Neuer's goal.
22: Joshua Kimmich sends in a cross towards the far-post but the South Korea goalkeeper easily catches the ball; Germany are struggling to cope with their opposition's stern defence and a goal doesn't seem to be coming anytime soon.
19: Sami Khedira raises his foot and South Korea earn themselves a free-kick around 25 yards from goal; plenty of players lining up to register a shot on goal. Manuel Neuer spilt the initial shot but scrambles to ensure the ball goes out for a corner and not in the back of the net.
16: Second Germany corner on the near side is played with a little one-two between Reus and Toni Kroos, before the latter sends the ball in but fails to trouble the South Korea back line.
14: Germany corner comes to nothing with South Korea goalkeeper Woo Choo leaping to calmly collect the ball.
11: First free-kick goes to Germany, around ten yards from the right-corner of the penalty box. It's sent in but not one player is able to make contact with the ball.
9: Nearly ten minutes have passed and Germany are beginning to dictate the tempo of the game but they are struggling to breakdown this very organised South Korea defence.
6: Marco Reus tried an ambitious effort at crossing the ball on the volley from the left side of the penalty area, but there's nobody on the end and goes out for a goal-kick.
5: Germany make their way into the final third for the first time this afternoon.
2: South Korea putting Germany under a lot of pressure in the opening stages.
1: Germany get the game underway!
Players are coming out for the national anthems....
15 minutes until kick-off!
Germany: Neuer, Kimmich, Süle, Hummels, Hector; Khedira, Kroos, Goretzka, Özil, Reus, Werner.
South Korea: Woo Choo, Lee Yong, Yun, Hong, YG Kim, Jang, Jung, Koo, Lee Jae-Sung, Moon, Son.
The team news is out!
The game will take place at the Kazan Arena, situated along the River Volgar, and can hold just above 45,000 supporters. Will it play host to a World Cup shock or can Germany ensure their progression?
Germany's main threat will possibly be Joshua Kimmich of Bayern Munich, who has appeared to be a constant threat on the attack; the right-back has tallied up 22 crosses in this competition so far - more than any other play. As for South Korea, they'll be relying on Son Heung-min who netted an incredible goal against Mexico, but turned out to be nothing more than a consolation.
Shin Tae-yong's men may consider themselves unlucky at the fact they have conceded a penalty in each of their two games this tournament so far, which may be a blessing in disguise if Germany are unable to force themselves through a stern South Korea defence. Meanwhile, Die Mannschaft have met Asian opposition on five occasions in the World Cup, with victory in all games and netting a respectable nineteen goals in those fixtures.
The Germans have a 100% record against their opposition in meetings at the World Cup; 1994 and 2002. Although, the only other encounter came in 2004 when South Korea shocked Germany in an international friendly.
Here are some statistics and numbers to look forward to in the build-up to South Korea versus Germany.....
Joachim Löw has a selection headache for his back line as Bayern Munich and Germany centre-half Jerome Boateng received his marching orders in the win over Sweden last week, meaning he is suspended for this game, and Mats Hummels was rested for an injury sustained to his neck so his team-mate may very well be in the starting line-up. Sebastian Rudy, 28, can play with a protective face mask having undergone minor surgery on his nose.
The team news coming out of the South Korea camp is that captain and Swansea City midfielder Ki Sung-yeung will miss the outing as he picked up a calf strain. Manager Shin Tae-yong is set to choose his strongest possible eleven for this game as a potential astonishing victory against the European opposition may see them make it to the knockout stages, as long as Mexico can beat Sweden as well.
So the South Koreans currently lie on nil points ahead of their fixture with Germany and therefore are distant-qualifiers, however, a win may sneak them into second and pride for the far-eastern nation - a shock win against Germany would all but write them into the history books. The opposition, who are unlikely to finish top of Group F, sit on three points and will be going home at the first hurdle if they do not beat South Korea and Sweden can triumph over Mexico.
Germany, on the other hand, have struggled up to this point in the World Cup. The current holders' warm-up games saw them lose to Austria before narrowly beating Saudi Arabia, so the form pre-tournament was never too convincing. Die Mannschaft were stunned in their opener against Mexico when the North American outfit came away with all three points after a very attacking performance, and Toni Kroos' dramatic set-piece winner in injury time saw Germany claim the win over Sweden despite being a goal behind at half-time of that game.
South Korea have almost bowed out of this summer's competition after their two hard-grafted performances weren't enough to tally any points; losing to Sweden in their opener and then were on the wrong end of the score line when they met Mexico, where a spectacular late finish courtesy of Tottenham Hotspur's Heung-min Son was not enough to earn a draw.
Hello and welcome to VAVEL UK's live text commentary for Wednesday's World Cup 2018 kick-off between South Korea and Germany. I'm Ryan White and I will be keeping you up to date with all the build-up news as well as during the game.