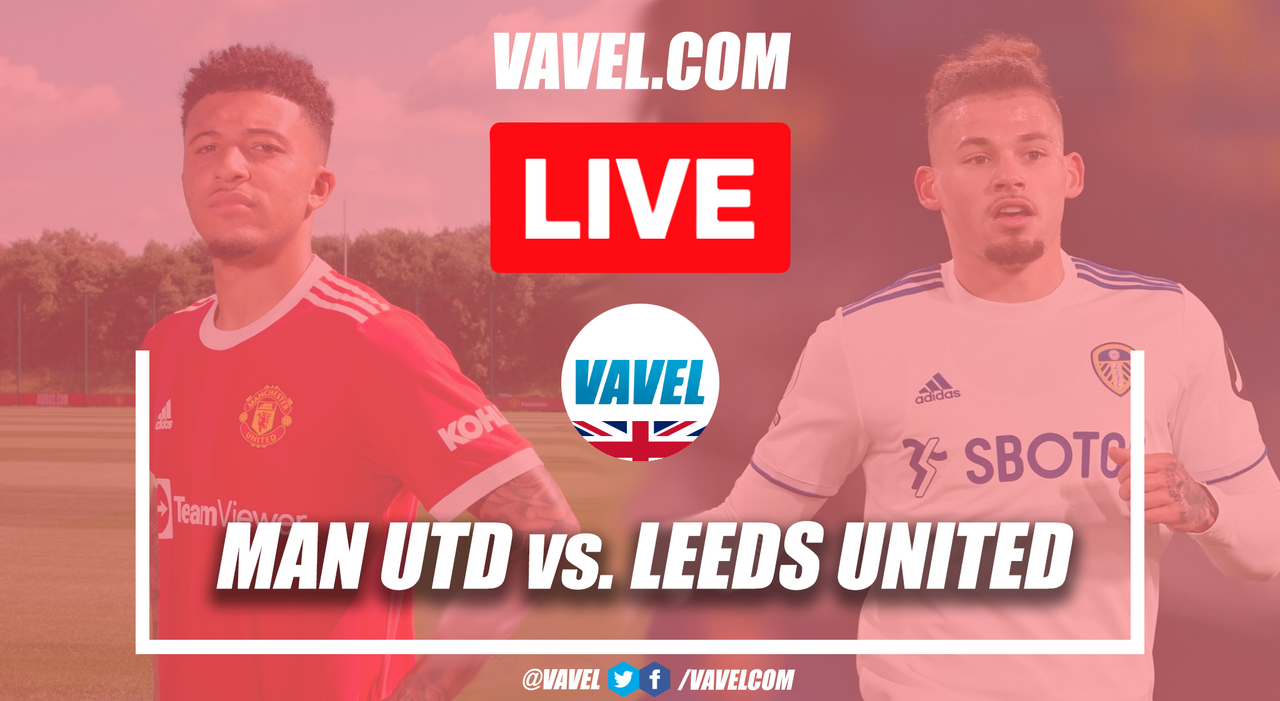 Thanks for joining the live blog today that concludes our coverage of Manchester United 5-1 Leeds United
Manchester United are top of the league
Full-time: Manchester United 5-1 Leeds United
Three minutes added on
90'
88'
86'
20% of the way to levelling the Premier League assist record (20)
79'
74' Substitutions
Sancho coming on...
A stat that goes way back
GOAL! 5-1
67'
Paul Pogba and Bruno Fernandes putting in world-class displays
63'
The United fans belting out every chant they know
And breathe...
GOAL! 3-1
GOAL! 2-1
GOAL! 1-1
46'
Just the one substitute at the break
Impressive from the Scotsman
High praise for many of the United squad
HT: Manchester United 1-0 Leeds United
45'
44'
A moment to remember for Bruno Fernandes and the Old Trafford crowd
37'
34'
GOAL! 1-0
Cavani watching from home
26'
Varane with the Old Trafford crowd
20'
16'
13'
11'
5'
Kick-off
Varane unveiled to the Old Trafford crowd
Varane is a red!
United players come down the tunnel for the warm-ups
Time for Greenwood to step up
Some thoughts on United's selection
The United players have checked in
Leeds United line-up
Manchester United line-up
Rio has arrived
It's been a while since Leeds have had away fans attend a Premier League fixture
The last time Old Trafford was full...
Man United's opening six Premier League fixtures
Leeds' opening six Premier League fixtures
Some Manchester United vs Leeds pre-match reading for you...
Old Trafford is ready
See you tomorrow morning!
Fair to say the United skipper is looking forward to a full Old Trafford
Manchester United winger set to go out on loan according to Fabrizio...
United will need a 3-0 win to go top of the league
Solskjaer expecting more goals from his attacking weapons
Follow along for the first weekend of the 2021/22 Premier League
Bielsa pre-match quotes
Solskjaer pre-match quotes
How to watch Manchester United vs Leeds United: Live TV and Stream
Leeds United: Predicted lineup
Manchester United: Predicted lineup
Leeds United: Team News
Manchester United: Team News
Bielsa looking to end poor record at Old Trafford
United hoping for better start to the season than last year
Kick-off time
Hello! Welcome to Manchester United vs Leeds United