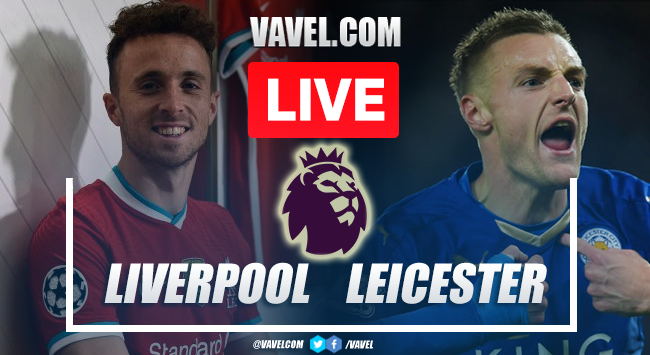 That's all folks!
Diogo Jota has a great record against the Foxes!
Much improved all round from the Foxes!
WATCH: Jota's second goal for Liverpool!
Room for improvement for the Foxes!
Work to do for Leicester City!
FULL TIME!
Added time!
Substitution for Liverpool!
GOAL! THERE IT IS!
HOW IS IT NOT 2-0?
OFF THE BAR!
BIG CHANCE!
Salah nearly scores a beauty
17 minutes to go!
Diaz chance again!
Leicester need something different!
Substitutions for Leicester
Subsitutions for Liverpool!
DEFLECTED!
Schmeichel does well!
FREE KICK!
CHANCE!
KICK OFF!
Leicester have improved so much since Sunday!
Diaz has impressed!
HALF-TIME
CHANCE!
Liverpool creating chances!
WATCH: Jota's rebound goal
GOAL! LIVERPOOL!
Shot blocked!
The game has hit a lull
Liverpool causing issues!
Leicester are battling!
Liverpool Chance!
Leicester settling well!
CHANCE!
Bright start by the hosts!
We're off!
We're about to kick off!
Other news!
Luis Diaz is in!
Liverpool XI is in!
Leicester's XI is in!
Teams will be with you soon!
Read build-up ahead of tonight's game
What has Jurgen Klopp had to say about tonight's game!
What has Brendan Rodgers had to say about tonight's game?
Prediction!
Where and how to watch?
The previous meeting between the sides
Key player for Leicester City
Key player for Liverpool
Predicted starting XI for Leicester City
Possible starting XI for Liverpool
How Leicester City shape up ahead of tonight's match
How Liverpool shape up ahead of tonight's game...
Where will today's game be played?
Welcome to VAVEL.com's coverage of the 2022 Premier League Match: Liverpool vs Leicester City live updates!