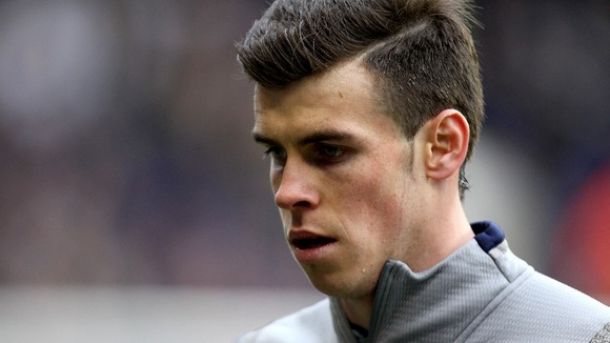 On October 21st back in 2009, England's Daily Mail released a headline through their medium that didn't really shock its readers. It was the kind of article that that you might not even click on because the piece's title said it all, hardly meriting a shoulder shrug from any disinterested football fans.
"Spurs flop Gareth could Bale out in January as Birmingham boss Alex McLeish eyes 3 million pound defender," it read.
Now, two months short of four years later, a parallel universe is becoming a reality with the stage set for Tottenham's Gareth Bale to become the latest galáctico in club president Florentino Pérez's solar system of superstars. And when I say stage is set, I mean it quite literally for the Welshman's unveiling at the Bernabéu, which has infuriated Tottenham's chairman, Daniel Levy. Although the deal is by no means done, Madrid's gravitational pull is rendering the outcome practically inevitable and sources and fans alike believe it's only a matter of time before Bale goes from Lilywhite to Blanco. What once was a "flop" slipping toward the exit door at White Hart Lane is now set make a world record transfer to the Spanish capital for a sum near 33 times the amount he was assessed for in 2009. It has been the most drawn out, audacious saga of a summer stuffed full of high caliber transfers and the story is encroaching on its final chapter. However, some lingering questions have accompanied the Bale tale since its prologue and the only way to answer them is to let time live out its natural course of events. Nonetheless, that won't deter anyone from having his or her opinion. So let's attempt to guide their thoughts by taking a couple key points into consideration.
Nearly 100 million euros for Gareth Bale. Hold your breath and read that again because YES, that is the widely reported transfer fee for the Welshman. Is he worth it? Perhaps that's the most complicated inquiry at hand. Many believe it's a bit rash to act on just one season of brilliance. That being said, brilliance is exactly the word. Bale scored a personal best 26 goals in all competitions last year in flamboyant style, acting as Spurs' spearhead and in his absence, the pillage to secure scoreboard alterations appeared grim, especially with Adebayor playing with blindfolds on last season. Yet, last campaign was the first ever time Bale tallied a goal haul that startling. In the three seasons previous, the former Southampton youth recorded 26 goals total! So it's not like his mark on the game has been as significant as seasons past. The form is relatively new.
Now, all of a sudden he is being foolishly compared to Madrid's Cristiano Ronaldo. Stats never tell the full story but if you add up Bale's goals for the last four seasons you get 52; that's a number CR7 has surpassed in each of his last three seasons at Real Madrid.  To compare the two players is as pointless as counting the blades of grass at White Hart Lane.
So does Bale deserve the price tag that will shock the world if Cristiano came on a transfer for around 10 million less four years ago? In my opinion, it has little to do with the quality of the player anymore. It plays a role surely, but with the amount of paper being sturdily injected into football, the sport's market suffers from a 'football inflation' of sorts. With how commercial football is today, the market dictates the price more than the actual quality of the player does. Scary proportions of cash have been flushed into the game in the modern era and because football is so widely spectated the world over, the ritziest global corporations are the only ones nowadays even able to bid high enough to slap their logo on the front of Europe's most recognizable kits. This tempts clubs, particularly in Spain with skyscraping buyout clauses, to beef up asking prices in the hope of not only keeping their best cards in hand, but also being able to relinquish those same aces to viable suitors for ungodly quantities of money to rebuild. Even within the short gap in the grand scheme of things between Ronaldo's transfer from Old Trafford and Bale's potential arrival in Madrid, the football market has changed and Bale's anticipated transfer fee is proof.
I'm no economics guru but before we get too off task, let's lasso this discussion back towards what happens on the pitch. As time rolls on, it is ultimately the player that truly repays the asking price. That is if they turn out to be a success and the verdict is usually pretty straightforward – the difference between Cristiano Ronaldo and Kaká.
Can Bale find success at Madrid, a place where the expectations are measured by the ton? Real's newly appointed but familiar assistant coach, Zinedine Zidane, has offered his hand as a mentor for the Welshman should he pull on that famous white kit. Having endured a similar sequence of events and come out on top, there is no better role model for the pressure. Zidane completed what was then a record-breaking transfer from Juventus to Real Madrid in 2001 for roughly 75 million euro.
"I know what it is to be the most expensive player in the world and I can hopefully offer him advice and mentor him." – Zidane
Let's not forget that the great Zizou himself struggled with the pressure of his own price tag at the start, but he eventually won the hearts of Madridistas everywhere with the swift strike of an iconic volley 11 years ago in Glasgow's Hampden Par. It was the winning goal in Real's Novena, their ninth European Cup trophy won against Bayern Leverkusen. His legendary presence as part of the staff this year has brightened the moods of many in the Real dressing room that seem gifted by the opportunity to work with him. Maybe even too much for Germany's Mesut Özil, who recently admitted to being star struck by the Frenchman's aura.
"Zidane was my idol and he still is now that he is part of the coaching team. The first time I saw him in Madrid made me nervous." – Mesut Özil
But with all the legendary mentoring in the world, another question looms: Does Bale fit Ancelotti's plans for Real Madrid or is it another case of Florentino gets what Florentino wants? After all, Madrid enjoyed a spectacular preseason, even scalping the old gaffer's Chelsea across the Atlantic on their United States summer tour. As far as style goes, Madrid have left a bit to be desired in their opening two games of La Liga but have retrieved six points from a possible six all the same. Tottenham have commenced their season similarly in the Premier League thanks to two penalties from new signing and former Real Madrid player, Roberto Soldado, but Spurs have yet to find the net from open play with the North London Derby lurking at the weekend.
Bale was the talisman last year at Spurs, actively in pursuit of each match, even dropping into deep positions to conduct the play where he could pull more strings - but that wasn't always the case. His initial standout qualities that sparked interest were his pace and coveted left foot, all the trademark tools for deployment on the left flank, whether as a left back or a winger. The Welshman did a bit of both for Harry Redknapp when he was in charge at the club and due credit has to go to Harry for aiding Bale's career and keeping the faith in his young player, sculpting him into a flank threat. From a wide position his performances were glimmering brightly enough to catch the eye of a few curious clubs around Europe, particularly after Bale scorched and humiliated Inter Milan's Maicon several seasons to the past in which the Tottenham man scored a hattrick.
In fact, after Eric Abidal was forced to take time off due to illness at Barcelona two seasons ago, Bale was tipped by some to be his replacement. Barcelona, however, kept it in the family as they typically do and secured the signing of former La Masia player Jordi Alba from Valencia. Had Bale taken his career to Catalonia, he may have never realized his full evolution at Spurs. It's only been in the last season that Bale has pursued a greater responsibility as Tottenham's go-to man. Say what you'd like about André Villas-Boas, but the ginger-bearded manager helped Bale find an identity that was more than a flank player and all of a sudden Gareth Bale wasn't dog chained to a fencepost on the left wing. The progression in the Welshman's game carried Spurs to many victories last season. The costlessdom allowed Gareth to dictate the matches rather than wait for the match to come to him in the wide areas. By letting him off the leash the potential for greatness was realized as the world watched on in awe.
Not to draw too many comparisons between the two in which people could overanalyze the simplicities in this depiction, but in the Henry and Eto'o era at Barcelona Lionel Messi was typically positioned in a wide post in the 4-3-3 Barcelona have sworn by. From there, the Argentine met great success and when the time came for Messi to secure a more dominant and costless position on the pitch, he really set the bar at unreachable heights. I don't think it's too out of line to say Bale has followed in a similar path from starting wide initially to last year to operating in the same area as Messi to receive balls in order to design attacks rather than facilitate them from trademark whipped in crosses. Nevertheless, the interplay difference between the Blaugrana and Spurs is evident and because of its intricacy, Barcelona's tiki-taka allowed a younger Messi to wander more from his wide whereabouts inward than Bale's rooted flank surroundings. That being said, both have adapted to influence the game from more central positions as their careers have progressed.
All said and done, Bale's style as a player would better fit Real Madrid than their eternal enemies. With Bale's pace and direct threat to the opposition's backline on the dribble Madrid's world famous counter would better suit his skillset than tiki-taka, wouldn't it? With the players available to Mourinho, the Portuguese boss made the counter attacks a priority in his era on the touchline at Real. At times, the traditional Madrid fan would suffer because in order to play that brand of football, Los Blancos had to sacrifice a portion of possession and defended deeper in their own half, drawing the opponents in like a trap. Once the ball was won, the firestorm players like Ronaldo, Di María, Benzema, and Higuaín would rely on the heat-seeking service of Xabi Alonso, Özil, Modrić, and others to ignite a numbers-up situation. Charging up the pitch at stretched and frazzled defenders? That's where Bale can fit and use his abilities like a Samurai sword to slice teams in half.
There's only one issue with that ideology this season – new boss, new tactics. Carlo Ancelotti has openly admitted that this go-around the tactic is not always to play on the counter and his version of Real Madrid will be based of a greater sense of tranquility than seasons past.  The Italian manager is certainly attempting it as he features players like Özil, Isco, and Modrić all in the same starting XI, all players who like to invent and mold the game to their own taste by seeking the same positions Bale would last season. So if Bale is to sport the number 11 for Madrid, where do you add him? And if you can't put him in position where he can go seeking the match, are you thwarting the evolution that AVB and the player have worked so diligently to create and that attracted the interest in the first place?
I'll give you my best position for Bale, the right flank. Ronaldo plays the exact same position on the opposite side. It's the old inverted winger deal (a right footed player who plays on the left wing or visa-versa). Cristiano and Bale are both good enough players to skin defenders on their respective sidelines and deliver quality balls with their less-favored feet on the cross but by cutting in on the more favored striking boot, the more productive those player can be. Ronaldo has done it time and time again for Madrid and Bale displayed plenty of hints that he possessed that ability last season, being the player in the BPL that scored the most goals from outside the penalty area. But off the top of my head I can think of at least three goals in which Mr. Bale came in off a wide right position and sent an absolute comet past the goalkeeper with his left foot – against West Brom, Southampton, and Sunderland. Bayern Munich's Robben has made a living out of darting inside and using his left foot to curl shots into that far corner of the goal. That's where I think Madrid would squeeze the most productivity out of Gareth Bale. The Welshman also fancies himself over costless kicks but let's not forget the deal is yet to be completed and him Ronaldo can hash that out when the time comes.
It surely will now, won't it? Bale has been spotted in Spain and failed to turn up for Spurs training on Tuesday. Half of the football shops in the Spanish capital are already selling kits with BALE 11 pressed on the back of them and with the amount of money Madrid are willing to fork out, Tottenham will surely bow to currency soon enough. Whether or not Bale will be worth the entrance fee remains to be seen, but I always say the best players will find a way to be impactful no matter the circumstances.