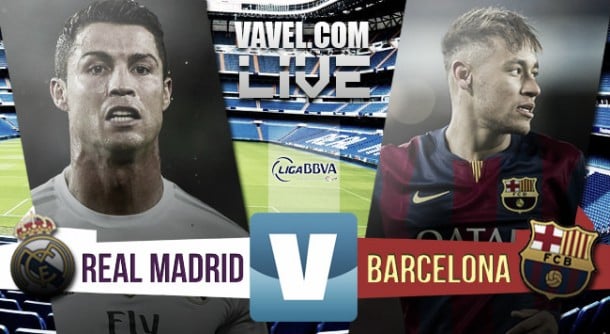 This has been Kyle Sennikoff and Mosope Ominiyi and we thank you for following along with us today and hope you enjoy the rest of your day.
And that's that!!!! Barcelona simply stunned Real Madrid today and now sit six points atop the table. Neymar and Suarez brilliant again and Navas stopped everything that came his away. Outstanding football from the visitors.
We are in stoppage time now!
89: Bravo has been absolutely stunning when called upon tonight, stopping Ronaldo again.
88: Again Benzema goes close, but his shot is deflected and it just rounds the outside of the near post.
84: Isco has been sent off for an absolutely ridiculous challenge for kicking Neymar's knee.
81: Bravo keeps out Benzema again stopping the striker's header!
80: Benzema offside, but Bravo makes a save anyways -- has had little do for the most part.
74: AND THERE'S NUMBER FOUR!!!!! Real Madrid's defense is asleep as Luis Suarez is clean through on goal after Neymar plays a beautiful ball towards Suarez who chips it over a helpless Kaylor Navas.
68: Fantastic save by Bravo to deny Ronaldo on the counter!
66: Messi gets involved in the action, his shot though is blocked out for a corner.
61: A deflected shot from Isco bounces just wide of Bravo's goal.
54: Isco comes on for James Rodriguez for Real Madrid.... and to make matters worse, Lionel Messi is coming onto the pitch for the first time since his injury as Rakitic will make way.
53: WHAT AN ABSOLUTE SCREAMER FROM INIESTA!!!!! Wonderful build up from Barcelona and a backheel from Neymar see's Iniesta rip one past Navas for their third goal of the night.
52: Neymar's ensuing free kick is tipped over the cross bar and out for a corner.
51: The Real Madrid captain gets a yellow for his foul on Sergio Roberto and Barcelona get a free kick in a dangerous area.
49: James forces Bravo to push his save around the post as Madrid are starting out this half with a blistering pace.
47: Fabulous run from Marcelo down the left, skips over one Barcelona defender before firing his shot wide of the goal.
We are back for the second half!
It's halftime at the Bernabeu and Barcelona has found themselves up two goals after the first 45 minutes with Neymar and Suarez continuing their fine form in the absence of Messi.
45 +2' Marcelo clears Suarez's shot off the line!!!!!
Two minutes of stoppage time has been added to end the first half.
41: Neymar gets surrounded by three white shirts and gets battered before the whistle finally blows.
39: GOALLLLL!!!!!!!! Barcelona have their second of the night and what a finish from Neymar! On replay though, it looks as if the Brazilian should have been flagged for offisde but alas it's 0:2!
38: Benzema misses a glorious chance after Luka Modrid finds him at the near post. The French striker mistimes his strike and the chance went away.
37: Dani Alves is taken down again, this time by Sergio Ramos and the free kick is awarded to the visitors.
28: To add insult to injury, Mascherano's groin problem seems to have reoccured and Luis Enrique will not want to risk him any further. Jeremy Mathieu is coming on to replace the Argentine now.
27: Roberto fires wide from close-range, when he should really have at least, got his strike on-target.
24: Neymar goes for goal from the resulting set-piece and his curling strike forces Navas into an excellent save!
23: Yellow card! Ramos' mistake in possession allows Barcelona to regain possession in a dangerous area of the pitch, and Neymar is brought down by Rodríguez with a desperate challenge. The Colombian is consequently booked as a result.
21: Suárez goes down once more, this time after a tackle from Räphael Varane. The referee awards Barcelona a free-kick, but the Uruguayan seems to have made the most of the challenge, just like he did with Ramos in the opening exchanges.
17: There we go! Good to see, Mascherano jogs back onto the field of play and Real's momentary one-man advantage is gone.
16: Some concern for Javier Mascherano, who looks uncomfortable after a challenge from Rodríguez. Physios come on to treat the experienced Argentine, but you'd expect he'd be eager to continue unless the problem is a serious one.
14: OOOH! Barcelona should have doubled their lead! Iniesta's excellent long-range pass finds Roberto, who is through on-goal. However, the midfielder's first touch is poor and he passes the ball back into the path of Rakitic, who flashes his effort over the bar.
He strikes goalwards, and goalkeeper Keylor Navas has no chance with that! Fired low and hard, accurately arrows into the bottom corner of the net and the momentum is firmly with the Blaugrana.
The visitors' patience is rewarded in some style, as another passing exchange in-and-around the box frees up space for Luis Suárez to latch onto a good pass by Sergi Roberto.
10: GOAL! BARCELONA AHEAD! GREAT FINISH BY SUÁREZ!
9: Barcelona starting to frustrate their hosts by slowing down the tempo of the game in midfield - Real supporters making their presence heard with a chorus of boos each time a successful pass is completed.
8: What a counter-attack! Ronaldo switches wings and conjures up more magic as he speeds past his marker with seeming ease, before cutting the ball back across the six-yard box for a teammate to latch onto. Claudio Bravo is equal to the danger, as he parries the ball away with his glove and the home supporters react with enthusiasm - in what has been a fast start to an excellent spectacle.
6: Over the bar! Neymar looks on in frustration as he fires over the crossbar at the end of a slick, quick exchange of passes in-and-around the Real box.
4: Corner-kick, which was meant to test the Barcelona backline, comes of nothing in the end.
3: Ronaldo weaves his magic with a quick stepover as he attempts to drive forward towards the box. The danger is snuffed out, partially, as the ball trickles out for a corner-kick.
The referee gives the Spaniard a warning, but, replays show that Suárez was slightly overexaggerating there..
1: Less than a minute on the clock, and the game is temporarily halted as Suárez goes sprawling on the turf in pain after a challenge by Ramos.
KICK-OFF! Real Madrid - Barcelona, and it's live!
17:13 - The two teams are already out of the tunnel, now observing a minute's silence for the victims of the Paris atrocities last Friday evening.
The clash of two fierce rivals, this match promises to be a cracking one. Even with the notable absence of Lionel Messi, who makes the substitutes' bench this evening, Barça have started the season relatively well - and could move six points clear of Rafa Benitez' men with an away victory today at the Bernabeú.
BARCELONA: Bravo; Alves, Pique, Mascherano, Alba; Busquets, Rakitic, Roberto; Iniesta, Neymar and Suárez. Subs - ter Stegen, Adriano, Vermaelen, Mathieu, Ramirez, Munir and Messi.
REAL MADRID: Navas; Danilo, Varane, Ramos, Marcelo; Kroos, Modric, Rodríguez; Bale, Ronaldo and Benzema. Subs - Casilla, Pepe, Carvajal, Casemiro, Kovacic, Jese, Isco.
CONFIRMED team news, is as follows..
While there is a long way to go in the season, should Barcelona claim victory in hostile territory, one would suspect that a six-point gap would be hard to close considering the form of the South American contingent.
He also noted that the most attacking team is one that keeps shooting throughout the whole match and keeps finding the back of the net; which is going to be the game plan against Barcelona on Saturday. At the moment, his side boast the best offense, having scored 26 goals leading up to this fixture, and the best defense having allowed only seven goals – three of those being scored by Sevilla. This is a good sign knowing that the back four will be up to the challenge in trying to stop Barcelona's front three, while Cristiano Ronaldo, Gareth Bale, and Karim Benzema will be clicking on all cylinders.
Throughout the week in training, Coach Rafa Benitez said that his players have been sharp and look ready to take on Barcelona. Benitez also said that, "for the second time," everyone is fit which makes him happy because it brings optimism for the future. Sergio Ramos has been training extra hard to get fit for this clash while the Real Madrid manager also says that Kaylor Navas will more than likely be their starting goalkeeper.
On the other hand, Barcelona has not fared to well on the away from the Camp Nou. They have suffered two defeats, one against Sevilla in which they lost 2-1 and a 4-1 loss to Celta de Vigo. Should they want to take the three points home, their defense will have to step up tremendously.
At home, Rafael Benitez' men have been next to perfect this season. Apart from the nil-nil draw against Malaga, Real Madrid has only surrendered one goal in their six matches, which is absolutely sterling.
In fact, each of the last six meetings have been close as Real Madrid and Barcelona have both won three of the previous six matches. There has only been one time, out of these previous six matches, that has seen a side win by two or more goals and that came in the first El Clasico last year when Real Madrid put three into the back of Claudio Bravo's net compared to the visitor's one. So one should expect that, while there will be a few goals scored, not much is going to separate the two sides.
The last time these two sides met was on the 22nd of March when Barcelona defeated Real Madrid by a 2-1 score at the Camp Nou. Cristiano Ronaldo equalized the match in the 31st minute, after Jeremy Mathieu scored with only ten minutes off the clock. But in the second half, Barcelona found a gear that Real could not keep up with and Luis Suarez found the back of the net sensationally, 11 minutes after the restart, to seal all three points for Barcelona.
Karim Benzema, however, has not been in the best of form this season and this is partially due to his hamstring injury he suffered in the beginning of the month. Outside of that he has produced six goals in six matches played but still does not seem like his normal self and the French striker will have to step up his game dramatically today.
After the transfer saga with Manchester Uniteed and David De Gea, Kaylor Navas has been playing extremely well for the all whites. He has come up with some fantastic saves to keep real Madid in the match and help his side get to the position where they are on the table. The Costa Rican will have to be at his absolute best on Saturday evening should Real Madrid hope to keep out the Barcelona forwards.
Cristiano Ronaldo has found the back of the net eight times so far during this campaign, which for any other footballer on this planet would be an astounding record. However five of those goals came in one match, against Espanyol on the opening day of the season. He is due a big performance and with Bale and Benzema fit, this could spell trouble for the Barcelona back four.
Los Blancos could have had a much wider gap at the top of the table had the converted two of those draws into points, but instead Sporting Gijon, Malaga, and Atletico Madrid all snuck a point off of Rafael Benitez' side.
Real Madrid, bar three draws, had been perfect in results until their match right before the international break in which they lost by a score of 3-2 to Sevilla; Sergio Ramos scored in the opening 45 minutes and James Rodriguez scored towards the end of the match but that was not enough on this day as this defeat resulted in being bumped down to second in La Liga.
Sergio Busquets is a lock to be in tomorrow's starting eleven because, according to Enrique, "(Busquets) is the most intelligent of all the players I have coached," which is a strong statement considering the level of talent on his squad.
As a whole, according to the Barcelona manager, the confidence is good going into tomorrow's Clasico based on their recent form and knowing that his side can pick the full three points in Madrid.
Luis Enrique, in the press conference that "Lionel Messi is fit again" but not fit enough to play the full ninety minutes. This is a good sign though because Barcelona are a much better side with him on the pitch.
Neymar and Luis Suarez finding their form could not have been more key for the Cataluña side. Between the two of them, they have combined for twenty league goals. Outside of Barcelona themselves, only two other La Liga clubs have scored 20 or more goals and those include today's opposition and Celta de Vigo.
Even without one of the two best footballers in the world, Barcelona has been absolutely destroying the competition – thanks in part to Neymar and Luis Suarez. The lone blip on an otherwise stellar record was a nil-nil draw to Segunda B club Villanovense, and you cannot really blame the side for this draw as they played a ton of their younger footballers.
Of course the biggest question entering today's match is pretty obvious: how fit is Lionel Messi? When he first went down injured the reports were saying that he was going to miss the first clash with their biggest rivals altogether. However, as we have gotten closer to this day the Spanish media has stated that he could in fact be on Luis Enrique's bench. Will he actually see the pitch if that were the case? Well, one can only speculate for now.
Hello everyone and welcome! My name is Kyle Sennikoff, and I will be taking over VAVEL's live coverage as Real Madrid vs Barcelona live score, meet for the first time of the 2015/16 as the next chapter of El Clasico kicks off at 17:15.