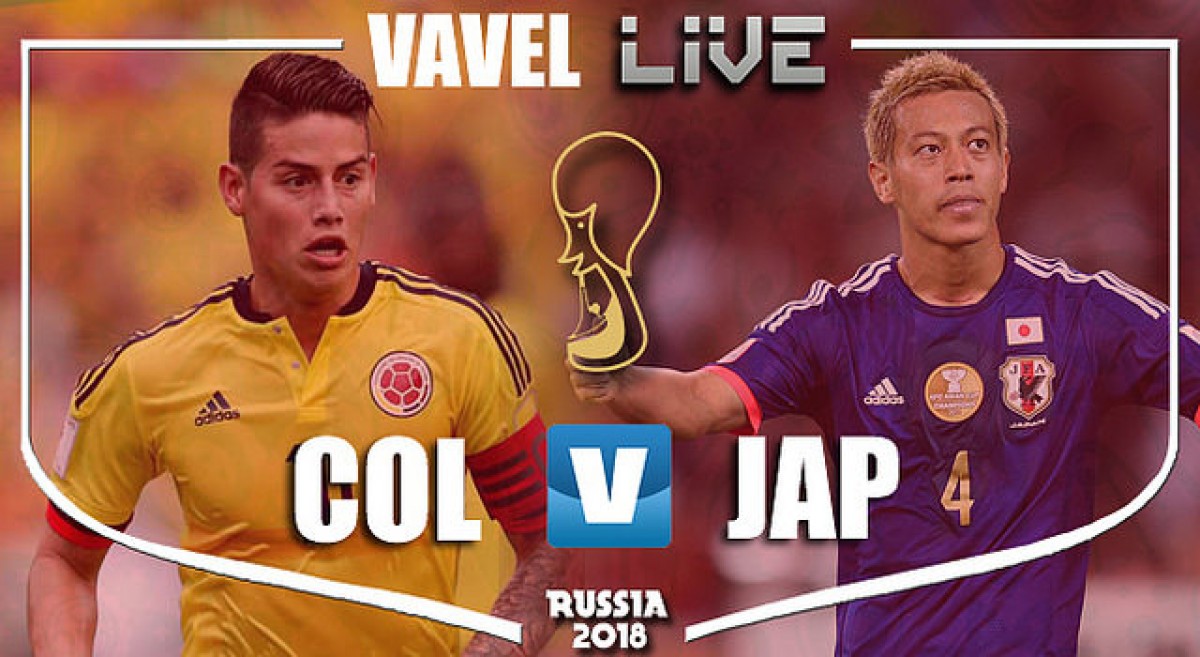 That's all from us for now. Thanks for following along with us and make sure you check out all of our post-match coverage and analysis at VAVEL. We'll have live coverage of the other games today as well, so be sure to come back and follow along with us!
This is a massive victory for Japan, whose chances of making it to the knockout rounds have gone significantly up. Colombia comes out of this disappointed to have lost while heavily favored. Their upcoming match against Poland has now become a must win if they want to make it out of the group.
Despite being down a man, Colombia was the better side in the first half and found an equalizer through a brilliant Quintero free kick. But Japan made their adjustment in the second half and used their man advantage to take control of the game. Osako was the hero for the Samurai Blue, scoring from a corner late in the game.
It was a crazy start that saw Carlos Sanchez sent off for a handball in the box that gave Japan the lead after they converted the penalty.
FT: Colombia come forward in their last attack, but Nagatomo clears the ball. The whistle blows before the throw can be taken and Japan have pulled the upset off!
94' Japan keep passing along the back and the goalkeeper, but an error gives Colombia a throw in from midfield. Colombia running out of time here.
93' Inui comes back on defense and makes a crucial interception ahead of Arias, breaking up the play. Kawashima picks up a yellow card for time wasting. Little time left.
91' Japan pass around the back, running the clock down. A long ball is sent forward, but there are no Japan shirts as they gift Colombia the ball with time winding down.
89' Colombia have a throw in deep in Japan territory as yellow shirts come forward to try and equalize. The ball is sent in to Rodriguez who heads the ball towards Falcao, but he is offside. Five minutes of stoppage time.
88' Nagatomo wins the ball from a surging Bacca, and immediately passes back to Kawashima as Japan try to hold onto to their lead in the dying minutes.
86' Rodriguez makes his challenge late and is shown a yellow card for it. That's pure frustration from Rodriguez there.
85' SUBSTITUTION Osako comes off after limping a bit and Shinji Okazaki replaces him. Osako doesn't look to be seriously hurt, probably just precaution.
84' Japan still just happy to hold onto possession and work the ball from left to right as Colombia is running out of time to equalize.
82' Osako is nearly through on goal, but a last ditch tackle from Sanchez stops the attack. Osako is slow to get up, but looks to be able to continue.
81' Japan slows the pace down and is passing along the back. Colombia is being drawn forward and their formation is less compact as they try to win possession back.
79' SUBSTITUTION: Genki Shibasaki comes off with an ankle injury as Hotaru Yamaguchi comes on.
78' A ball over the top nearly finds Rodriguez, but bounces by for Kawashima to gather.
77' A corner kick by Colombia finds no one, but they hold onto possession. James finds the ball in the box and lets loose a shot that is blocked by Osako.
76' Colombia charge down the field, but can't work the ball into the box. Japan has tightened up in the back and have made it hard for Colombia to get any meaningful offense in.
73' GOAL! Osako rises highest on the corner kick and flicks the ball to the back post and in. Japan once again take the lead with about 17 minutes and stoppage to play.
72' Honda holds the ball up in the box and lays it off, but the resulting shot is deflected wide by Sanchez.
71' Honda's first touch of the ball is a cut towards the middle, and he has a go at Ospina from distance. He doesn't get all of the ball on that shot and hardly challenges Ospina.
69' SUBSTITUTION Japan make their first change as Kagawa the goalscorer makes way for Keisuke Honda, and Jose Izquierdo comes out for Carlos Bacca as Colombia uses their final substitution.
68' The ball is cleared up the field by Colombia, but there is no yellow shirts be found as Japan remain in possession.
66' Another Japan corner hardly bothers the Colombia defense. Japan finding and creating all the chances this half so far, a much better performance from them.
65' Inui cuts into the box , beating Santiago Arias before taking his shot. But Davinson Sanchez is there and blocks the shot well.
64' Barrios is shown a yellow card after a poor challenge.
63' Falcao makes his run down the left flank, but Hiroki Sakai is too fast for him and beats him to the ball and clear upfield.
61' Hasebe finds Haraguchi with a long ball over the top. He shoots for goal, but the shot flashes wide across the face of goal and Colombia have a goal kick.
59' A great set piece from Japan finds Yoshida in the box, but he can't turn his header on frame.
58' SUBSTITUTION Quintero makes way for Colombia's golden boy, James Rodriguez. Meanwhile, Barrios gives up a free kick with rash challenge on the edge of the Colombia box.
57' Ospina with another brilliant save! Inui found himself in space on the edge of the box, and tried to curl it into the bottom right corner. But Ospina was there to make an acrobatic, stretched save.
55' Japan have seen most of the ball this half so far as the Samurai Blue have made better use of their man advantage in their buildup.
54' Kagawa rolls the ball into the box for Osako who shakes his defender, but Ospina does well to save and deny Japan a go-ahead goal.
52' Another ball sent up for Falcao is dealt with by Yoshida. Japan has done well to keep him under control and have really spoiled his World cup debut so far.
50' Osako tries to cross into the box, but it is turned behind for a corner kick. The resulting corner is a good one, but no Japanese players can get on the end of it. Japan look very positive in offense to start this half.
48' Japan enjoy a nice spell of possession and work the ball into the left corner for Nagatomo who sends the ball into the box, but can only find the Colombia defense.
2H: The players are back on the pitch, Colombia kicks us off, and the second half is underway.
The second half will kick off in just a few, so don't go anywhere as we cover all the action in this thrilling matchup.
Despite having a man advantage, Japan's midfield and forwards have been dropping back deep to help on defense. This has made it harder for them to release down the field as the game has gone on. If Japan are to win this game, they need to make better use of their advantage going forward.
Colombia were shocked by the early red card, but have reacted well and actually look to be the better side. The addition of Barrios has not only helped Colombia's passing in the middle, but has also helped provide a defensive presence in midfield. The decision to take Cuadrado off for him raised eyebrows, but has proven to be a brilliant change.
HT: Haraguchi clears on the right side once more and the whistle blows for half time. So far this game has been end-to-end with all points still up for grab as we go into the break.
45' The board goes up and there will be one minute of stoppage time as Colombia try to create one more chance.
44' Haraguchi battles Mojica on the right side once again. Interesting to see Haraguchi consistently this far back despite Japan being up a player. So far, Japan has really mismanaged their advantage.
42' Japan work their way up the pitch, but are struggling to get anything going in the opposition's box. Colombia's defense is set up well and are frustrating this Japan side.
41' Maya ​Yoshida battles Falcao one-on-one and beats him to the ball. He has done well with marking Falcao today.
39' GOAL A low driven shot from the free kick Juan Quintero catches Yamaguchi off guards and sneaks into the bottom corner. Brilliant decision by Quintero, but Yamaguchi should have done better with that.
37' Falcao goes down in the box and there are shouts for a penalty from the Colombia fans, but the referee isn't interested. Makoto Hasebe then commits a foul on the edge of the box.
36' The introduction of Barrios has changed Colombia's approach in this game, working the ball through midfield more methodically as they look to break down the Japan backline and create chances for Falcao.
34' A ball over the top from Barrios nearly finds Falcao in the box, but he can only get the tip of his boot to the ball. Yamaguchi gathers the ball comfortably.
33' A Japan corner is dealt with easily as the cross fails to get beyond the first defender. Colombia are working their way up the pitch considerably slower.
31' SUBSTITUTION Cuadrado makes a surprise exit in the first half, being replaced by Wilmar Barrios. Interesting choice by Pekerman as he seemed to be the most influential player on the pitch for Colombia.
29' Japan work the ball into the Colombia half, but they continue to struggle in the final third. Their passing has been poor where it matters and has stifled their offense.
27' A floating cross is sent in for Inui, but it's too close to the goalkeeper and David Ospina comes out to collect.
25' Colombia come charging down the left and a cross to the center nearly finds Cuadrado. Colombia look far more dangerous, even with a man down.
24' The corner is played short and worked to the top of the ball before sending it back in for a host of players. A foul is called before anyone can play the ball, free kick Colombia.
23' Japan pass around the back as Colombia keeps pushing them back. Haraguchi is released down the right side and earns a corner.
22' Despite being known for their fast paced play, Japan slow the game down once more as they try to get control and maintain their lead.
20' Despite being down a man, Colombia have seen the most of the ball so far. A good tackle sends Japan running down the pitch, only to turn the ball over and send Colombia on the counter attack. This game has really opened up here in the early minutes.
17' Japan are building up possession as they try to slow the pace of this game down. A turnover sends Cuadrado down the flank, but Yuji Nagatomo stifles the attack in the corner and the ball is out for a goal kick.
15' Japan hit Colombia on the counter attack. Takashi Inui is found with space in the box, but his shot is wide. Japan starting to look more composed
14' Genki Haraguchi commits another foul, elbowing Johan Monica in the face. Colombia looks great on the ball, and Japan can only hope to foul as they dance by.
12' Japan commit a foul as they struggle to dispossess Cuadrado. The free kick is sent in, Falcao turns it towards goal, but Kawashima does well to save.
10' Despite being down a man, Colombia is still seeing plenty of the ball as they try to work their way forward and into this game.
8' Colombia make their way down the right side flank through Cuadrado, but he is deemed offside.
6' GOAL! Shinji Kagawa steps up to the penalty and converts it down the middle. With a man down, how will Colombia react?
3' PENALTY/RED CARD: Carlos Sanchez blocks a goal with his hand is shown a straight red card and award Japan with a penalty. What a chaotic start here in the Mordovia Arena!
2' Colombia works the ball around the back, but a pass to the left side is too far to reach and Japan get an early throw deep in Colombia territory.
KO: Japan will kick-off in the first half, and we are underway!
The national anthems ring loud as the fans sing along. This crowd is electric and bursting with excitement for today's match. The captains shake hands, are we are moments away from kick-off.
The players are making their way down the tunnel for pre-match ceremonies. Just a few minutes left until kick-off.
A lot of expectations are going to be placed today on Osako as he starts ahead of Okazaki, the most experienced player on the Japan squad. Should he struggle, Okazaki could be an explosive substitution late on in the game.
On the Japan side, both Keisuke Honda and Okazaki have missed out on the starting lineup and will be options off the bench this afternoon. 1. FC Koln's Yuya Osako has been given the start ahead of Okazaki.
He still makes today's squad, finding himself a spot on the bench. But don't be surprised if he doesn't play a part in today's matchup.
Falcao is good to go however, and will be looking to make an impact in his World Cup debut today. After missing out on the 2014 World Cup due to an ACL injury, it should be a delight to watch the 32-year-old striker this afternoon.
Obviously the biggest news from the team sheet is the absence of James Rodriguez in the starting XI as the playmaker is being given extra time to recover from a calf injury.
Japan Substitutes: Ueda, Honda, Endo, Okazaki, Usami, Higashiguchi, Muto, Yamaguchi, Oshima, Makino, Sakai, Nakamura
Japan Starting XI: Kawashima, Nagatomo, Shoji, Yoshida, Sakai, Shibasaki, Hasebe, Inui, Kagawa, Haraguchi, Osako
Colombia Substitutes: Zapata, Barrios, Bacca, Aguilar, Rodriguez, Vargas, Mina, Muriel, Uribe, Diaz, Borja, Jose Cuadrado
Colombia Starting XI: Ospina, Murillo, Arias, D. Sanchez, Mojica, C. Sanchez, Juan Cuadrado, Lerma, Quintero, Falcao, Izquierdo
We are about an hour away from kick off, and the team news has just come in as the players get ready and warmup.
Team news will come an hour before kick-off but in the meantime, if you want to join in with the World Cup debate over on Twitter, make sure you follow us @VAVEL.
One to watch: The main man for Japan is Leicester City ​striker, Shinji Okazaki. Okazaki has scored seven goals in 31 games for the Foxes this season. He is the most experienced player in Akira Nishino's squad and the fourth most capped players in their history with 113 appearances to his name. The Fox is also Japan's third highest scorer with 50 goals in the 113 appearances he has made for his country.
One to watch: Radamel Falcao will be key to Colombia's success. The striker has been in terrific form this season for both club and country, scoring 24 goals in 36 games. The 32-year-old has tons of experience of playing for top clubs across the world in Chelsea, Manchester United, AS Monaco, Porto and Atletico Madrid.
You'd think that Colombia will be going into this one thinking of it as a must win, with Japan seen as the weakest team in a fairly competitive group, Pekerman will be eyeing this opening game up as a chance to outline Colombia as favourites to top the group. Japan may feel like they're better suited to sitting back a little more and going for the counter-attack, with slightly easier challenges against Poland and Senegal to come.
The Colombians are confident going into this game but with the drama already witnessed it wouldn't be surprising to see another upset. José Pékerman's men drew their two warm up games heading into the World Cup, against Australia and Egypt, whereas Japan head into the tournament having won one out of their three friendlies, winning against Paraguay 4-2 a week ago.
These two teams have been made to wait, with Group H teams finally getting their campaigns underway having seen all other 28 teams come before them.
Good evening everyone, and welcome to our coverage of today's final World Cup game, as Colombia and Japan start of your Tuesday afternoon. We're Dominic Scott-Bone and Maxwell Hogg and we'll be taking you through the events with minute-by-minute commentary. We'll have all the latest updates and team news surrounding this tie an hour prior, so follow our updates throughout.