The match between Real Betis and Sporting Gijón at the Estadio Villamarín ended with a 1-1 draw after Carlos Castro scored the opener for the hosts and German Pezzella equalised.
Tight and interesting first half
At the start, both started very offensively and with a lot of pressure on the opponent. It was perceptible that Betis and Sporting wanted the first goal of this meeting as early as possible. Three points in the relegation battle, in which they are stuck, are more than helpful.
The first chance for the Green-Whites came after Rubén Castro headed the ball at the side netting after Charly Musonda Jr. crossed a freekick to the far post, where the 34-year-old striker lurked.
Because of Betis' tight marking on Gijón's players, there were a lot of vast gaps for the guests in midfield, but the defence of the hosts was on guard and gave the current 17th placed side no chance to find a way to Antonio Adán's goal.
Both stood rather structured and it was difficult for both attacks to even try a long range shot at the goalkeeper's. The most attempts were blighted close before the finish. Betis had the predominance, but even the team from Seville couldn't create chances and so it was an interesting scoreless meeting between the two promoted teams until the halfway mark.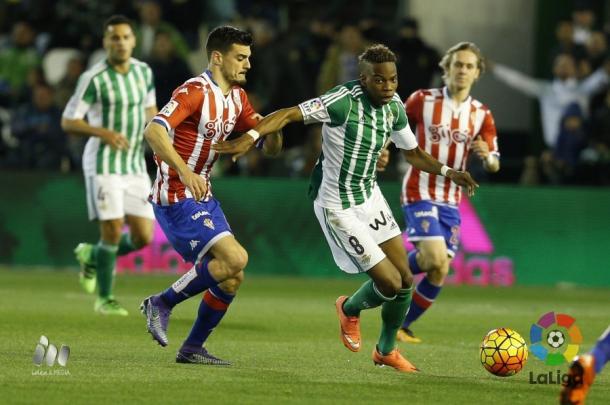 Same procedure
Only a few minutes after the restart of the match, Betis scored a goal, but the linesman saw an offside position by Rubén Castro and the supposed lead was struck away. It was seen that both really wanted to celebrate a goal, but as both already did in first half, they just defended well and stood stern, so that there was no opener for a while yet.
In the 65th minute Betis got a corner, Foued Kadir lost the ball near Gijón's penalty area, a pass from Halilovic sent Carlos Castro in and he had an easy challenge to chip the ball over Adán, scoring the first goal in this match and securing the lead for Sporting.
However, not even two minutes after Gijón scored, Betis got the equaliser. Juan Vargas sent a free-kick into the penalty area and German Pezzella scored with a good finish to level proceedings.
15 minutes before the final whistle it was another offside goal from Betis after good work from Musonda gave Rubén Castro the chance to score, but the striker stood in an offside position and another goal by him was declined.
At the end Betis and Gijón have to be pleased with the draw, despite the improved performance in the second half. Both teams were on a similar level, and the game showed. The point is surely more helpful for the guests, because the Green-Whites could have made some better ground on the relegation spots.