It's been quite the amazing season for Atlético Madrid. Even though they don't have the same means financially as the two giants of Spain in Barcelona and Real Madrid, they always stay competitive with them at the top of the table.
Additionally, in a season where Diego Simeone was linked with a move away from the club, he has kept his composure and brought his team to the Champions League Final for the second time in three years, firmly establishing himself as one of the best managers in the world.
Nobody will forget their famous league win in 2014, but with two games left in the season and no more games against Barcelona, the clock is ticking for Atlético to try and deliver a league title. They can't finish level on points with Barcelona since they lost both ties against them earlier this year. Having made it this far in both La Liga and the Champions League, it would be a disappointment if Simeone's men eventually came away from this season trophy-less.
Head to head
Atlético Madrid have already faced Levante in La Liga, and came away with a 1-0 victory at home. It might have been more of a challenge for Atleti, coming off an emotional win in midweek, to be up for this team that could potentially be fighting to stay in the Primera Division, but Levante's relegation is secured, meaning they have practically nothing to play for at this point. It is Barcelona's hope that they will be willing to play the role of spoiler, as they could be crowned La Liga champions this week with a win and an Atleti loss.
It'll be interesting to see what type of lineup Simeone goes with. It's possible that he will want to rest his starters after their win against Bayern Munich, but perhaps he feels the league can still be won, and will thus field a full-strength lineup.
The legend of Diego Simeone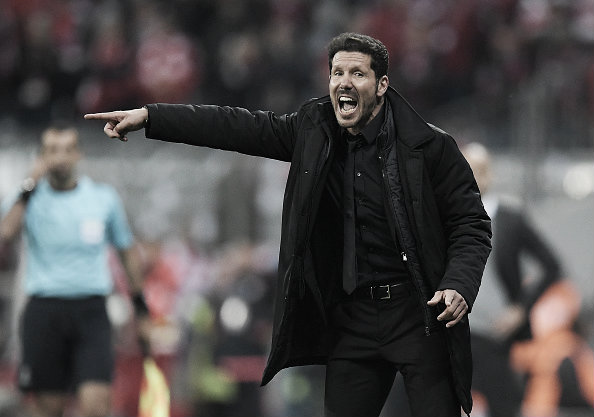 While Atlético Madrid may not always win games in the most exciting fashion, they get the job done. Their play this season has been characterized by suffocating defense and quick counterattacking play. According to Squawka, they have 23 clean sheets out of 36 league matches.
Ahead of their Champions League Final fixture against Real Madrid, Simeone compared his team to Zidane's as a "Peugeot vs. a Ferrari." While Atlético have established themselves as a European heavyweight, they have done so without a world-class talent the likes of Lionel Messi or Cristiano Ronaldo.
But even though it's their defensive line that sets them apart, Atleti still have the third most goals scored in La Liga, and that's due in large part to Antoine Griezmann. Simeone has also had to deal with lots of roster turnover – of the 18 players that made it to the Final in 2014, 12 have left ever since (h/t Dermot Corrigan). Atlético never rebuild after losing a star player, they simply retool, and Simeone must be given credit for the work he does with his squad every year. Even if they lose Griezmann next season, it would not be a surprise at all to see Atlético remain competitive.
Bottom feeders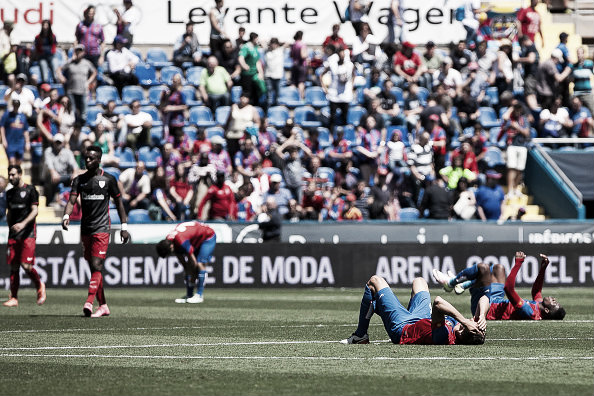 While this may only be the 12th season out of 108 that Levante have been in the top flight, they have become mainstays in recent years. In fact, next season will be the first time they will compete in the Segunda Division since 2009-10. That being said, though, this has been a season to forget.
It took Levante seven matches to notch their first win of the season against Villarreal and after that, they went on winless runs of four and six matches respectively. They've never been blown out of the water, and certainly can't be faulted for a lack of effort, but the results just haven't gone their way this year.
In that sense, perhaps we might see Levante try to win this one out of pride and for their loyal fans who have stuck by them all this year, but it's hard to think they won't be completely overmatched by Simeone's men.