After an early goal from Sergio Ramos, both side's tactics changed throughout the game. From the lead, Real Madrid played Atletico Madrid at their own game by letting them enjoy the possession and defending any attack effectively. A system that was played by Diego Simeone during this season and it paid off nearly every time.
After a frustrating first half, Simeone decided to bring on Yannick Ferreira-Carrasco for Augusto Fernandez which changed the game around. Antoinne Griezmann had a massive chance of getting Atletico back into the game through a penalty few minutes into the second half, unfortunately for him his powerful shot hit the crossbar.
Carrassco scored from a first time cross from Juanfran, as Atletico had several chances to go on to grabbing the winner. During extra-time, Simeone was forced to make two substitutions with Koke and Filipe Luis going off with an injury. With Real Madrid showing few signs of tiredness, many would have thought an Atletico goal was on it's way before the end of extra time.
Solid performance from the back
Jan Oblak (7 out of 10) – Goalkeeper made several saves to keep Atletico in the game, was very unlucky to prevent the scrappy opener which could have been handled better from the defenders. His attempt in saving the penalties would be questionable as he only dived for two of the penalties.
Filipe Luis (7 out of 10) – The full-back struggled to keep Gareth Bale in the first half, but got into the game properly in the second half. He was always an attacking influence on the left, caused a lot of problems for Danilo.
Diego Godin (7 out of 10) – Completed six clearances for Atletico during the game, showed how important he was for Atletico throughout the whole match. His last ditch tackles and interceptions were top notch and led Atletico's defence very well despite a tough first half.
Stefan Savic (7 out of 10) – Many were shocked that Savic started ahead of Jose Gimenez but he proved a lot of people wrong and showed why Simeone has a lot of faith in him. Was on top of his game, didn't commit to many errors too. Savic also completed the most blocks from all the players on the pitch.
Juanfran (7 out of 10) – The full-back was probably Atletico's best defender the pitch, it was his fantastic first time cross which led to Atletico grabbing the equaliser. It was a shame he missed his penalty which was followed on by Real Madrid winning the final.
Energetic midfield
Gabi (8 out of 10) – Atletico's captain was definitely the best player on the pitch, clearly showed how much the final meant to him. Gabi completed 114 passes, the most by anyone on the pitch. He dictated the player very well, but there wasn't enough movement from Atletico's front duo which made it hard for him to create passes quicker. He didn't deserve to be on the losing side last night.
Augusto Fernandez (6 out of 10) – Augusto was hardly at fault in the first half, but also wasn't involve in the play too much. Tried making a few attacks happen but Real Madrid had more bodies in midfield. Carrasco replaced Fernandez at half time.
Saul Niguez (6 out of 10) – The midfielder had a few moments now and then, but in general struggled to make a break through. With Real Madrid having more bodies through the middle, Spaniard had more defending to do than attacking.
Koke (7 out of 10) – His energy and dedicating played a big role in the final, with Atletico struggling a lot in the first half he found it hard to cope. But in the second half he showed how important he is to Atletico, will definitely be the best central midfielder very soon.
Poor performance from the strikers
Fernando Torres (6 out of 10) - Despite winning the penalty early in the second half, he didn't do much throughout the whole game. Ramos and Pepe didn't have too much to do, not many even remember Torres playing in the final. Simply wasn't good enough.
Antoine Griezmann (6 out of 10) – Wouldn't have expected the Frenchman to not show up on the biggest stage after another fantastic season. He missed the penalty just after the break which could have turned things around for Atletico. Griezmann struggled a lot to make a big impact.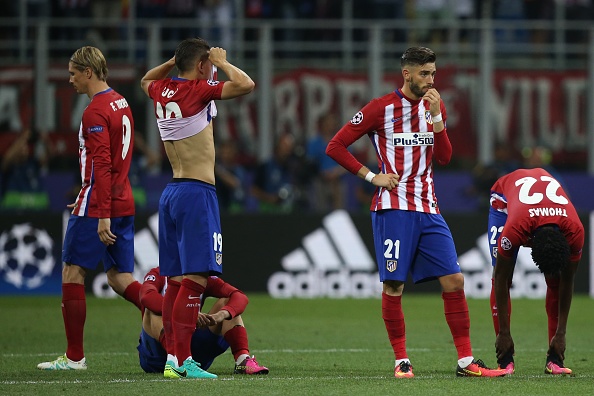 Substitutes
Yannick Ferreira-Carrasco (8 out of 10) – The Belgian came on at half time and changed everything around with his pace and power to create an attack every time he received the ball. He scored a vital equaliser from a perfect Juanfran cross. Danilo had a nightmare at marking him.
Lucas Hernandez (N/A) – Came on for the injured Filipe Luis in the second half half of extra time, but didn't have enough time to make an impact on the game.
Thomas Partey (N/A) – Came on for the injured Koke with few minutes left until penalties. He didn't have enough time to be an influence on the match.