Just what we needed in the MotoGP… more teammates falling out with each other! Or have they?
Both the Ducatis of Andrea 'The Maniac' Iannone and Andrea Dovizioso were fast; however like in other tracks they were not necessarily able to get the power down on the straights. They made a great start and stayed amongst the front runners, but what everyone is talking about is what happened in the last corner at Argentina.
Both Ducati riders crashed out on the penultimate corner
Dovizioso was second behind Repsol Honda rider Marc Marquez, Iannone was third; they had previously overtaken Movistar Yamaha rider Valentino Rossi and Team Suzuki Ecstar rider Maverick Vinales fell off in front of them.
They both wanted second and both fought to the end. On the penultimate corner of the last lap Iannone made one last attempt to overtake however he lost the front when he tried to overtake on the inside of Dovizioso. He went down and took his teammate with him. Rossi seen it all and rode straight past to claim second on the podium followed by Repsol Honda rider Dani Pedrosa.
It was not over for Dovizioso
Dovizioso did not want to leave it there, he wanted points! He picked up his Desmosedici GP and ran with it, he gave it everything as he pushed it across the line to finished in 13th place; he was exhausted as he leaned it on the pit wall unable to go any further, having to settle with three points towards his championship.
Iannone has apologised
Iannone, aka 'The Maniac' was nothing but apologetic towards his teammate and the whole Ducati team for his actions.
"Unfortunately that's the way it went and I am really sorry for my team, for Andrea and for everyone in Ducati because for sure a podium today with both Ducati Team riders would have been an exceptional result."
Iannone felt his pace improved in the second part of the race after all riders had to make a compulsory stop to get fresh tyres, "I started again at a better pace than the riders ahead of me and I managed to pass Rossi two or three times, until Andrea passed us again on the last lap." He briefly described the incident that ended his race saying that when he arrived at the penultimate corner, he "lost the front and brought down Dovizioso in the crash."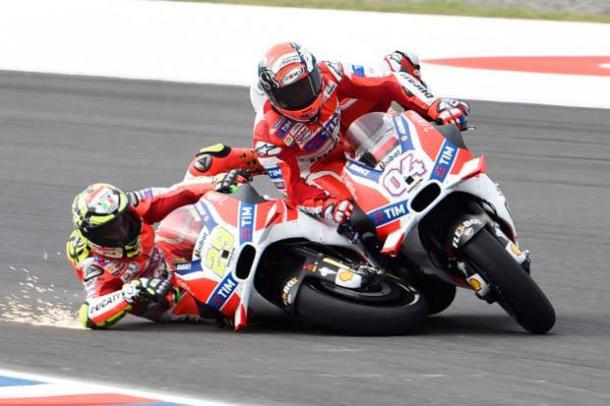 Dovizioso very disappointed
Dovizioso said he is, "very disappointed" when asked about the result in Argentina. His team rode "a great race despite it being a complicated weekend for everyone." He feels that staying out for an extra lap was hugely beneficial as he was able to make up a few seconds catching Rossi who fought back, he said, "I tried to close all the doors during the final lap."
Talking about the incident with his teammate the Italian told reporters, "In the penultimate corner however what everyone could see happened and I missed out on a certain second place." Dovizioso was extremely disappointed about how his teammate's action considering the affects it has had on the championship, "Looking at things positively, we were also quick here in Argentina and, if I had managed to finish the race, now we would be second in the championship just one point behind Marquez."
Riders to be spoken to in Austin
When asked about his views on the incident between his two riders, Ducati Corse Sporting Director Paolo Ciabatti said, "We will talk to both riders in Austin and given them our point of view about what we expect between them in the race."
Dovizioso now sits in fifth in the championship with 23 points; he is 18 points behind Marquez. The 20 points he would have received had he finished ahead of Iannone, would have left him with 40 in total and one point behind Marquez. Iannone is yet to score any championships after also crashing out in the season opener in Qatar.