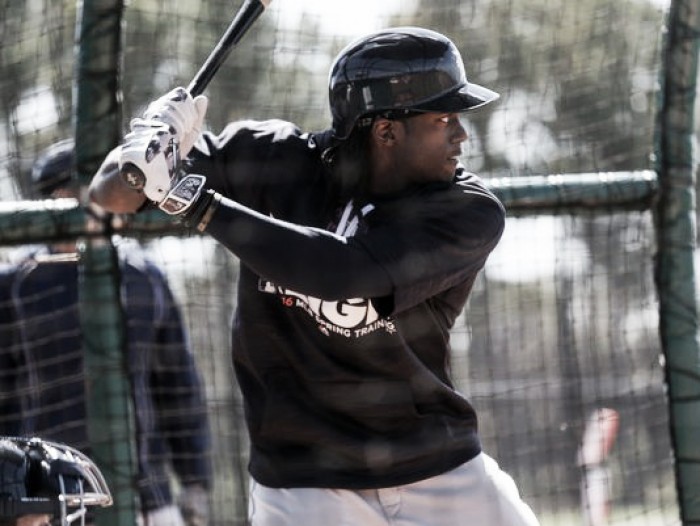 The Detroit Tigers have officially restarted the injury rehab assignment of Cameron Maybin. The outfielder will begin his second 20-day rehab stint with Triple-A Toledo on Saturday.
Detroit pulled Maybin off his origional injury rehab assignment for a procedural movement. Since a player who spends less than 20 days on an optional assignment in a given season does not burn an option, the Tigers recalled him before the 20 days were finished. Now that the Tigers have sent him back on a rehab assignment, the clock will restart.
Maybin was close to returning after the first 20-day minor league stint, but the Tigers want to stay safe and give him a few more at-bats on a rehab assignment before calling Maybin up to the major leagues.
"He was close (to returning)," manager Brad Ausmus said. "I don't expect he's going to need a ton of games once he starts playing again."
During spring training, Maybin was hit in the wrist on a pitch by Luis Severino, a right-hander for the New York Yankees. The injury was a non-displaced hairline fracture and required Maybin to be sidelined for 4-to-6 weeks. A little over a month after the injury, Detroit placed Maybin on the 15-day disabled list retroactive to March 25.
Maybin started his rehab assignment with High-A Lakeland and played four games, which he went 3-for-13 with two doubles and two walks. The rehab assignment was then moved to Triple-A Toledo. With Triple-A Toledo, Maybin went 5-for-24 with four doubles, two walks, two runs scored and four RBI across six games.
The center fielder slashed .216/.310/.378 with six doubles, four walks, one stolen base, five runs scored and four RBI in 10 games with High-A Lakeland and Triple-A Toledo during his rehab assignment.
The former 10th overall pick by the Tigers in the 2005 MLB Draft had six days left on his rehab assignment when he was stuck on the left wrist with a pitch near the same spot of the inital injury. Swelling and soreness in the left wrist are what is holding Maybin back.
"It's more of a precaution," Ausmus said. "Should it be something serious, we don't use up all his rehab days. He was six away from being finished. So we've reset the clock in case it's more serious than we think.
"But I don't see any reason he's going to need it all, if he comes back and picks up where he left off. Quite frankly, I'm not sure he would need the six days."