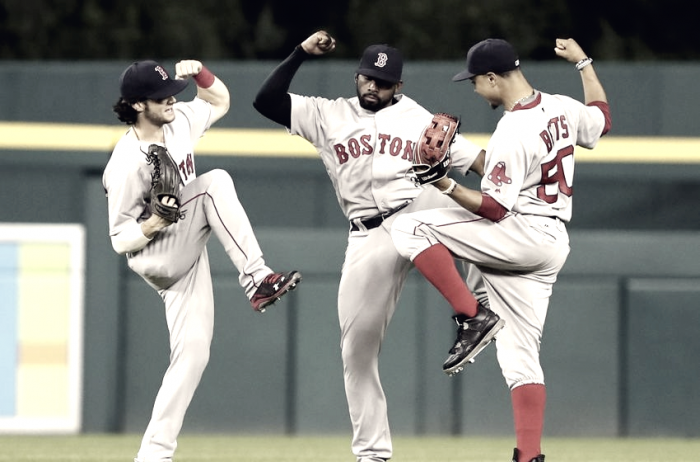 The names are familiar: Andrew Benintendi, Jackie Bradley Jr., and Mookie Betts. Boston's own Killer B's.
But what about Danny Mars, Cole Sturgeon, and Aneury Tavarez?
Unless you are a huge Red Sox fan, you don't know these names. You'd have to be incredibly knowledgeable of the Boston farm system to know about the starting outfielders for the AA Portland Sea Dogs.
But, while all the attention is focused on Boston's young and talented outfield, Mars, Sturgeon, and Tavarez are quietly making a name for themselves in southern Maine.
Aneury Tavarez getting interest despite being back in Double-A
Tavarez is probably the most well-known of the three outfielders having been claimed in the Rule-5 Draft by the Baltimore Orioles. Tavarez almost made it to the end of major league spring training with the Orioles, but, when Baltimore didn't put him on the major league roster, they had to return him to Boston. However, they tried to work out a trade with the Red Sox, who had no interest in giving away Tavarez, as be hit .335 with Portland last year. Despite his excellent 2016 campaign, Tavarez was still relegated to Double-A due to Boston's outfield depth.
Despite the disappointment, Tavarez has stayed focused, and he boasts a .good average early on in the season. He is a mainstay at the top of Portland's lineup, as he continues to impress. His path to Boston is filled with obstacles, to say the least, but, if Tavarez continues on his current trajectory, he could find himself in an MLB park soon, be it Fenway Park or somewhere else.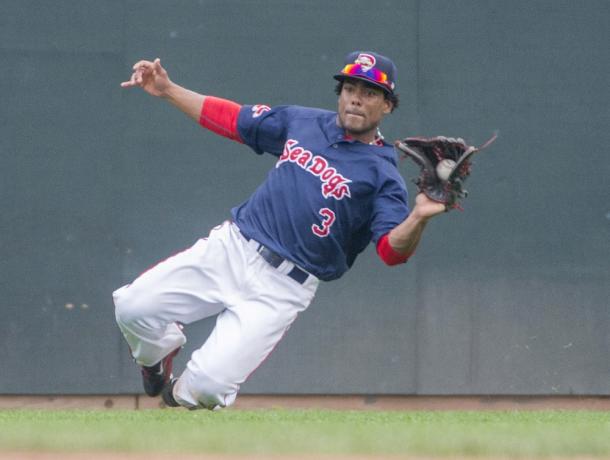 10th-round pick Cole Sturgeon drawing attention
With the likes of Betts (fifth round draft pick out of high school), Benintendi (seventh overall pick out of Arkansas) and Bradley (first round pick out of South Carolina), a name like Cole Sturgeon might not leap off the page. Sturgeon was a tenth-round pick but as a senior out of Louisville. Never considered a top prospect, Sturgeon has steadily climbed through the Red Sox system.
After hitting .283 in 2014, Sturgeon made his first appearance with Portland in 2015, failing to impress. Sturgeon accumulated a measly .200 average over forty games. He improved greatly over 117 games in 2016 with the Sea Dogs, hitting .267 with 28 extra base hits and half a dozen stolen bases. The outfielder has hit third for Portland this season, his third with the Double-A squad, and raced out of the gate to a .297 average, 34 points higher than his career mark. He also boasts a .372 on base percentage while playing errorless defense in center for the Sea Dogs. He may not have attracted a lot of attention yet, but if Sturgeon continues to dazzle defensively and put up above-average numbers with the bat, he could develop into a useful trade chip for Boston, allowing Sturgeon to seek his opportunity with another team.
Danny Mars shining in Double-A
Mars, a sixth-round pick in 2014, was picked four rounds before Sturgeon, yet he didn't reach Portland until this season. The speedy outfielder got off to a hot start to his career, hitting .311 with short-season Lowell in 2014, but he struggled mightily in his debut with Low-A Greenville, hitting just .167 over ten games. He rebounded to hit .283 with the Drive in 2015, before spending the entire 2016 campaign with High-A Salem.
Mars put up impressive, if not overwhelming, numbers in Salem, posting a .293 average while stealing 31 bases. His solid season earned him a promotion to Portland, where he has gone on a tear to open his AA career. Mars entered the double-header hitting .423, fourth in the Eastern League. He has homered once, tripled once, and collected a pair of doubles. He boasts a .483 on-base percentage, a .692 slugging percentage, and a 1.175 OPS, all marks that rank first on the team. He has also been error-free in the outfield, dependable trio patrolling the outfield of Hadlock Field. As the season is still relatively new, Mars will likely stay in Portland the remainder of the year.
But, like Sturgeon and Tavarez, Mars is another outfielder somehow making himself known in a system full of outfielders. And they are all hoping to get their chance soon.