 The Atlanta Braves have won four out of their last five games thanks to a series win against the Miami Marlins last weekend and beating the Toronto Blue Jays on Monday and Tuesday. Prior to that, though, the Braves had a six-game losing streak after losing series to the New York Mets, St. Louis Cardinals, and Houston Astros. One of the biggest proponents of Atlanta's up-and-down season, which has so far resulted in a 15-21 record and third place in the NL East, has been inconsistent offense. Their roster ranks 18th out of 30 teams in runs scored and 25th out of 30 in total bases accumulated in 2017, which projects a bleak outlook for the rest of their season.
Aside from the pitching and competition they have faced, here are the main elements of Atlanta's offense that are either helping or hurting the team:
Matt Kemp and Freddie Freeman are Hot
At this point in the season, there is a clear MVP for the Braves: first baseman Freddie Freeman. While this will likely not be a surprise to baseball fans (since Freeman is meant to be the face of the franchise), his strong offensive performance through 35 games this season has been impressive even by his own standards.
Even after last night's 1-for-5 performance against the Blue Jays, Freeman continues to lead the team in almost every major batting category: hits (46), RBIs (25), home runs (14), and on-base percentage (.457). During that time, he's also racked up a .343 batting average and collected 101 total bases. The first baseman seems to be building upon his strong 2016 campaign and is the only Braves player so far with double-digit home runs and more than 20 RBIs. Last season, it took him 80 games to reach the 14 home run mark, whereas he achieved that Monday night in his 36th game of 2017.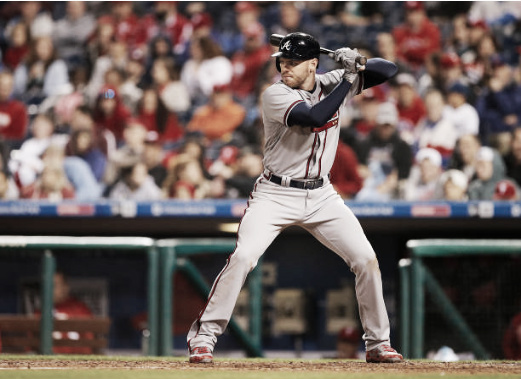 But Freeman is getting a lot of support from veteran outfielder Matt Kemp too. Brought in from the San Diego Padres last season to help bring power to the lineup, Kemp has continued to hit well in a Braves uniform this season, despite being sidelined in April by a hamstring injury. The 32-year-old is second behind Freeman in home runs (6), RBIs (22), and total bases (69) and leads the team in batting average (.348). Kemp was also on a 13-game hitting streak before Sunday afternoon when the Marlins kept him hitless, but rebounded on Monday with a perfect night at the plate against the Blue Jays (4-for-4).
It is worth noting, however, that all of Kemp's home runs came in April and he's had a slower start to the month of May, hitting only two RBIs until Tuesday's game against the Blue Jays when he popped off four more. In order for the Braves to try and turn their season around, it will be crucial for the 11-year veteran to keep up this pace of production until the rest of the lineup can find some consistent footing offensively.
Dansby Swanson and Brandon Phillips are Not
Some of the offensive problems for Atlanta stem from the lack of production from two of their most important infielders: rookie shortstop Dansby Swanson and second baseman Brandon Phillips.
During the pre-season, Swanson was the popular pick among baseball analyists and writers to be the National League Rookie of the Year. So far, however, the former first overall pick has not been able to find consistent production at the plate. Despite playing well during his stint in the majors last year, Swanson's numbers in 2017 have provided a stark contrast: in 35 games this season, he's only produced 25 hits and 12 RBIs, compared to the 39 hits and 17 RBIs he collected in 38 games last season.
The rookie is still striking out a very high rate, having already surpassed his total amount of strikeouts from last year with 36 during this season. Although he has been playing better lately (four of those hits and three RBIs came from Monday's game against Toronto), his inconsistency has certainly affected the Braves' offensive output. While Swanson has too much potential to already be called overhyped or a bust just yet, it is clear that he still has a lot of growing to do in order to become a proficient major leaguer. He's already showing signs of turning around after having two productive games against the Blue Jays.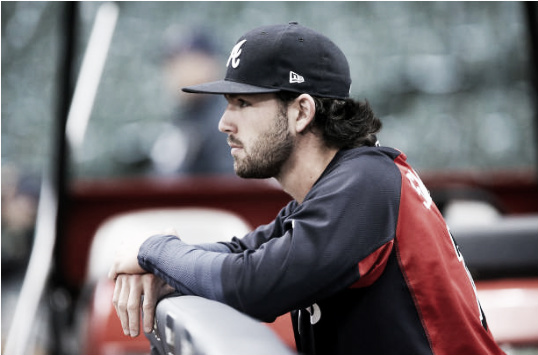 His teammate at second base is having a difficult time in the month of May as well. While Brandon Phillips' season started off strongly, he has clearly been going through a slump recently. The 35-year-old's offensive production in May totals to a measly .105 batting average and four hits in 10 games before Tuesday's game in Toronto, after beginning the season by hitting a scorching .355 with 10 RBIs. This dip in production could perhaps still be caused by a groin injury that Phillips sustatined in late April, which sidelined him for a few games but did not send him to the disabled list. While the 15-year veteran may still be playing through an injury, he's only had one hit in his last 20 at-bats and his lack of production has certainly contributed to Atlanta's struggles at the plate.
Wasted Opportunities with Players On Base
Of course, the Braves' inconsistent offense is not completely the fault of Swanson or Phillips. The team as a whole has failed to help runners in scoring position (RISP) during their last several games.
For example, although Atlanta won their series against Miami, the roster hit for a combined 7-for-35 with runners in scoring position, leaving a total of 27 runners stranded on the basepaths and managing only three runs in two of the games. Prior to that, the Braves also struggled in Houston, going 2-for-9 and 0-for-5 with RISP and losing those two matchups. When they were swept by the St. Louis, they left a total of 24 runners on-base after going 0-for-10, 1-for-2, and 3-for-11 with RISP. The 14-inning marathon where the Braves stranded 11 players and eventually lost was perhaps the most agonizing way to conclude the series against the Cardinals.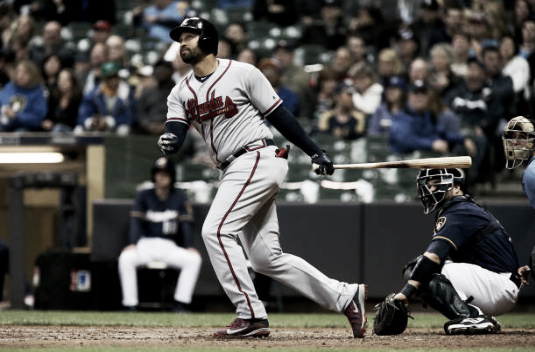 For Atlanta to work their way back to a .500 record and to try to escape the bottom of the NL East, their roster has to focus on capitalizing more during those situations. Home runs from Freeman or Kemp will not be able to bail out the team in tough games as the season goes on, and hitting well with runners in scoring position is what can be the difference in whether a team is contending or floundering.
While it is very unlikely Atlanta has their sights set on a playoff spot after this poor start, they have showed they're capable of stringing together wins and playing closely with some competitive teams. If they start winning some of their tighter games, perhaps the team will avoid falling to their fourth-straight losing season.
The Braves return to Atlanta to play two more games against the Toronto Blue Jays on Wednesday and Thursday.