Darwin Barney, hair flopping and knee busting past the first-base line, slammed his helmet onto the Toronto turf. Second baseman Jason Kipnis had made a delightful pick up the middle, firing it to first for the closing out of Game 3 of the ALCS. Unbelievably, the Toronto Blue Jays were sulking over a gut-wrenching loss, while the Cleveland Indians were swaying in celebration by the pitcher's mound.
Bullpen blues
Toronto had entered their second home playoff game of 2016 in desperation mode. Down 2-0 in the ALCS, they needed a win to get back on track. But the Blue Jays' playoff lives were depleted, even after Indians starter Trevor Bauer reopened his drone-caused finger cut in the first inning. Red-scarred and slip-fingered, Bauer was forced to hand Game 3's baton to the Cleveland bullpen -- and they delivered:
Cleveland Indians Bullpen in Game 3
| Pitcher | IP | H | R | ER | BB | SO |
| --- | --- | --- | --- | --- | --- | --- |
| Dan Otero | 1.1 | 2 | 1 | 1 | 0 | 0 |
| Jeff Manship | 1.1 | 1 | 0 | 0 | 0 | 1 |
| Zach McAllister | 1.0 | 1 | 1 | 1 | 0 | 0 |
| Bryan Shaw (W) | 1.2 | 2 | 0 | 0 | 0 | 2 |
| Cody Allen (H) | 1.2 | 0 | 0 | 0 | 1 | 2 |
| Andrew Miller (S) | 1.1 | 1 | 0 | 0 | 0 | 3 |
The Tribe wasn't without timely hitting, either. 1B Mike Napoli drove in two runs with a two-out RBI double in the 1st inning, and also tacked on a 4th inning solo homer. Tied 2-2 in the sixth, the Indians took the lead for good; 2B Jason Kipnis led off with a solo shot to right-center, and 3B Jose Ramirez immediately followed Blue Jay starter Marcus Stroman's departure with an RBI single.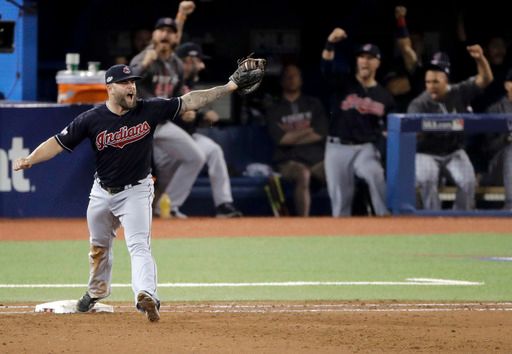 Miller time
From then on, it was the bullpen's game. Cody Allen, Cleveland's usual closer, entered in the 7th and wiggled out of a first-and-second jam by forcing a Josh Donaldson lineout. After Allen secured two outs in the eighth, on came Cleveland's sparkling bullpen-stud, Andrew Miller. A pivotal mid-season trade acquistion, Miller was his usal self, silky slider and abusive fastball scratching and swaying past Blue Jay batters. The Toronto bats were raking in the dirt and flailing above helmets. Even though Dioner Navarro sneaked a pinch-hit single to right in the 9th, the offense was lifeless against Miller. They had no chance.
With his three punchouts on Monday night, Miller set a new record for strikeouts by a reliever in the ALCS. He finally swpt away the dusty Blue Jays with a groundball towards the middle, where Kipnis picked and threw for the final out; the Blue Jay faithful were sullen and silenced as they packed up and trudged out the exit tunnels.
Toronto's bats have shockingly cooled down since the ALDS. After powering past the Texas Rangers, thet yhave scored three measly runs in three games against Cleveland. A Michael Saunders homer and a Ryan Goins RBI groundout was all the home team had in store. To survive, however, the Blue Jays need much more.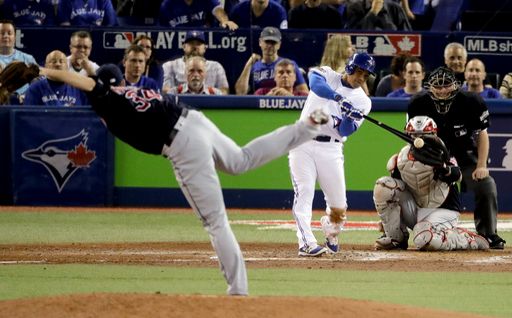 Up next
Game 4 of the 2016 ALCS is right around the corner with a 4:00PM EST start time tomorrow at Rogers Centre in Toronto. Corey Kluber, 2014 A.L. Cy Young Winner and now a lights-out postseason performer, will take the hill for the Indians. 24-year-old Aaron Sanchez will start for the Blue Jays. A Cleveland win would clinch their first American League Pennant since 1997, and a Blue Jay win would extend the series to a Game 5 in Toronto on Wednesday.