Regarding the Chicago White Sox's potential moves around the trade deadline, there is a little less to talk about, as they have already dealt their biggest chip in ace Jose Quintana for a quartet of prospects from crosstown rival Chicago Cubs.
The move cemented the idea that Chicago will be sellers at the deadline. With a 38-49 record, Chicago sits nine games out of first place in the division and 7.5 games back in the wild-card chase. The White Sox will sacrifice their vague thoughts of a second-half run in order to build for the future at the deadline. But, with Quintana gone, who do they have left to deal, and what will they look to get back in terms of prospects.
Who they have to give
By selling Quintana, Chicago not only announced to the baseball world that they are not planning on contending this season, but they likely don't think they'll reach contention anytime soon. Quintana was under a team-friendly contract that lasted through the 2018 season. So the White Sox seem to have marked next year as a rebuilding year already, so this gives them plenty of time to sell of the aging veterans that plague their roster.
Todd Frazier, Melky Cabrera, Derek Holland, Mike Pelfrey, and Anthony Swarzak are all 30 years old or older and slated to be free agents after the season. James Shields and David Robertson will be free agents after 2018 and are 35 and 32 years old respectively. The White Sox have a fair number of chips to sell, but it's just a matter of finding suitors and getting the right returns.
What they hope to get
The White Sox have plenty of priorities that they would like to address in their farm system. Third base will likely be a position they attempt to bolster in their organization at the deadline. They have just one third baseman in their Top 30 prospects, and, with Frazier likely on the move, they'd like a top prospect they can start grooming to be their third baseman of the future.
The White Sox, with an aging rotation, will likely look for more pitching depth, including one or two southpaws. They have a plethora of right-handed prospects, but their rotation included Quintana, as well as Holland, Pelfrey, and Shields, all of whom could be wearing a different uniform by the end of the month. Chicago could use upgrades at pretty much every other position, and they may look for a shortstop to provide 24-year old Tim Anderson with some motivation and competition.
The Trades
Expect the White Sox to be big-time dealers at the deadline as they look to unload aging veterans for youthful prospects to create a new-look Chicago White Sox.
Trade 1 - trade RP Anthony Swarzak to Diamondbacks for LHP Alex Young, PTBNL
One of Chicago's biggest remaining trade chips, Swarzak has a 2.41 ERA this season and a track record of success despite a shaky 2016 campaign. A strong market for relievers may dilute Swarzak's value slightly, but he could still draw a top prospect. Left-handed Alex Young is the top lefty in Arizona's system, ranked #11 overall.
Currently in Double-A, Young is a pitch-to-contact type of hurler with a plus slider that could land him a rotation spot by 2019. If not, he can morph into a lefty specialist role, which he took on sparingly at TCU. Either way, he fits into the Chicago rebuild plan. With the strong market for relievers, Young may be the only notable player the White Sox get out of this deal, but they could push for a lower-level prospect or a player to be named later - this will allow them to more clearly address their needs after making more trades.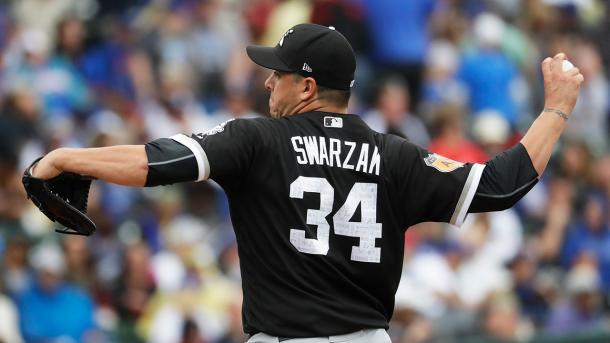 Trade 2 - trade RP David Robertson to Nationals for 3B Anderson Franco, OF Armond Upshaw
Robertson is Chicago's top bullpen chip, and possibly their top chip overall. The Nationals have long been rumored suitors for the closer, and this says they finally acquire him, but they have top part with touted international prospect Anderson Franco to do so. Ranked thirteenth in the system, Franco is a plus defender at the hot corner with some solid pop in his bat. Just 19 years old, Franco is developing quickly and could be on a big league roster by 2019.
Chicago would like to use their top chip to acquire their biggest need, and that is third base. Franco fits their needs and would be quite a nice addition to their farm system. Upshaw is the add-on and work in progress portion of the deal. Despite struggles at the plate, Upshaw features elite speed both in center field and on the basepaths, paired with an above-average arm. Scouts say he needs to work on his baseball instincts, but he could be an excellent project for the White Sox to work on during their rebuild.
Trade 3 - trade 3B Todd Frazier to Red Sox for RHP Jake Cosart and LHP Jhonathan Diaz
Having acquired a third baseman prospect in their previous trade, the White Sox now unload Frazier to the third-base needy Red Sox. The White Sox may have to sell low on Frazier who is hitting just .213 but has blasted sixteen home runs, more than anyone on the Boston roster. Because of this, the White Sox may be able to weasel a pair of prospects out of notorious dealer Dave Dombrowski. However, Dombrowski would be foolish to give up much for the struggling veteran. He could entice the White Sox by offering Cosart, a relief pitcher in AA with intriguing stuff but lackluster command.
Cosart has walked 33 men this year 28 ⅓ innings, but his control has improved recently, and hitters are batting just .167 against him. He could be MLB-ready by 2019 or 2020 and become a key factor in the Chicago bullpen that will have presumably lost their top two or three arms by then. Diaz is another low-level starter that Chicago could look into acquiring, especially as a lefty.
The Red Sox may be unwilling to part with starting pitching, but Diaz could be viewed as expendable in order to get a third baseman. While the results (5.95 ERA in 2017) aren't there for Diaz yet, his low-90s fastball, plus changeup, and overall makeup have him projected as a #4 starter by 2020 or 2021. Another prospect that would be right on time with the White Sox and their plans to contend in the future.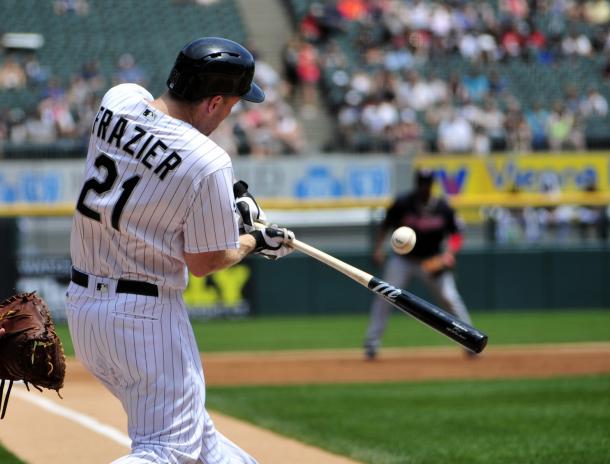 Trade 4 - trade OF Melky Cabrera and P Derek Holland to Rockies for SS Garrett Hampson and OF Pedro Gonzalez
An excellent deal for both sides. The White Sox unload two veterans to the playoff-contending Rockies, getting back a few needs of their own. While the Rockies could use a corner outfielder and depth starter, the White Sox bolster their outfield and shortstop position in their farm system in a deal that can make both GMs smile at the end. Colorado will acquire Cabrera, who is hitting .286 with 10 HR, and bring him to the Mile High City, where hitters thrive.
Meanwhile, Holland brings four years worth of playoff experience with him to Colorado, who lacks players with that time of experience. His veteran leadership and ability to be a depth starter should benefit Colorado. Meanwhile, the White Sox get a pair of excellent prospects from Colorado. Hampson is hitting .306 this year at High-A, along with 25 stolen bases. He is praised for his baseball instincts and makeup, which boost his projection as a future middle infielder starter.
He could become Chicago's shortstop of the future if Tim Anderson fails to improve. They also pick up another outfielder in Gonzalez, who is hitting .291 this season and projects as solidly above average in most facets of the game. Both Gonzalez and Hampson could be in the majors by 2020.
Trade 5 - Trade Mike Pelfry to Brewers for 1B/3B Jake Gatewood
Another aging starter that Chicago can unload in Mike Pelfry finds his way to Milwaukee. The Brew Crew desperately needs pitching depth as their rotation has been ravaged by the injury bug. If they hope to hold off the Chicago Cubs, who picked up Jose Quintana earlier today, Milwaukee will need to make a few moves.
Pelfry isn't exactly an ace, but he has been healthy for the past three seasons and could provide veteran leadership and depth in the youthful yet surprising Milwaukee clubhouse. Meanwhile, the Brewers get a name that doesn't jump off the page, but still a solid prospect in Jake Gatewood. Gatewood has hit .279 this year in Single-A and projects to reach the majors by 2020.
He has above-average power, decent running speed, and an excellent arm that allows him to play third base. He also boasts solid defensive skills at first base. The Brewers would be fine giving up Gatewood, who wouldn't factor into their plans for a few years, in order to acquire a pitcher that could help them out during the final two months of the season.
Well, there you have it. The Chicago White Sox may be one of the busiest teams at the deadline, as they ship off a ton of aging veterans slated to become free agents after this season or the next. James Shields and Dan Jennings remain on the roster for next year, but they could also be traded, whether it be this year or next. The White Sox could also consider shopping star Jose Abreu, who would net a huge return. Maybe at the Winter Meetings? Anyways, if you're looking for action at the deadline, look to Chicago...you could see plenty of it.