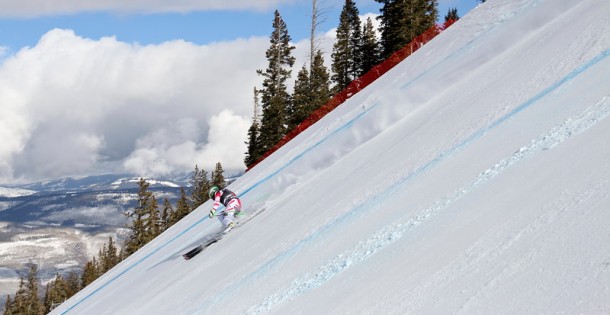 The Men's Alpine Skiing World Cup is heading to Beaver Creek, Colorado, the venue of last winter's World Championships. There will be a downhill on Friday, a super-G on Saturday, and a giant slalom on Sunday on the Birds of Prey slope; all are the second races of the season in respective disciplines.
Downhill and Super-G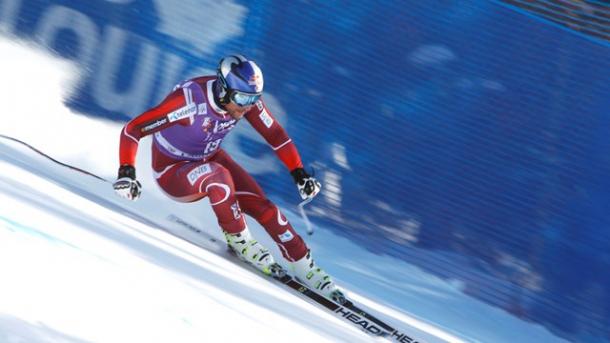 Photo: Alexis Boichard/Agence Zoom/Getty/AFP
Norway's Aksel Lund Svindal made a perfect comeback to speed races last weekend in Lake Louise after missing the previous World Cup season due to an Achilles injury; he won both the downhill and the super-G races. He is surely a favorite in the speed races in Beaver Creek.
Svindal had a severe crash in Beaver Creek in 2007 during a downhill training that put him aside for the remainder of the season. A year after the crash, he won races again; the downhill and the super-G in Beaver Creek.
Besides those two wins, Svindal won the Birds of Prey downhill in 2013 and a super combined race in 2006. Last season, Svindal made his only starts in Beaver Creek at the World Championships. Sixth places in both super-G and downhill were amazing results given he hadn't raced at all before the Worlds last season.
Italy's Peter Fill had a great weekend in Lake Louise, finishing second in downhill and third in super-G. Lake Louise was the place of his only win, the 2008 downhill, yet he also has some good results from Beaver Creek, including third places in both downhill and super-G two years ago and fourth place in last year's super-G.
USA's Travis Ganong also had a strong weekend in Lake Louise; a third place in the downhill and a career-best fourth place in the super-G. He has good memories from the Birds of Prey slope; he finished fifth in last December's downhill and won the silver medal in the World Championship downhill in February.
Last year's downhill winner and super-G second-place finisher, Kjetil Jansrud, had an underwhelming start to his downhill and super-G title defenses in Lake Louise; he was only ninth in the downhill and seventh in the super-G. Good results in Beaver Creek would be important, as he doesn't want to fall too much behind the frontrunners early in the season.
The winner of last year's World Cup and World Championship super-G races on the Birds of Prey slope, Hannes Reichelt of Austria, also had a poor start for speed disciplines; he was 18th in downhill and 11th in super-G. Beaver Creek should be a good place to improve from that; besides those wins last season, he also won the super-G in 2005 and 2007.
Patrick Küng of Switzerland won the World Championship downhill in Beaver Creek last February. Birds of Prey has been a good slope for him; he scored his first World Cup victory there two years ago in the super-G.
USA's Ted Ligety did not race in the Lake Louise super-G. Still, it seems obvious he will be racing in the Beaver Creek super-G as the weekend also has a giant slalom race.
Also the defending overall, giant slalom, and slalom World Cup champion Marcel Hirscher will be racing in the super-G, aiming to score points for the overall World Cup. Hirscher's super-G performances depend a lot on the slope and course setting. He was fourth in last year's final super-G in Méribel and he has one third place finish in a World Cup race, yet his best super-G performance in Beaver Creek has been a 16th place finish two years ago.
Giant Slalom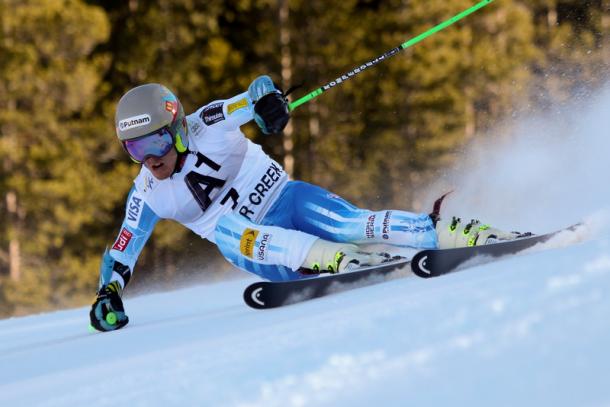 Photo: Eric Schramm
Ted Ligety won the season-opening giant slalom in Sölden in late October. 34-year-old Frenchman Thomas Fanara, still to win a race, was second, 0.15 seconds from Ligety. Defending giant slalom World Cup champion Marcel Hirscher was third, just 0.02 seconds behind second-place finisher Fanara.
Ligety must be the biggest favorite to win the giant slalom; he has won the last four World Cup giant slaloms in Beaver Creek as well as last winter's World Championship giant slalom on the same slope. Last season was the first time after 2009 that Ligety missed the top two of the giant slalom World Cup. The World Cup and the World Championship giant slaloms in Beaver Creek were his only wins last season. That shows how good he is on the Birds of Prey slope, winning even when he has a poor season by his standards.
Sölden's second-place finisher, Thomas Fanara, has been one of the most solid skiers in giant slalom since the 2010-11 season. Apart from the 12th place of the 2011-12 season, he has finished every season in the top six since 2010-11. He finished the last season in fifth place, preceded by a career-best fourth place in the previous season.
Losing only 0.15 seconds to Ligety and beating Hirscher in Sölden was a great start to his season. If he could keep that level, he could finally score his first victory this winter after three second place and six third place finishes. And if he can perform constantly like that and can actually beat Ligety, he could even be a contender for the GS World Cup title.
Third place in Sölden was a decent start to Hirscher's GS World Cup title defense, yet nothing like in the previous year when he won there by 1.58 seconds. He has lost nothing yet, but it seems like he can't walk to the title like last season.
Not dominating the technical disciplines would also have overall World Cup implications for Hirscher. Somebody could win the overall title by dominating speed races if Hirscher or anybody else can't dominate the technical races. Still, the schedule with 22 technical races as opposed to 19 speed races and three combined races favors a technical specialist like Hirscher.
Last year's GS World Cup runner-up Alexis Pinturault of France was fifth in Sölden. One might have expected more from him, especially the gap of 2.01 seconds to Ligety was disappointing. Second place in GS standings and third overall made last season the best in his career, yet he needs to do more than the fifth place of the Sölden GS and the 37th place of the Lake Louise super-G if he wants to be a title contender in giant slalom and overall this season.
One might also expect to see many speed specialists racing in the GS of Beaver Creek, boosting their chances in the overall World Cup. However, the expectations can't be very high. The current overall points leader Svindal was only 24th in the Sölden GS, earning seven points. Last season's overall runner-up Jansrud was 25th. Hannes Reichelt was 16th, setting the second-quickest second run; however, he needs to find his form in speed disciplines, only then he will have a chance in the overall World Cup. Matthias Mayer was reported to have been quick in GS training before he had to skip Sölden because of an injury. It will be interesting to see how competitive he is in giant slalom; at least his second place in the Lake Louise super-G was promising for his season.