 The men's all-around final had a thrilling finish, with Kohei Uchimura taking the gold by less than a tenth of a point. The women's side won't likely be as close for the gold, with Simone Biles a heavy multi-point favorite. However, the race for silver and bronze should be thrilling.
Simone Biles the favorite for gold
Simone Biles is expected to come away with the gold; quite handedly. She has the best vault, balance beam and floor of any of the competitors, and has won the last three world championships with all-around gold.
Biles is one of the most dominant female gymnasts of her time, and should certainly be the most exciting to watch since she does all four events well. The best hope for the other gymnasts is that she makes a mistake on vault or floor and drops a lot of points. Her beam routine might be the best out of the other gymnasts, but still scores around a 15.2 or so and her bars routine has already earned under a 15 in the team finals.
If any can, it will likely take someone like Aliya Mustafina to catch her with an improved floor and another excellent bars routine. Aly Raisman could catch her with a great bars routine as well with help from a Simone mistake. Raisman would also have to repeat what has been an incredible Olympics for her so far with multiple personal high scores.
Overall, it will take a surprising poor performance compared to normal for Biles and it will take stellar performances from chasers like Raisman and Mustafina to have a chance at passing Biles.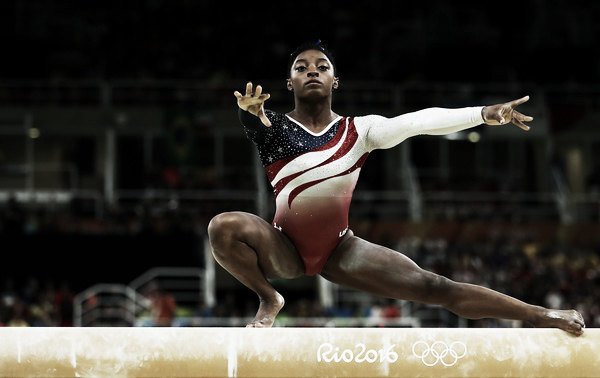 Chasers led by Raisman, Mustafina and Tutkhalyan
The battle for the silver medal will likely come down to the three of Raisman (who's the favorite), Mustafina who has a stellar bars routine, and Seda Tutkhalyan who is a good at everything with no specialties type of gymnast.
The good news is that the rest of the United States gymnasts can not compete in the all-around. Gabby Douglas finished in third and qualifying, and if she competed on all four events Laurie Hernandez also could have finished very highly. Madison Kocian would also have a very high score on the all-around as well, as she has proven in the past that if necessary she can compete on more events than uneven bars if necessary, particularly balance beam.
Due to the two per country rule, it will be guaranteed that the United States does not win all three medals, meaning either of the Russians (Tutkhalyan and Mustafina) or another gymnast (perhaps even Brazilian Rebeca Andrade) will be winning the bronze medal instead.
The event will be worth watching to see the domination of Simone Biles continue, Aly Raisman make up for the 2012 tiebreaker incident with a likely medal, and the other gymnasts competing for the likely bronze medal. The event looks to be much closer than the team event was, which should make it even more entertaining for casual gymnastics fans.