Heading into the final, Greece's Katerina Stefanidi was the woman to catch. Olympic champion qualified for the final comfortably by jumping 4.60m on her first and only Vault. Behind the Greek was the chasing pack of Lisa Ryzih, Sandi Morris, and Venezuela's Robeilys Peinado who all qualified by jumping 4.55m.
Great Britain's hope Holly Bradshaw scraped through qualification, finishing down in joint tenth with a Vault of 4.50 on her first and only attempt.
But no one could catch Stefanidi, who eased to gold with an impressive jump of 4.91m, 16m more than Sandi Morris who took home the silver for the USA. Bronze was shared between Robeilys Peinado and Yarisley Silva who both went 4.65m but for the Venezuelan, it was a National Record.
Stefanidi wins the gold medal; Morris takes silver, Bronze shared between Peinado and Silva
Venezuela's Peinado Kicked off the competition by clearing the opening height of 4.31m. With the bar moved up 15cms, Sandi Morris entered the field and on her first attempt, cleared the height alongside the Venezuelan on her second attempt.
Cuba's Silva also entered the competition with the bar at 4.45m but had no problems and cleared the height quite comfortably. But for Germany's Lisa Ryzih, it took her until her second attempt at 4.45m to clear the bar.
With the height now moved up to 4.55m, in entered Britain's Holly Bradshaw. The 2013 Indoor gold medalist cleared the height on her first attempt to huge cheers from the crowd. Four other athletes - Morris, Peinado, Silva, and Ryzih also cleared the 4.55m height.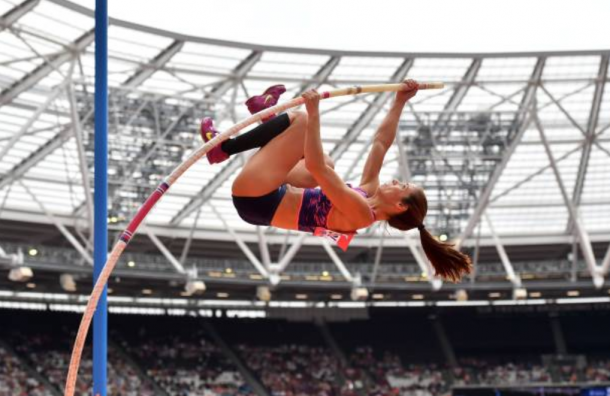 Katerina Stefanidi then entered the competition for the very first time and cleared the height of 4.65m alongside America's Sandi Morris
But Peinado, Silva, and Ryzih failed to clear the height at the first attempt but did so on their second. Bradshaw, on the other hand, needed a third attempt to clear the bar, putting her medal hopes at risk.
Morris and Stefanidis continued to go clear of the rest of the field, clearing the height of 4.75m at the first time of asking. But Peinado, Silva, Ryzih, and Bradshaw failed to clear the height ending their competition. The bronze was shared between the Venezuelan and the Cuban on countbacks.
Morris then missed her only attempt at 4.82m with Stefanidi going clear. Morris also failed her two attempts at 4.89m as she finished with the silver medal. Stefanidi missed 4.89m, cleared 4.91m but couldn't clear the 5.02m with the competition ending.