 Wayde Van Niekerk continued to write his name into Athletics history on Tuesday evening, successfully defending his 400-meters title at the World Athletics Championships without being threatened.
With potential challenger Isaac Makwala controversially absent, the South African was the heavy favorite to take the gold medal. Van Niekerk, who broke the world record in taking the Olympic title last summer, was in control throughout, taking gold in a time of 43.98 seconds. Stephen Gardiner of the Bahamas, the fastest qualifier into the final, picked up an impressive silver medal in a time of 44.41 seconds, with Qatar's Abdalelah Haroun finishing incredibly quickly to pick up the bronze medal in a season's best of 44.48 seconds.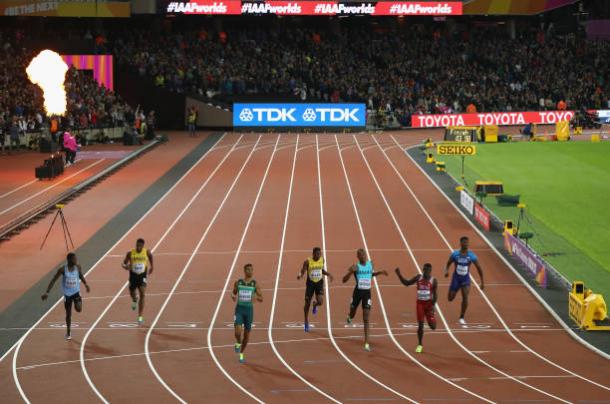 Haroun did edge past Baboloki Thebe, who eventually finished in fourth place. Nathon Allen finished in fifth place, with fellow Jamaican Demish Gaye finishing sixth place. America's Fred Kerley, one of the fastest men this year, got off to a good start but faded badly and eventually finished in seventh place.
Van Niekerk eases to second consecutive world title
Van Niekerk was expected by most people to take gold and backed that up with a dominant victory, though the absence of Isaac Makwala undoubtedly threw a huge shadow over the final.
Makwala, considered by many as a potential gold medal contender, was ill a couple of days ago and was excluded from competing in controversial circumstances, with the IAAF ruling him unfit despite complaints by himself and the Botswana Athletics Federation. Amidst all the controversy about whether he should or should not have been allowed to compete, the race took place, and Van Niekerk took full advantage of his potential rival's absence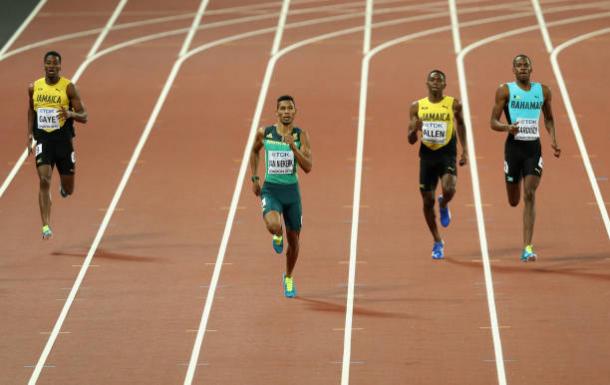 All the finalists got off to a good start, though ominously it was Van Niekerk who was seemingly out the quickest and the South African stormed round the opening 200-meters, building up a commanding lead. Gardiner and Kerley had also got off to good starts, though it was clear that no one would catch the South African and Kerley began to drop back badly.
Van Niekerk himself was evidently fatigued, though eased over the line to take his third global title in three years. Gardiner held off the late charge of Haroun to take silver, though the Qatar did edge past Thebe to take the bronze medal. The South African will now look to the 200-meters, where he will hoping to pick up another gold medal.