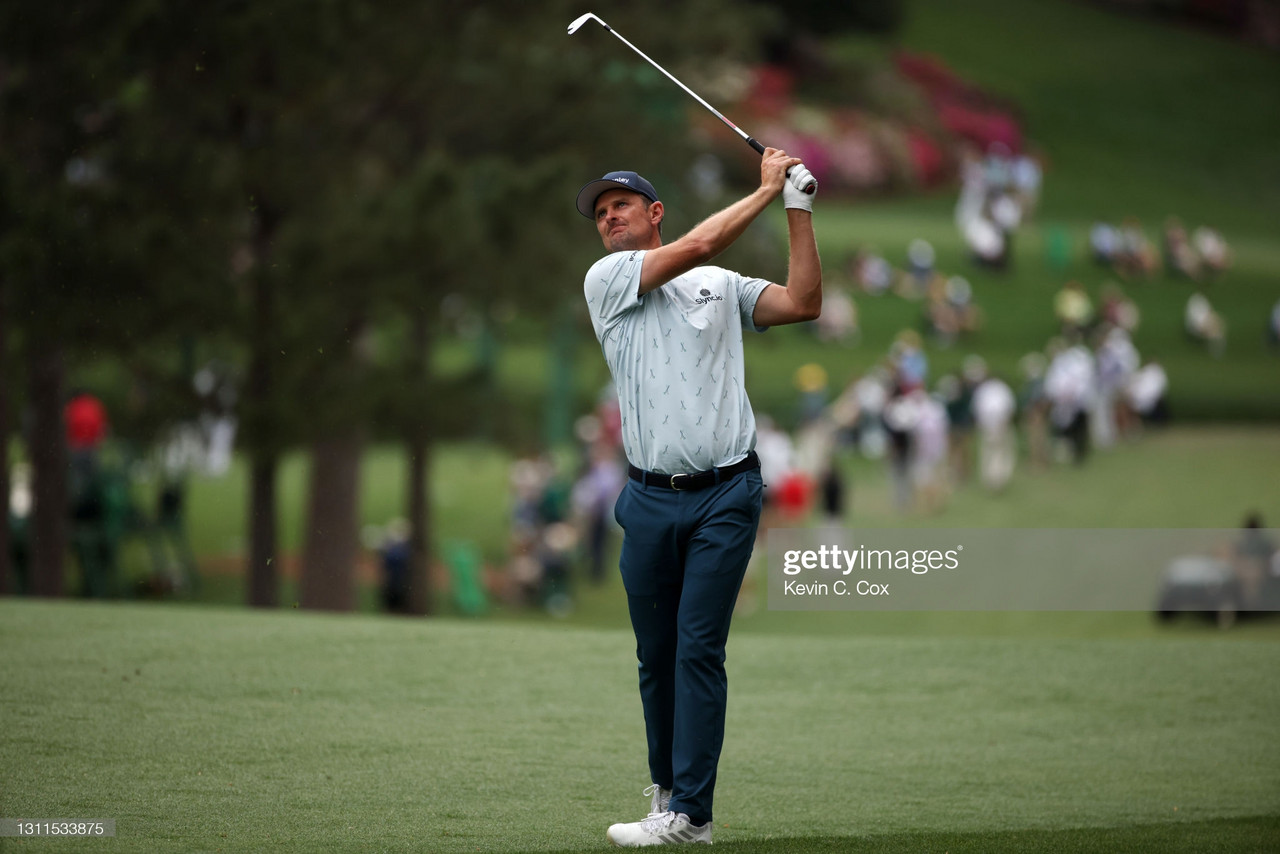 We were warned that this could happen. The opening round of the 85th Masters saw firm and fast conditions, which led to some ghastly scores.
The field was a collective 220 strokes over par after completion of 18 holes. Only 12 players shot under par on Thursday with only three players breaking 70.
Rose plays final 11 holes at nine under par to take lead
One of those sub-70 rounds was turned in by Justin Rose, who shot a remarkable 65 to take a four-shot lead. The Englishman, twice a runner-up at Augusta, was 2-over after seven holes, but played 9-under the rest of the way.
"I knew 2-over through seven was not the end of the world, but I also knew I was going in the wrong direction", he said after the round. "You can't win the golf tournament today. Even with a 65 you can't win it today.
"You can only probably lose it today. I didn't hit the panic button yet and thought if I could get myself back around even par, that would be a good day's work."
After bogeys on the first and seventh holes, Rose hit a five-wood to nine feet on the eighth to set up an eagle. A birdie on the ninth from four feet got him under par as he made the turn.
Pouring in a 25-footer on the 10th took him to two-under, a six-footer on 12, pitch-and-putt on 13 gave him the outright lead at four-under. He extended his advantage with birdies on 15, 16 and 17 to best his previous low round at the Masters by two strokes.
"The eagle, boom, and then a birdie straightaway at No.9. I felt I could leave the front nine behind as a job well done and move to the back nine and try and build a score. I got on a great run and was just trying to stay out of my way and get it to the clubhouse."
Englishman working on his swing, leading to 65
The 2015 and 2017 runner-up has now led or co-lead after the first round at Augusta four times, following 2004, 2007 and 2008. He tied Jack Nicklaus for being in front most often after 18 holes.
He hadn't played since withdrawing from the Arnold Palmer Invitational in March with back spasms, but has been working hard with coach Sean Foley on his swing.
"I feel like we've fallen upon some clarity in the direction I want to go with my swing and he literally said to me 'Buddy, I don't know if you're close or not, but I just know it's better. That's kind of what we came in here with.
"I haven't played competitive golf for a month or so, so I never quite knew what was going to happen exactly. But I was very anxious for the gun to go off today."
Keeping perspective key for 2013 US Open champion
Despite a four-shot advantage and a brilliant round in difficult conditions, the 2013 U.S. Open champion is focusing on the task at hand, which is to keep everything in perspective.
"Hopefully, you can run off of instinct a little bit", he said. "I've competed in these big tournaments quite a few times, and I've got one of them to my name. But we're looking for more.
"I've had some situations in my career that should stand me in good stead, but I think to keep the expectations relatively low even in this situation is not a bad thing. It's all about commitment, and I think it's about enjoying it."