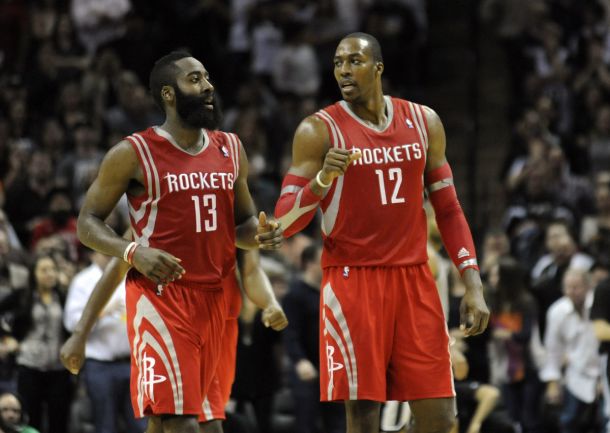 The Houston Rockets were considered possible contenders for the NBA championship throughout the early to middle portion of the regular season. In the late season, their quality of play decreased, and they finished with the 5th seed in the west. They played the 6th seeded Portland Trail Blazers in the first round, and were knocked out on a game-winning three pointer by Damian Lillard with 0.9 seconds on the clock. The Rockets looked puzzled on defense, and their offense was all run-and-gun.
The Rockets will need to improve their offensive sets in order to become contenders. Utilizing all-star big man Dwight Howard on pick-and-rolls should be one of their main priorities. They should also consider removing their Heat-like isolation offense, and consider moving the ball more.
On the defensive end, they need to improve the most in two positions: power forward and shooting guard. The Rockets are strong in the center and point guard positions, with 2 all-defensive team members in Patrick Beverley and Dwight Howard. Both Asik and Jones showed their defensive woes in the playoffs. LaMarcus Aldridge scored 40+ points in both of the first two games of the series (in Houston). Asik has since been traded for cap space. The Rockets will continue to develop Jones. At the shooting guard position, the Rockets have James Harden. Harden is an incredible offensive player, but on the defensive end he is completely lost. Because of his all-star status, the Rockets cant do too much about this, other than to train him over the offseason.
The Rockets will be making a pitch to Carmelo Anthony, in an attempt to form a big three. If the Rockets manage to sign 'Melo, they will automatically be thrown into the contender picture (providing that team chemistry is good). The Rockets need to avoid a Dwight-Nash-Kobe-and-the-Lakers type situation at any cost.