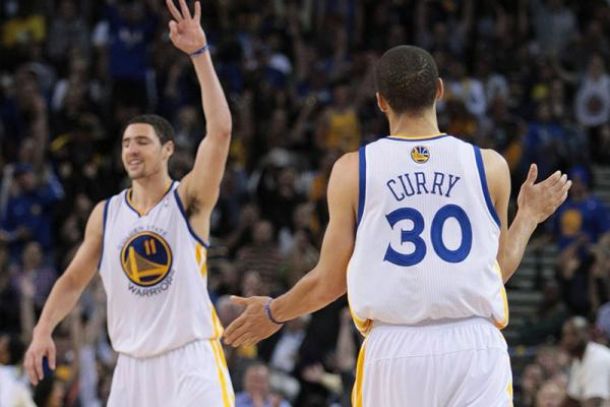 After finishing the 2013-14 season with a 51-31 record, the Golden State Warriors were good enough to finish second in the Pacific Divsion, but only earned a six seed in the Western Conference playoffs. The lower seed resulted in yet another early exit from the playoffs for the Warriors, as they bowed out to the Los Angeles Clippers in a hard-fought seven game series.
In response, Warriors owner Joe Lacob parted ways with popular coach Mark Jackson and brought in Steve Kerr, a wildly successful player and broadcaster who has a brilliant basketball mind but no coaching experience. Time will tell if the decision to let Jackson to make way for Kerr go will pay off, but in order for the Warriors to gain any kind of ground in the Western Conference, something had to change in the Bay Area.
Much like the Denver Nuggets (why do they call them the Enver Nuggets? There is no "D" in Denver), the Warriors have traditionally been stuck with a strictly offensive minded stigma. The result? A regular season team that is fun to look, but one that will flame out early in the playoffs. The wish in the Bay is that Kerr can keep his foot on the gas pedal while also road blocking on the defensive end.
However, Kerr will have to embark on a defensive makeover with virtually the same roster as was in uniform last season. Defense aside, the good news is that offensively, all the key pieces are under contract for next season, including Golden State's biggest asset, All-Star guard Stephen Curry. And despite dangling Klay Thompson and Harrison Barnes as trade bait for Kevin Love, it appears that the Warriors will have both of them back next season. Also inked for 2014-15 are Andre Iguodala and Andrew Bogut, GS's lone defensive stoppers, versatile interior player David Lee, and reserves Marreese Speights and Draymond Green. Further, it was announced Tuesday that Golden State has agreed to sign costless agent Shaun Livingston, formerly of the Brooklyn Nets. From top to bottom, it is as fierce an offensive line-up as there is in the NBA.
The Warriors do have questions in the paint as the oft-injured Bogut functions nicely when he is healthy, but the team struggles when he is on the shelf. Speights is not a consistent contributor and there is no one else under contract that can adequately fill in. Golden State garnered zero selections in this year's draft, but the organization does have some salary cap wiggle room to and lure a costless agent or two to the Bay. Perhaps Kevin Love, perhaps not, as that deal has fallen through several times. However, Warriors GM Bob Myers does not seem concerned.
"I think if you look at our roster now, we like it and think it has the opportunity to do well," Myers said after last week's draft. "We have a lot of high ceilings. … By standing pat (during the draft), I think it does show faith in our roster."
Myers and the rest of the Warriors front office will use its cap space to pursue and number of costless agents in the coming days and weeks, and no one should expect the Love deal to fall completely flat until he is snatched up by another team.
But right now, the spotlight falls directly on Kerr, who comes to Golden State with high expectations heaped on him and pressure to win right away. While there is no doubting his basketball acuity, even his own charges are speculative about his lack of experience.
"He seems like a very knowledgeable guy," Bogut said recently in an interview from his native Australia. "Obviously, he's a very, very good commentator. You can tell he's got a high IQ just by listening to his games. But obviously the question that everyone's asking is the coaching experience thing. But I don't see him as having a huge ego or anything like that, so I think he'll probably hire some assistants that can definitely help him carry the load in his first year as a coach, and I think he'll be great for us."
Right on cue, Kerr has begun assembling his coaching staff by bringing on former NBA player Luke Walton, who worked under Phil Jackson as both a player and player/coach during his time with the Los Angeles Lakers. Walton was rumored to be in the running for a coaching position with the New York Knicks before Kerr wrapped him up.
Kerr will no doubt use his knowledge of the game of basketball to ready his team for the 2014-15 NBA season. In fact, he has chosen to coach the Warriors summer league team, a job that is typically reserved for assistant coaches. Kerr will use the summer experience to get himself ready for grind of the 82-game regular season, and to mentally prepare himself for the task ahead.
If Kerr and his Warriors can set their minds to continue splashing on offense while locking down more effectively on defense, perhaps this will be the year the Bay Area finds its way deep into the playoffs.