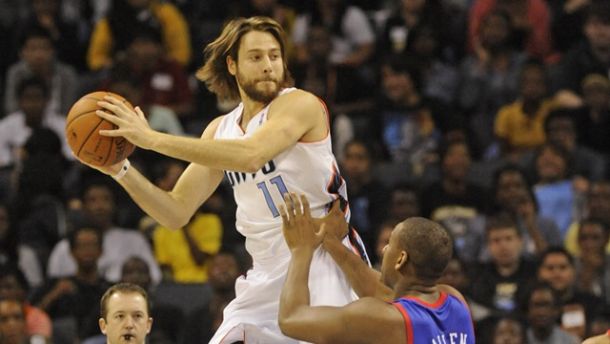 After competing for a few hours with the Charlotte Hornets for Josh McRoberts, the Miami Heat have won. McRoberts has agreed on a four-year, $23 million deal with the Miami Heat, reports Marc Stein of ESPN. The third year of McRoberts' contract includes a player option.
The Hornets were intent on keeping the 27-year old McRoberts in Charlotte. They increased his offer within 24 hours to lure him away from Miami. Ultimately, the Hornets were offering the same deal to McRoberts as the Heat, which was their full mid-level exception, and McRoberts chose the Heat.
Charlotte's coach Steve Clifford truly favored McRoberts because of his versatility, mainly his ability to pass. The 6'10" power forward is also very athletic, runs the floor, and has high I.Q. for the game. He spaces the floor very well with his ability to shoot the three. Clifford noted that McRoberts was one of the main reasons the Hornets were able to succeed last season. The Heat also like McRoberts for his versatility and athleticism.
Meanwhile, the Heat, who is still uncertain about their big three, signed their second costless agent before meeting with LeBron James. Earlier, the Heat also agreed to sign Danny Granger, who spent last season with the Indiana Pacers and Los Angeles Clippers. The Heat front office certainly wanted to add a few more pieces before making its pitch to LeBron.
Josh McRoberts averaged 8.5 points, 4.8 rebounds, and 4.3 assists per game last season. His acquisition doesn't rule out the big three re-signing. Instead, it may be a start for the Heat in their pursuit of their own superstar costless agents.
In other Miami news, Chris Bosh has received a four-year, $88 million maximum contract offer from the Houston Rockets, which he will take the time to consider. However, costless agency will most likely unravel once LeBron James and Carmelo Anthony make their decisions, and LeBron's meeting will Pat Riley later in the week will indicate the future of Miami's big three.