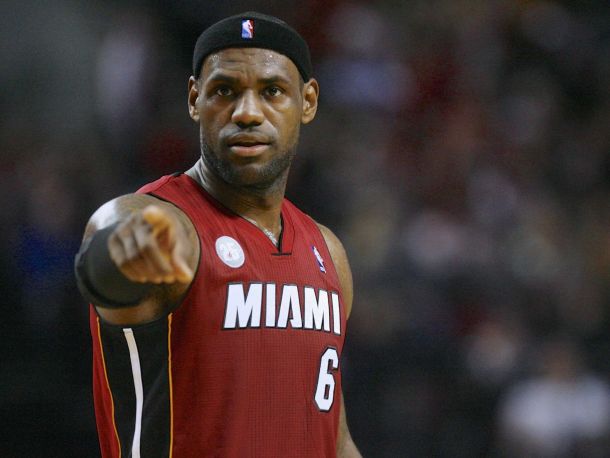 LeBron James has decided he wants to return to the Cleveland Cavaliers.
On Friday, Sports Illustrated published an article by LeBron James that says James will return to the Cleveland Cavaliers. James told the story to Sports Illustrated writer Lee Jenkins.
Despite the controversy created in the wake of his departure in 2010, James has decided to bury the hatchet with owner Dan Gilbert. Gilbert wrote a nasty letter criticizing LeBron for his decision to leave the Cavaliers for the Miami Heat.
All of the barbs traded are a thing of the past. Here is what LeBron said about Gilbert, "I've met with Dan, face-to-face, man-to-man. We've talked it out. Everybody makes mistakes. I've made mistakes as well. Who am I to hold a grudge?"
LeBron comes home to a wonderful situation. In addition to James, Cleveland has a young core of Kyrie Irving, Andrew Wiggins, Tristan Thompson, and Anthony Bennett. In addition, the Cavaliers have two first round picks in the 2015 NBA Draft to keep building around James.
James played for the Cavaliers from his rookie season in 2003 until 2010. He led Cleveland to the playoffs every year from 2006 through 2010 including to the NBA Finals in 2007.
LeBron has played the past four season in Miami leading the Heat to four straight NBA Finals. He won back-to-back titles in 2012 and 2013 while teaming up with Chris Bosh and Dwyane Wade.
James sums up his return to Cleveland the best, "Before anyone ever cared where I would play basketball, I was a kid from Northeast Ohio. It's where I walked. It's where I ran. It's where I cried. It's where I bled. It holds a special place in my heart. People there have seen me grow up. I sometimes feel like I'm their son. Their passion can be overwhelming. But it drives me. I want to give them hope when I can. I want to inspire them when I can. My relationship with Northeast Ohio is bigger than basketball. I didn't realize that four years ago. I do now."
"In Northeast Ohio, nothing is given. Everything is earned. You work for what you have.
I'm ready to accept the challenge. I'm coming home."