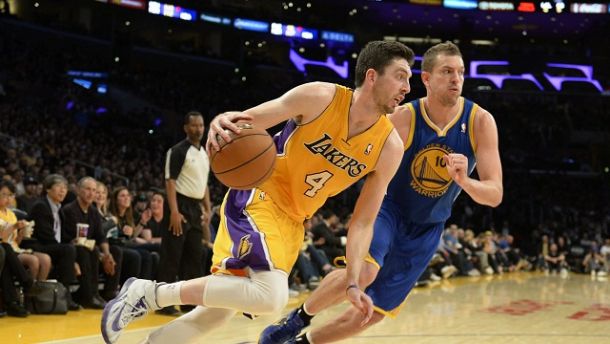 Earlier on Friday, the Los Angeles Lakers agreed to re-sign Xavier Henry and Wesley Johnson. Now, they have agreed to re-sign power forward Ryan Kelly to a two-year deal, according to Mark Medina of L.A. Daily News. The complete terms of Kelly's contract have not been revealed yet, but there are reportedly no options on his deal.
Kelly was Lakers' rookie last season, and he averaged 8.0 points and 3.7 rebounds per game in 59 games on 25 starts. The stretch four provided the Lakers with good floor spacing and solid three-point shooting.
Kelly will now be the fourth power forward on the Lakers' roster. There is definitely a log jam at the power forward position, which also includes Carlos Boozer, Ed Davis, and Julius Randle. The Lakers may ultimately decide to go small and perhaps use Davis as a center, but their power forward slot is still crowded.
Kelly played a significant role last season averaging 22.2 minutes per game. He may play a lesser role this season, but that remains to be seen.
Nevertheless, the Los Angeles Lakers are near completion of their roster. However, they haven't officially signed any of the aforementioned players, including Nick Young and Jordan Hill as well.