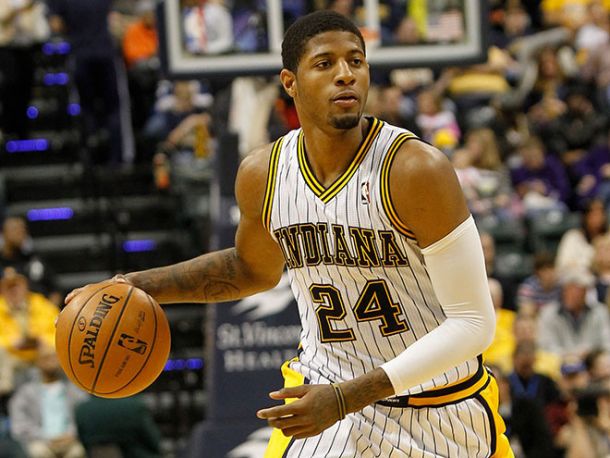 Paul George suffered a horrific leg injury during a Team USA scrimmage and will miss the entire 2014-15 NBA season. However, despite being out, George will change his jersey number to 13, according to ESPN's Darren Rovell.
Seemingly, George made an appeal in March to make a number change and was allowed to do so, but he will have to buy out the remaining number 24 jerseys that remain in the marketplace, per league rules.
Bill Simmons of Grantland was the first one to come up with the idea and Paul George really liked it. Simmons said "He [George] should change his number immediately from number 24 to number 13…can you think of anyone being helped by a nickname more than Paul George suddenly becoming PG-13? 'Uh-oh, PG-13 is heating up!' 'We might have to make his performance rated R – it's too hot to handle!' Let's make this happen already."
"That's got a ring to it, PG-13," George said when asked about it on Jimmy Kimmel Live back in January.
George wore the number 24 because of Kobe Bryant, someone who he has admired while growing up in Palmdale, California.
Sporting the nickname PG-13 will be fun, but fans will have to wait over a year to ultimately hear it being said on television. Nonetheless, it finally looks like one of Bill Simmons' comedic ideas has turned out to be a likeable one.