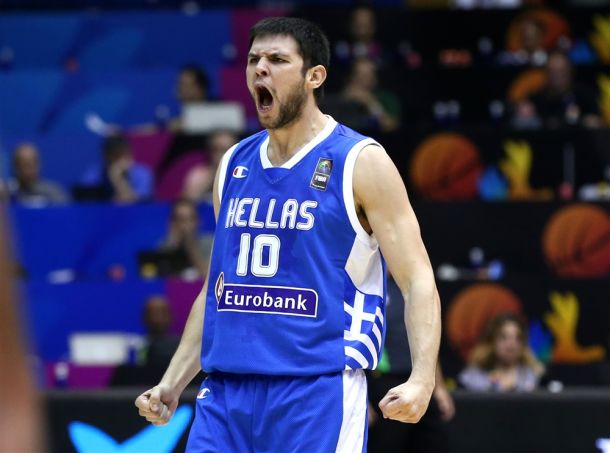 The Philippines were hoping to bounce back after losing in overtime to Croatia on Saturday. On Sunday, they took on Greece, who was coming off a marvelous victory over Senegal.
The Philippines started the game off slowly, which ultimately led to its 12-point defeat. They allowed Greece to jump on them early with a 16-7 lead. Greece ended the quarter with a 10-point advantage.
The second quarter was evenly played as both teams scored 17 points respectively in that period. The point distribution in that quarter was spread out for both teams. Everyone contributed on both sides, and the game went to halftime with Greece up 37 to 27.
In the third quarter, Greece took their largest lead of 17. They ended up outscoring Philippines by 3 in the quarter to take a 13-point lead into the fourth.
In the fourth quarter, Georgios Printezis became the catalyst for Greece. He scored 9 of his game-high 25 points in that period to close out the game for the Greeks, who ended up winning wire-to-wire.
Andray Blatche followed up his 28-point, 12-rebound performance on Saturday with a 21-point, 14-rebound night on Sunday in another losing effort. June Mar Fajardo was the other player in double figures for Philippines with 12 points.
As previously noted, Printezis led his team with 25 points. Greece's big man Giannis Bourousis record a double-double with 12 points and 10 boards. However, Giannis Antetokounmpo had a rough game, going 0 for 3 from the field and finishing with 3 points.
Both teams took care of the ball significantly well as they had 12 turnovers apiece. Both teams also shot terrible from three-point range. The rebounding battle was nearly identical as well. The area where Greece slightly won was field goal percentage. The Greeks shot 43.1 percent from the field while Philippines shot 35.3 percent.
Greece will move on to play Puerto Rico in their next game on September 1st at 12 pm Eastern Time.
Philippines will play Argentina at 11:30 am Eastern Time on September 1st. They will receive another chance to achieve their first win of the tournament.