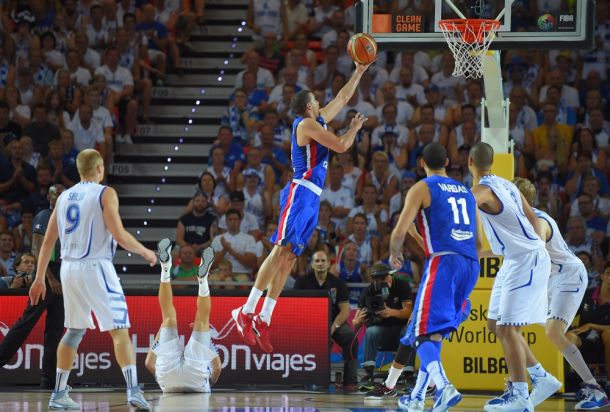 Both Finland and Dominican Republic came into Tuesday's contest with identical records of 1-1. However, Dominican Republic came out on top, winning by six points due to terrific defense.
Three-point shooting was the biggest factor in the first quarter with both teams connecting on three triples each. Houston Rockets swingman Francisco Garcia jump started his team with 8 first quarter points. The Dominicans only led by one at the end of the period.
Dominican Republic came out stronger in the second quarter with some paint dominance and took a 9-point lead into halftime. Finland was held to 37.5 percent shooting in the quarter.
The Dominicans started the third quarter off with a 10-0 run, going back to the final minutes of the second quarter. They took their biggest lead of 16, but Finland stayed within striking distance.
During late stages of the fourth quarter, Finland cut Dominican Republic's lead down to three after a three-point basket nailed by Petteri Koponen. Though, a costly turnover by Hanno Mottola in the final minute of the game pretty much sealed Finland's hopes of overcoming the deficit and possibly winning.
Dominican Republic's best player, Francisco Garcia, left the game at the 4:33 mark of the fourth quarter with an ankle injury, but he was able to return and finish out the ball game.
Eloy Vargas led the Dominicans with his 18 points, 13 rebounds, and 4 blocks. Garica followed with 16 points, including four makes from three-point range. Finland's top scorer was Koponen with 23. He was the only one in double figures for Finland.
The Finnish were held to 35.7 percent shooting from the field, while, on the other end, the Dominicans connected on 48.1 percent of their shots. Dominican Republic really hurt themselves with 23 total turnovers, including 7 by Garcia. Finland only had 9 turnovers. However, the Dominicans made it up with their outstanding rebounding as they outrebounded the Finnish 49-28.
Dominican Republic have a tough game coming up against Team USA tomorrow, September 3rd, at 3:30 pm Eastern Time. They played USA during exhibition and lost by 33 points, 105-62, so they will look for redemption.
Finland will clash against Turkey tomorrow. Their game will be played at 11:30 am Eastern Time.